And finally we are up to it. The part which caused me the most grief, sleepless nights, and worries. It was also responsible for arguably being the reason behind most of my lying!
Now apart from the ring, this was the most important part of the day. The keystone of this whole organisation. This is the point beyond no return, where your ass is now on the line. There is no turning back. It is right here, right now, when she sees the sign, that she really makes up her mind as to whether or not the answer will be yes, or no. Either she will be crying, or you.
My proposal was always going to have a sign. Even all my other backup and silly ideas. Which I will elaborate more on in the next part.
Time to get back on track. The sign went through many phases in its infancy before taking shape in its ultimate form, which turned out to actually be better than all the previous ideas.
This was the original idea. I was going to make the backing of the sign, the main base, out of massive calico sheets. Purchasing enough of the textile to stitch it together and make a huge big base. The lettering was going to come from a contrasting colour. We would either cut the letters out ourselves then glue/sew it onto the backing, or get a tailor type person to do it.
This proved to be surprisingly hard. Apparently there is no textile retailer or tailor willing to cut out 2m by 2m letters out of fabric. The lazy bastards. So I put this plan on the reserve list.
I then investigated the idea of just paying someone to do it. I approached quite a number of banner companies for quotes. I canvassed companies in Australia, the UK, and the US. All were quite pricey. Even a 6m by 3m banner, would would have been too small, would have blown my budget. Will put this on the emergency list.
Plan C, a friend was able to source a truck tarp. Those big tarps that cover sides of those big trucks. I thought about hiring a professional painter or graffiti artist to do the sign, but after factoring in materials and labour, would also be too expensive. Grrrr… running out of ideas now.
Then my friend Falcon had a suggestion. His brother Brad words at a tyre yard and has access to massive sheets of plywood which they use to stack tyres on. I was a little bit skeptical but he said with enough sheets, it could work. Each is about 2m x 1m and he ran up some calculations through Visio. It would take about 20 sheets to do it.
So I told him to hold that thought will I went back through the previous plans, only to draw blanks. So the plywood idea it is. Now once we get started on the sign, there is no changing the skydiving plan. Because being wood, we are restricted in what we can do because its not really a flexible sign that we can move around. Will get to this more in the next part.
I put out another call to Emily in New Zealand, saying that we are about to proceed with the sign. I HAVE to know if Erica suspects anything at all about the skydiving, if she's accidently seen one of my emails or anything like that. Emily, good bless that trooper, contacted Erica straight away to sus the situation out, and gave me the all clear.
So Falcons brother Brad brought the 20 pieces of plywood back to Falcons place, which would serve as our workshop to prep the signs. I went to a paint store to consult the pro's there on how much paint I would need for 20 square metres of signage. That bastard way way underquoted me. I had to end up using double what he recommended. It was going to be pink on black. Black paint was easy, choosing the pink well… who the hell thought there could be so many shades of pink! The pink I ended up going with was called "Iced Vovo", which I was initially skeptical about but then turned out lovely. I may have an eye for this after all
Now it was at this point in time that Erica and I had just moved house. This was our first weekend in. So I felt so bad telling Erica that our first Saturday in the house, I had to go over to Pauls place. Now the excuse was that I had to help Paul paint a cubby house for his son. During the course of our move, she saw I had paint in the boot of my work car so I was quite limited in my excuses. It turned out to work well though, given I would come home covered in paint
So yeah, I really wasn't sure if she was going to buy it or not, but she seemed to. I felt terrible as she had to sort the place out by herself, the huge mess that it was.
It was going to be Falcon, Shannon, and myself working on the sign. And what a team! Falcon and I got there first and got started with painting all the wood black. This was an enormous pain in the ass, as the wood was slightly ridge. So it took about 3-4 coats to fully blacken the wood. I think we got about 12-14 sheets done in that day. Once that was done, Shannon got started on doing the letters. Arguably the hardest part. We had precise measurements of each point of the letters done in Visio, so it shouldn't be that hard in theory. But when you're working across 8 x 4 metres of a single row, broken up across 8 pieces, no… not that easy. So she did the measurements, stuck adhesive dots at each point of a letter, then ruled up the lines.
I then began masking the letters, which was an ENORMOUS PRICK OF A JOB!!! Its easy for the straight letters, but for the "C" and "R"…. annoying is too small a word to use. Here are some photos from the "ME" after masking.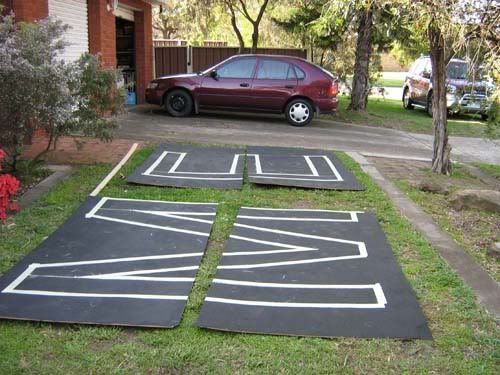 Once that was done, we can begin to paint the letters. Out came the pink paint. This was actually enjoyable after the masking!! But it stil require about 4 coats of paint before completion. Here are more photos.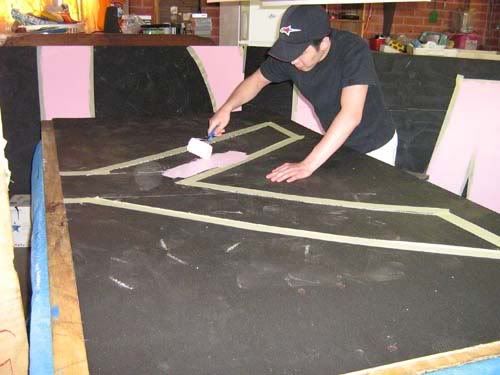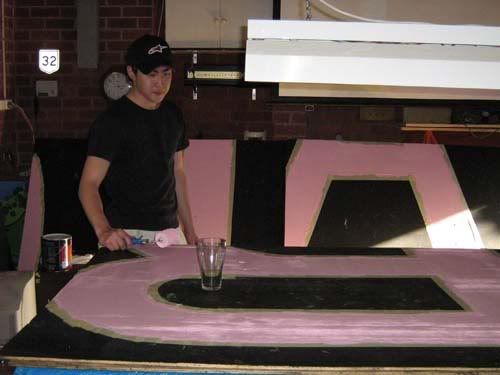 After the end of the first day, we were absolutely and thoroughly exhausted, and we had only gotten the Marry Me masked and 80% painted. We had only one more weekend to complete it. I came home covered in black and pink paint, and did my best to explain the situation to Erica. I never really thought she would buy the whole painting a cubby house for the Falcons son story, as who on earth would paint a cubby house black and pink!!! She was questioning the pink, not the black surprisingly. Black is pretty silly as any kid would burn up in there! I told Erica we painting the letters "MATTY", the name of his son, on the cubby house in sky blue and pink. Strange that there was no blue paint on me though! But I thought it better to quickly change the subject before she figures that one out
So the following weekend was out of the question as it was a public holiday long weekend and everyone was busy, and the following weekend was the last one before the proposal date. So with more apologies to Erica, telling her I had to help Paul do the final coat of paint, we set out to finish it. But at the last minute we got some bad news! Shannon couldn't make it! As much as Paul tried to assure me that we could still do it, I didn't think we could have it done in time!
So we absolutely hammered through it through the day. And surprisingly, we got it all done. Well almost. We streamlined the process avoiding mistakes made on the previous weekend, and everything went alot smoother. We finished the "ERICA" and managed to put a couple of coats of paint on it. That was good enough in the worse case scenario. Paul said during the week he would slap on the remaining coats of pink. And once that was done, paint over the black again to remove scars and chalk marks from the lettering.
And there it was… come the day, everything was ready. Here are the final photos of the finished product which we actually never got to see when we were prepping it. The first time we all actually saw the sign painted and put together was when Erica was in the air waiting to land. So it was a bit of a worry, but all for nothing. It turned out beautifully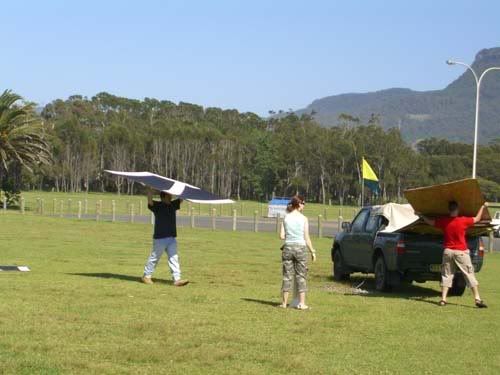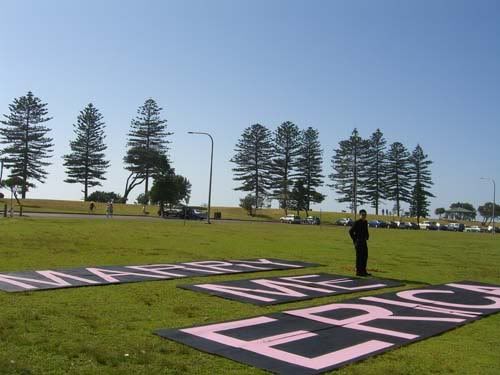 And I think this might be better covered by the next section but I wanted something extra special and romantic to be waiting next to myself and the sign when she landed and was walking up to me, but I'll get to that in the next part, which is about the skydiving and the actual proposal
Ideas about the column and flowers and stuff.
Sometimes, I still can't believe we pulled it off.
Falcon and Shaz, I could not have done this without you both. And I hope you both know that. Thank you for all your help, support, encouragement, and belief. Everytime I just felt it just couldn't be done, you both kept me strong. Thank you from the bottom of my heart. I love you guys and hope that I'll get the chance to return the favour in the near future. *BIG GROUP HUGS*