After what has seemed like an eternity, we've finally received our wedding photos and hence… I can finally finish off my wedding post. Unfortunately the downside is that it's been so long since the ceremony and dinner in December 2007, I can barely remember all the details of the day! Well specifically, most of the emotions anyway. So I'm going to take the easy way out and just skim through it, letting the photos do most of the talking.
I have to say that Kelvin from Lightedpixels, once again, has done a fantastic job and I really couldn't be happier with his work. Thanks Kelvin!!!
The day from memory thankfully wasn't too rushed because we had the dinner on the Monday night following the wedding ceremony on the weekend. This gave us ample time at the Four Seasons to get relax, settled, and then prepare for the night ahead. Unfortunately, this didn't quite go according to plan and we ended up being quite rushed. You see, the entire party of bridesmaids (or the majority of them anyway) came up to our hotel suite to prepare for the dinner. A few of them had enlisted the services of Dax, the hair and makeup artist, to also fluff them up in time for the dinner.
Given that Dax only has two hands, and myself a penis (along with the two hands as well), this translated to myself and Erica having to wait until all the bridesmaids had been done before we could get ready for the dinner. There were girls in every room in the place! I had no where I could get dressed! Erica kept getting her bathroom and makeup artist hijacked, that we ended up getting pushed further and further behind schedule! It was pretty crazy up there but eventually we got it all done.
My Lovely Wife getting her hair done
My corsage which I could never get right
Stop falling damn you!
Dax doing Ericas hair
The Reception Area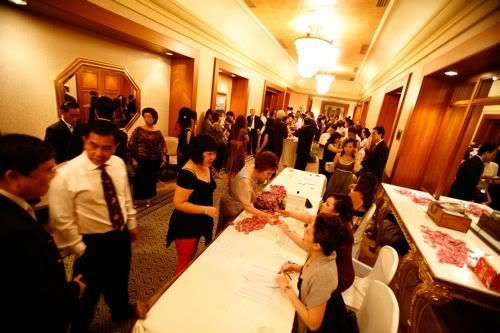 This was the reception area where everyone was to mingle prior to the dinner starting. We opted to have something a little different and so had a Strawberry Ice Bath and a Peking duck station. Unfortunately we weren't able to enjoy them ourselves, but having the Ice Bath as a centerpiece seemed to work very well. I wish I had been able to try the peking duck station myself though, as I do love my peking duck!
My Dad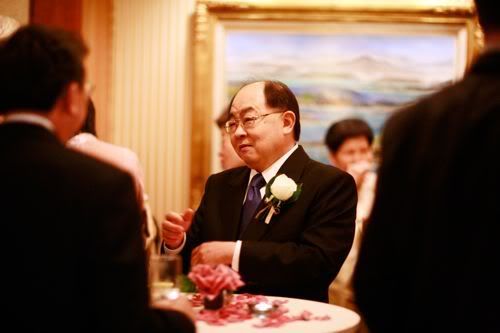 Strawberries in an Ice Bath with Dipping Chocolate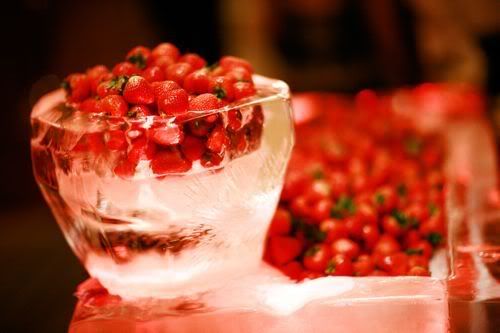 Ericas sister Emily and her cousin Paulene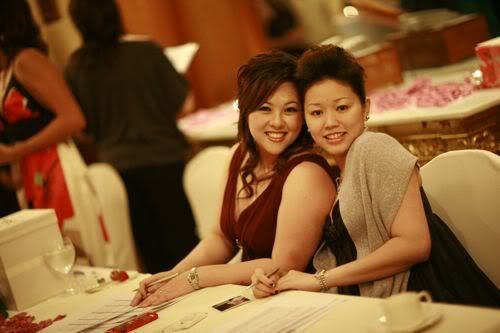 Nat, a friend who came from Australia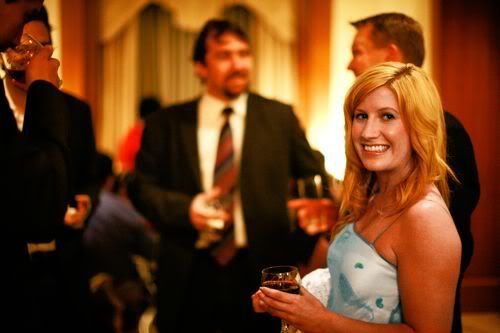 A Whole Lotta Strawberries
The MC's- Chin Rei & Glenn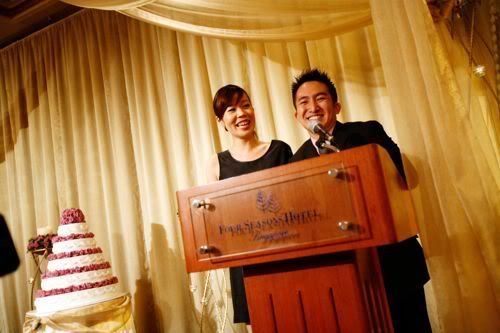 Okay, Chin Rei and Glenn are Ericas best friends and also the MC's for the evening. Chin Rei would do the english, and Glenn the chinese. Glenn did a massive faux pas not once, but TWICE during the evening. Instead of saying Yao Ming (my chinese name) and Wan Chin (Ericas chinese name), he said Yao Ming and Chin Rei! Twice!!! It was quite hilarious I have admit. Maybe he has Chin Rei on the mind and he harbours secret lustful urges for her, who knows really
But it was funny…. Here's a video of it. I think Chin Rei was quite embarrassed by it!
Glenns Faux Pas
Watching the Proposal Video
The Proposal Video
And click here for the whole saga about the proposal http://ptechnix.livejournal.com/tag/proposal
Ericas Parents
At this point in time we were outside by the door, waiting for the queue to march in. I have to admit I had a massive case of butterflies bouncing around my stomach, standing there holding hands with my wife, listening to the video playing inside the ballroom.
Marching In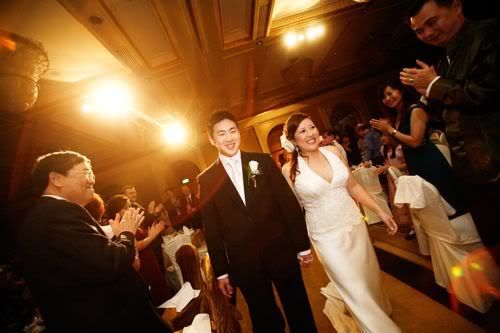 Posing next to the fake cake
My Maternal Grandparents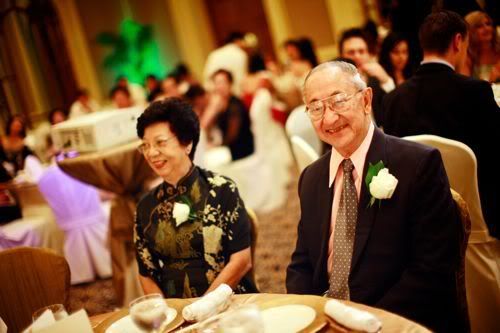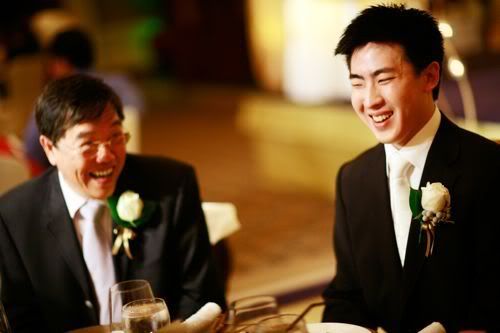 Ericas Folks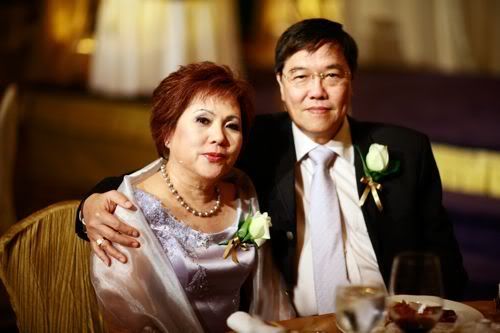 My Folks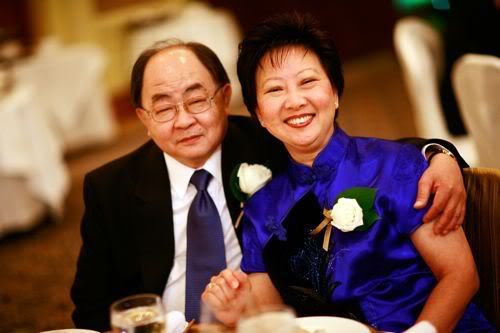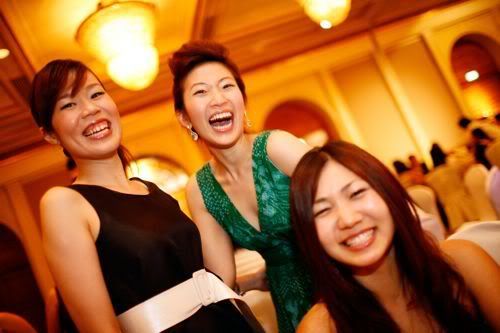 Erica and her Bridesmaids
Chin Rei, Chris, Jean, Erica, Denise, Beccy, and Dawn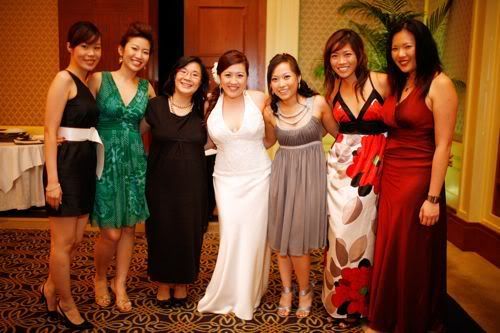 Me and my Groomsmen
Paul, Damo, Falcon, Mez, Bawdy, and Dave
My Friends from Australia
For me, it was so important to have some of the most special people in my life here to celebrate this occasion with me. To have my closest friends fly down from Australia to be here with me, and share this joyous occasion with me, really meant the world. I thank them from the bottom of my heart for being there for me through my life since I've known them, and for me here and now on this day.
Glenn looking sleazy… Don't know why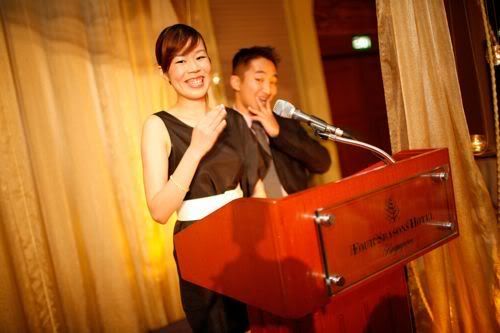 Second March In
The second march in gave us a much needed break from the whole affair. We had to head back up to the room to chain and gave us a chance to just chill and relax for a wee bit before coming down again. Dax came up with us as he changed Ericas hair to a different look. The second march in was less stressful than the first, but still stressful all the same. Waiting there at the doors, the whole room staring at you…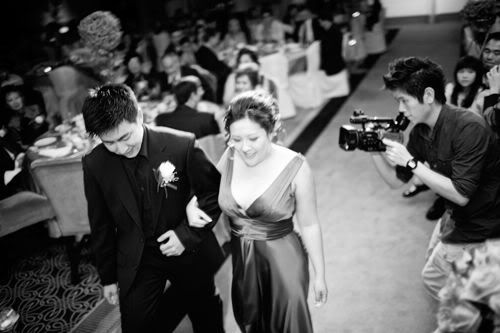 Popping the Champagne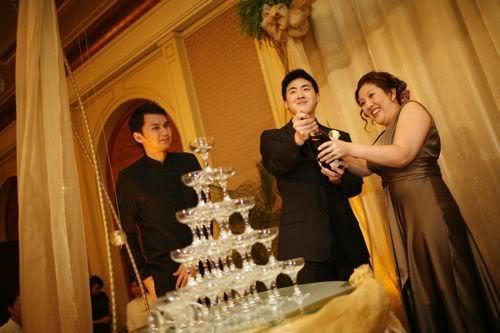 Pouring the Fountain
Toasts and Kisses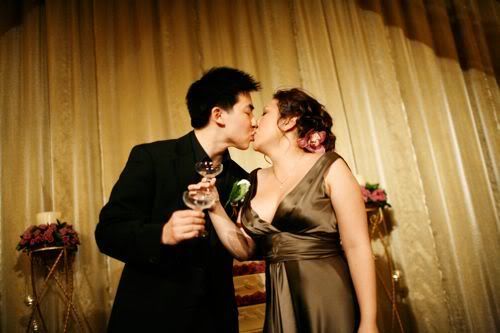 The Yum Seng
It was finally time for the yum seng. The first for both me and my Aussie friends. Why does everyone look shocked in the above photo you ask? Well, that would be because Glenn decided to toast me and Chin Rei instead of Erica
Here's a video of the yum seng which I have to admit, was pretty good! There was some solid enthusiasm there!
Yum Seng Video
Yaaaaaaaaaaaaaaaaaaaaaaaaaaaaaaa………..
Solid Yum Seng'ing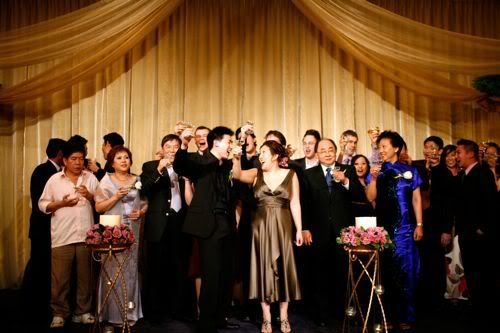 Falcon getting into his first Yum Seng
The Lads
Don't know what he was giving a standing ovation for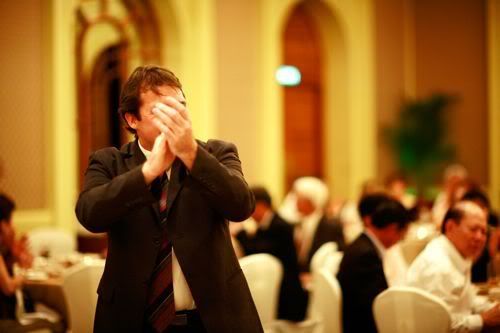 Bawdys Speech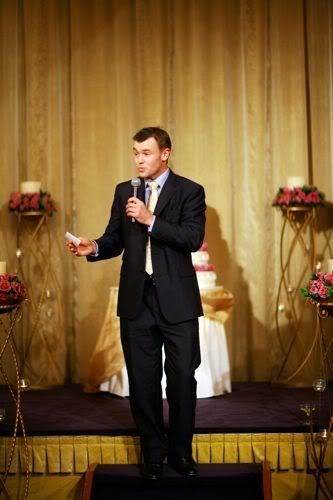 Jonathan, JB, Bawdy, Bawdshorts, Sergeant Boardman….. I have many names for my oldest friend of over 20 years. There was zero choice of whom was ever going to be my best man. An officer now in the British Army, he's flown here all the way from London to be by my side. One of my closest friends with whom I've had my ups and downs, like the time he threatened to kill me after I kept purposely aggravating him after he'd just received a needle in the ass to treat a bad case of seasickness on a cruise ship. It meant so much to have him here with me on this day. Thank you, thank you for everything now and for the last 20 years you big bastard. Now leave the ladies alone and stop spiking their drinks (He doesn't, it's a running joke).
The Best Man Speech
Monica, amused by Bawdys speech
Chin Reis Speech
Chin Rei is Ericas best friend and the both of them have share much together over the years. She made Erica cry with her speech, though admittedly that's not really hard to do in general
Chin Rei is a lovely girl. A bit neurotic at times, doesn't know the meaning of the words "on time" or "punctual", but she's absolutely reliable and I'm really glad that Erica has Chin Rei to look out for her.
The Bridesmaid Speech
Amused by speeches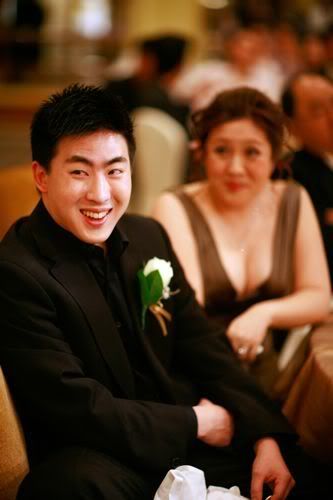 Our Speech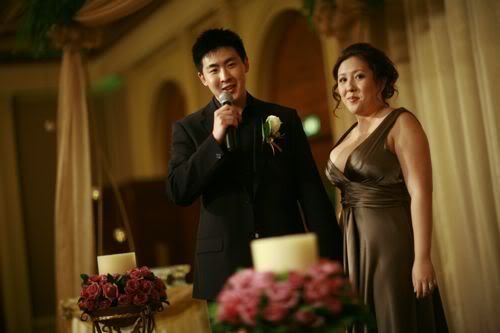 One thing I didn't want to do was have a speech prepared. For me, prepared speeches sound so rehearsed and insincere. Maybe that's just because I'm a crap speaker… But I wanted to just wing it and speak from the heart. I wanted to be sincere and for those whom I'm speaking to and about, to know that I'm speaking from the heart and truly feel the way that I say I do. So basically, I just pulled the speech out my ass. I guess it could have been alot worse!
Erica starting crying rather quickly, and because many women are sympathetic criers, made many other girls cry or tear. Funny how that works. But it was simple and although I have no idea what she said since I don't understand chinese, seemed to get quite a reaction
Here's the video.
Thank You Speech
The guys are amused
Mr Bawdshorts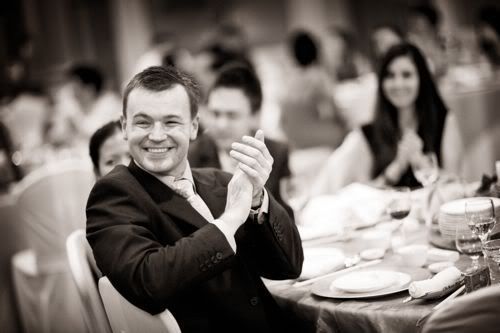 Mr Heineken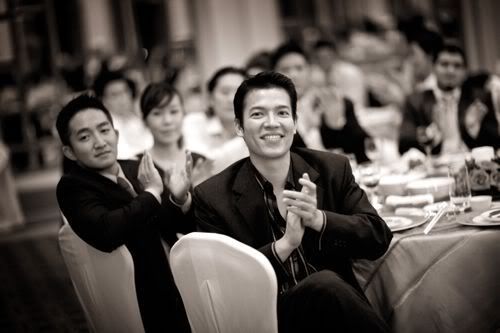 Erica crying during her speech
Emily crying during her sisters speech
Cheers!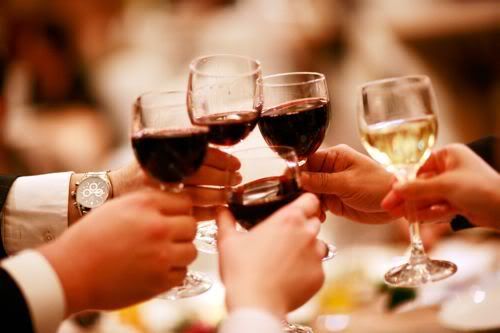 Jo and Me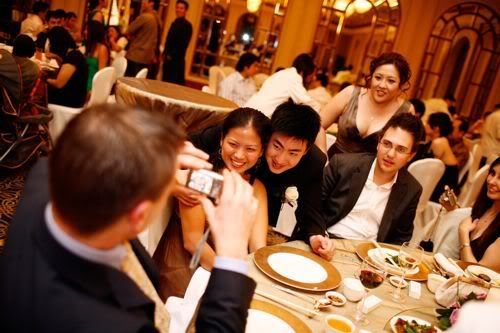 Emily and Glenn
Entourage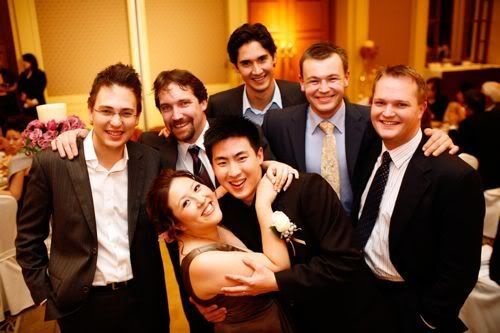 Unrecalled Finger Pointing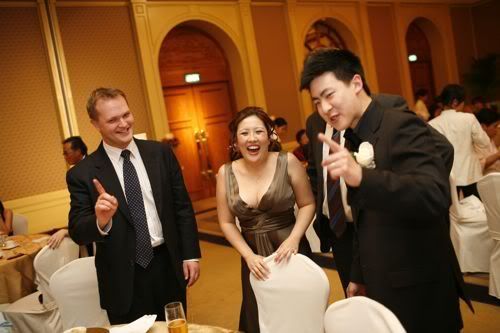 Best View In The House
Emilys Friends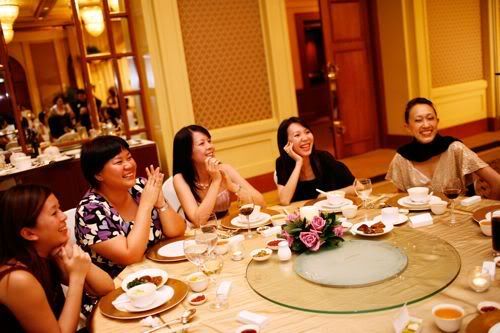 Bridesmaids Partners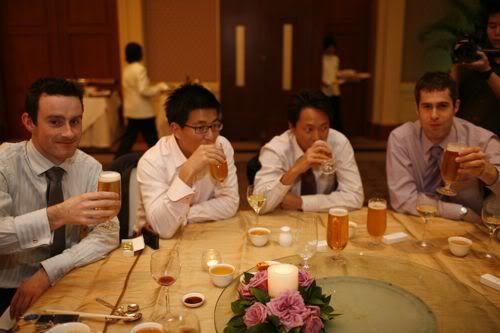 Tom and Denise
Erica and Charlaine
Our Dessert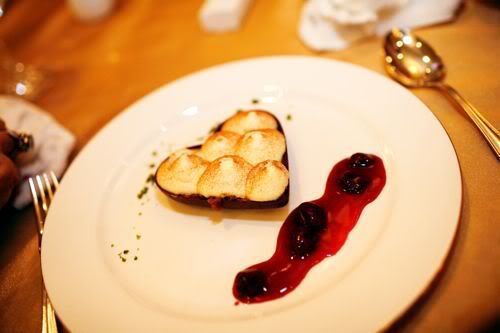 We swapped some strange tasting asian dessert on the menu for this one. This was amazing. Tasted so damn good… can't remember what it was now though! 😛
Me making moves on another woman… already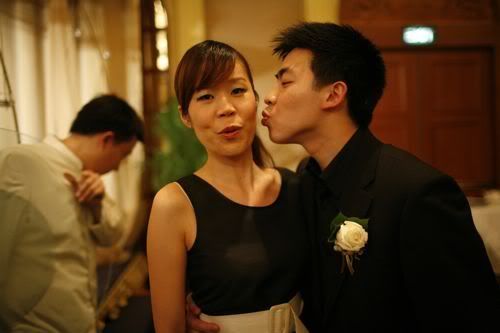 Some of Ericas Old Friends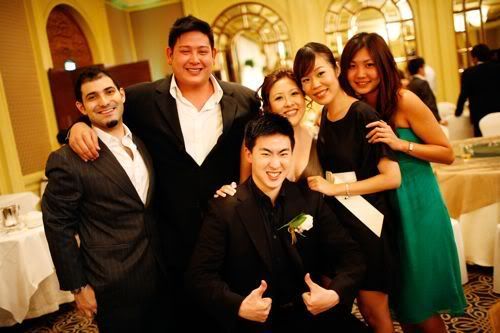 The usual "You better treat her right!" spiel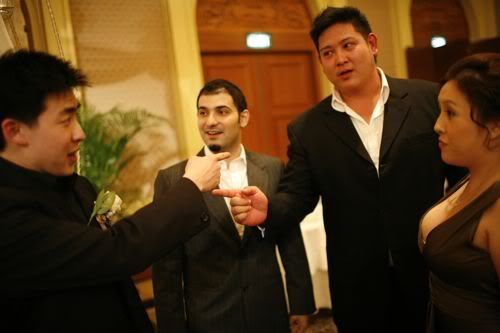 The most boring part of the night were the farewells and goodbyes. Standing there with in a row with all the family and shaking hands and hugging a large amount of people I've only just met tonight. It was awesomely fun, though quite tiring. It was my first chinese wedding dinner so I've learnt a lot from it. Though now, I'm just thankful it's all over and I can settle down in my new life with my new bride.
A big thanks to everyone on the night for making it as special as it was.