Now here comes the best part of this culinary documentation. FISH!!! Not the aquatic vertebrae, but the restaurant. Fish is the islands fine dining restaurant that specialises in seafood, as one would probably deduce from the name.
One of the things that struck us about the menu was the staggering amount of selections on the menu. Hands down, this had more seafood dishes that I've ever seen on a single menu, ever. The menu was catagorised into uncooked, semi-cooked, and cooked. This was absolutely awesome because we didn't have to ask like we normally would if the fish was cooked, raw, or just seared.
Erica and I are huge fans of raw fish dishes and I just stared at the huge selection of raw and semi-cooked preparations. They all looked wonderful. We mostly skipped the cooked section, cooked fish is so much less fun
Being on an island in the middle of nowhere, one really doesn't expect to have a fine dining experience that comes close to matching those you'd find back home in whatever cosmopolitan city you happen to come from. Well that turned out to be an error in judgement because the sheer amount of creativity that went into their preparations easily matches if not surpasses most of the seafood experiences we've had back in Sydney. That being said, I guess when you specialise in seafood and seafood alone, you get pretty good at it. All the fish is fresh caught, so naturally having the food as close to raw as possible is really the best way to appreciate it. So here's a post just dedicated to FISH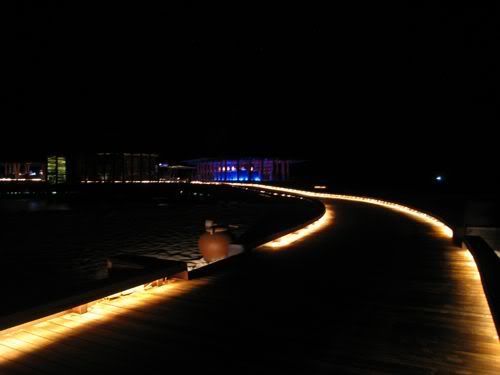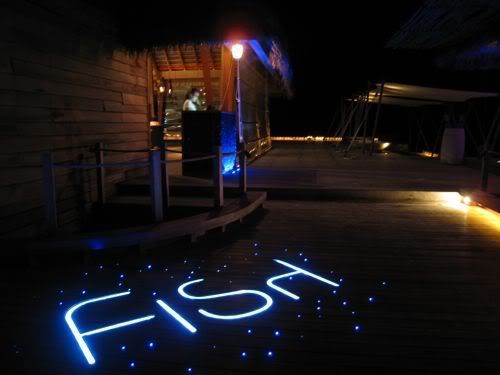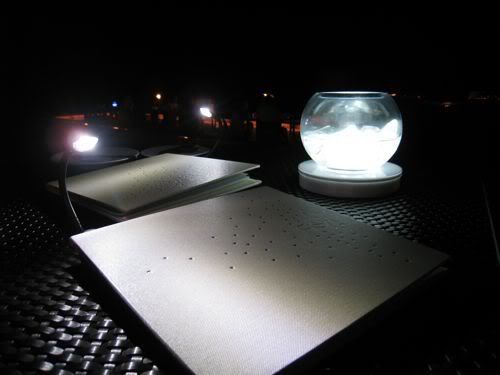 One thing that you'll notice about this restaurant, is that it's incredibly dark. I would go as for as to say that it's the darkest restaurant that I've ever experienced. I guess it lends to the immersion. There are no lights as it's mostly outdoors. There are oil lamps on poles scattered around the place to provide enough light so that people don't start falling into the water.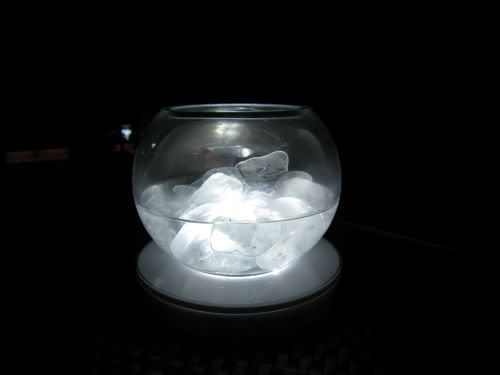 The tables are lit by a solitary globe of fake ice with light coming from an LED base. It's a nice little thing. The menus are individually lit by lights that clip onto them. If need be, you can request an additional globe for extra light. As you can imagine, the lack of lighting makes it incredibly hard to take pictures.
On our first visit, we opted to try the degustation menu. It was a 10 course menu of simply superb sounding things.
The Bread
2 types of bread were served up that were warm, crusty and fresh. Instead of the usual butter they served 3 types of spread. The butter serve was a sweet mix of honey and soy from memory. It was very interesting and a delicious twist on the usual.
Complimentry Octopus Sushi Thing
Pacific Rock Oyster
Ceviche, Natural, Panco Fried
Scallop Sashimi
Ginger, Honey Dressing, Salmon Caviar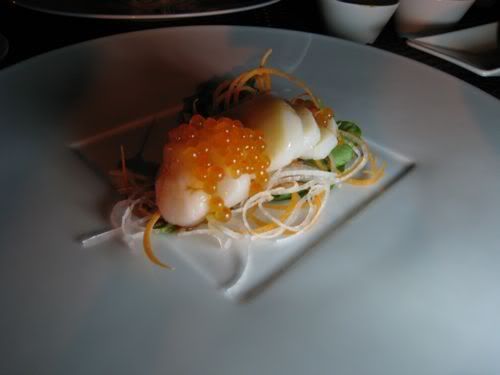 Prawn, Scallop – Tempura
Wasabi Mayonnaise
Halibut – Steamed
Ginger, Garlic, Bok Choy, Cherry Tomato, Soy Sesame Broth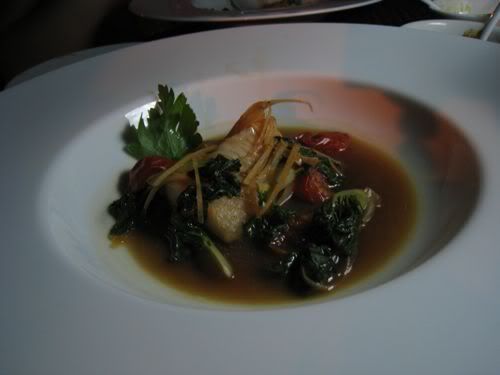 Carrot, Orange Soup
Carrot Spaghetti, Caramelized Apple Dumpling, Vanilla Ice Cream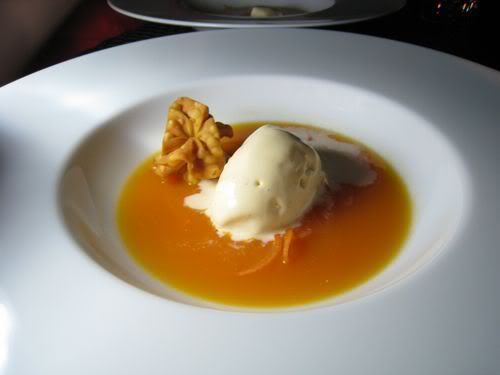 Food Coma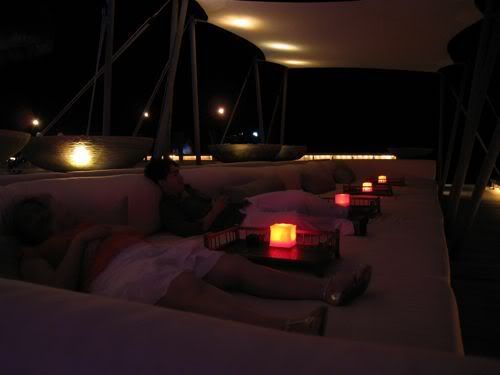 Next to the Fish Restaurant they had an area which had day beds for patrons to rest, relax, and order a cocktail from the bar whilst staring out into the great black ocean. We lay down to take a breather, and fell asleep. It was so blissful and relaxing to lay there after a wonderful meal. It was so comfortable on those day beds we just didn't want to leave.
Here's a break from the food to show what the restaurant looks like by day.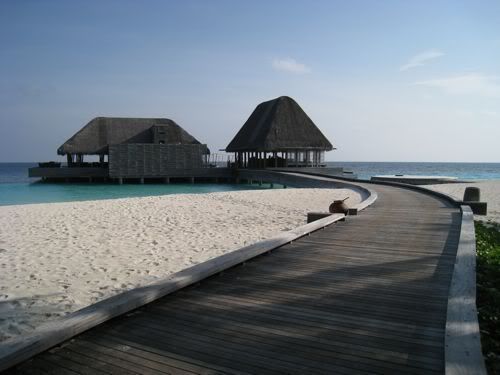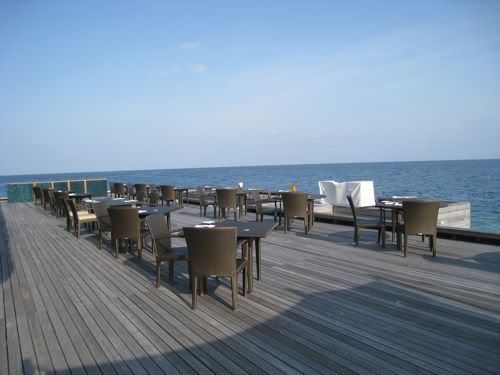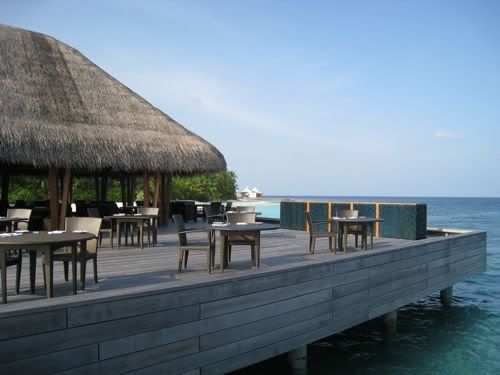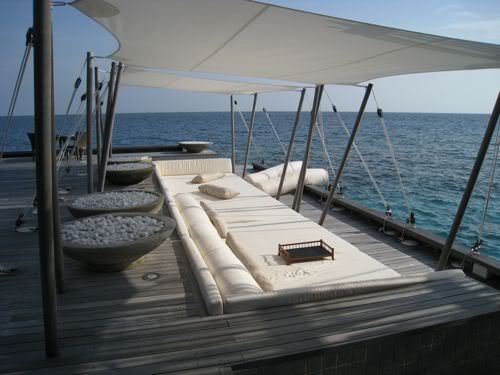 And back to the food! Now the second time round we ordered ala carte from the menu. Seeing as I didn't take a photo of those pages, I have no idea what we ordered. So I will just generically name them!
Back Again!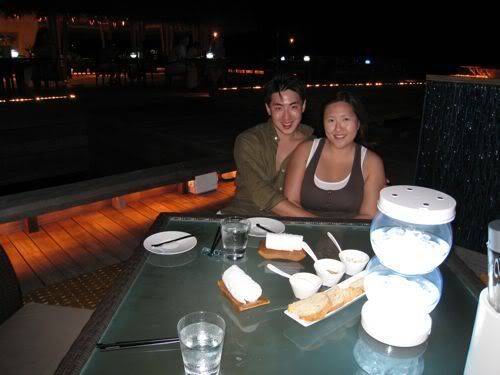 Twin Globes (Not Ericas for once)
Bread with a Wasabi Butter… I think
Scallop Sashimi
Tuna Tartare with a Tabasco Sorbet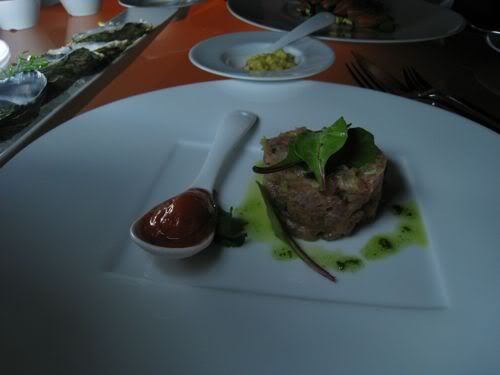 This dish was simply incredible. The idea of a tabasco sorbet, though crazy, complemented the Tuna Tartare exceptionally. Tartare of fish is always good no matter where you're at from experienced. But pairing it up with the Tabasco was genius.
Raw Salmon Dish
Oysters with Ceviche, Mango Salad, and some other dressing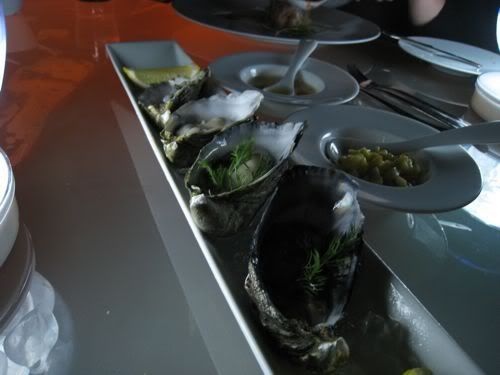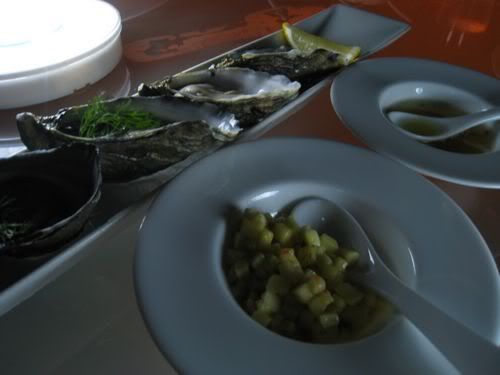 Selection of Sashimi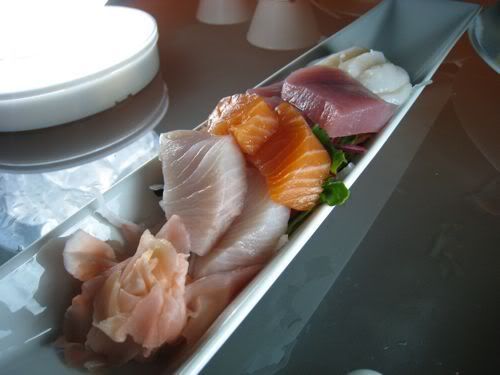 Some Cooked Seafood Dish
Seared Salmon Dish
Strange Mango Dessert
Not So Strange Chocolate Dessert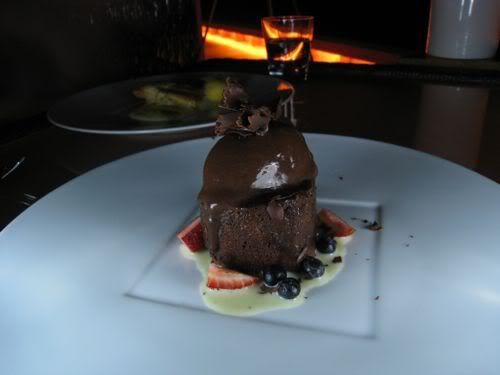 So that was it. The staff here is so polite, friendly, and sincere. Very much in contrast to some of the wait staff back home. We ended up putting in a request to order room service from this restaurant even though it's not on the room service menu and they were only too happy to comply. Will post about that in the next food section. So much fooooooooooooooood!!!!!!! *faint*