And finally we get to my last post on the fruits of the island. Starting off with our room service meals. The perfect thing for those nights when it's either hammering rain outside, you're just too tired and lazy from diving and snorkelling all day, or you have to do a cram study session for a damn dive exam. The food menu is mostly comprised of menu dishes from the restaurant Kitchen. However, on on of the occasions we were absolutely craving the fresh seafood of the Fish Restaurant.
So we put in a request to see if we could order directly from the restaurant and have them send a guy to deliver it to our hut. They were only too happy to comply. Another noteworthy mention is that I wanted a dish that I couldn't remember from the menu previously. After they read it for me it turned out that they didn't have the dish that I wanted because that particular fish wasn't on the menu that day. As he saw how much I was craving it, he put the head chef directly on to me! The head chef was so friendly and took the time to go through the menu and talk about the flavours of each dish, and his own recommendations. Seeing as I still wanted the dish that was missing, he went through his list of available fish for the night to find one with flesh suitable for that style of preparation and selected one. The service was absolutely outstanding, and I don't know any other venue or resort that would provide such an incredibly high level of friendly and sincere service. Outstanding.
Anyway, on with the food! Can't remember the names once again so we'll have to go with general captioning!
Fancy Room Service Meals
Fresh Foccacia Style Bread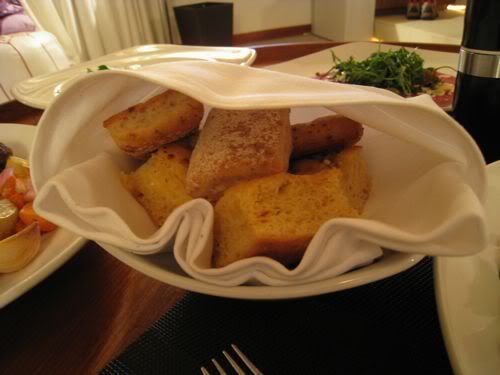 Carpaccio of Beef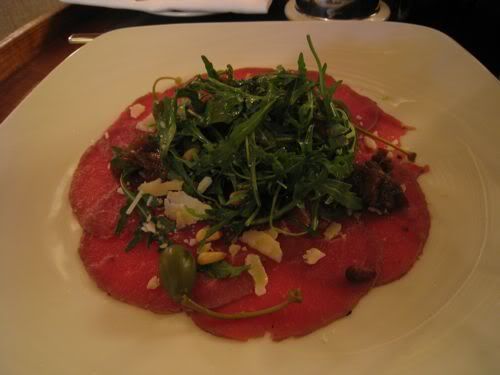 Creamy Lamb Dish on Mash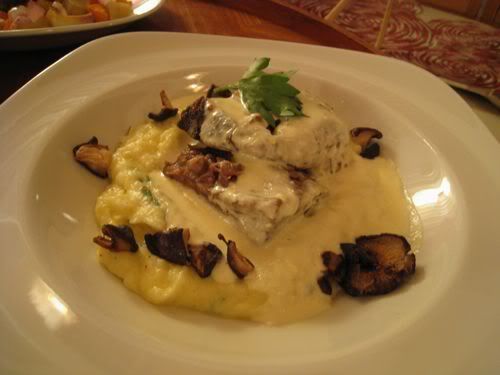 Veal on Cous Cous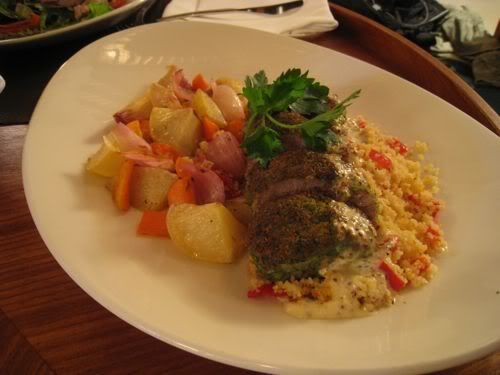 Tuna Tataki Salad
Awwwwwful shot of us!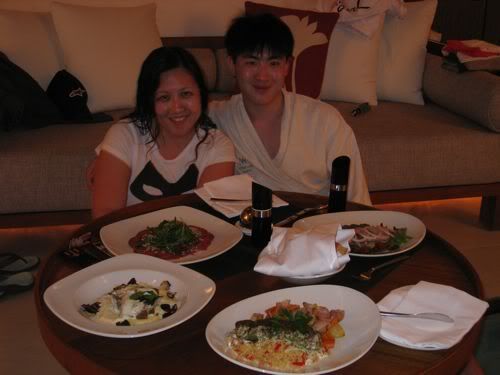 Lunchies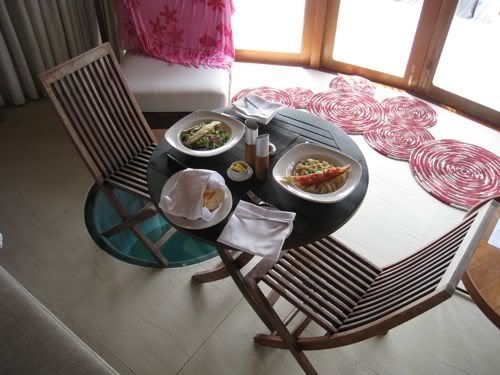 Spaghetti Carbonara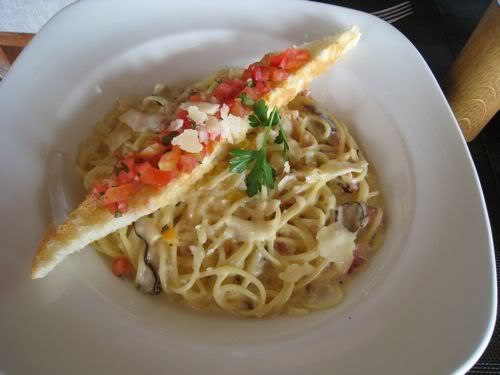 Caesar Salad with Tuna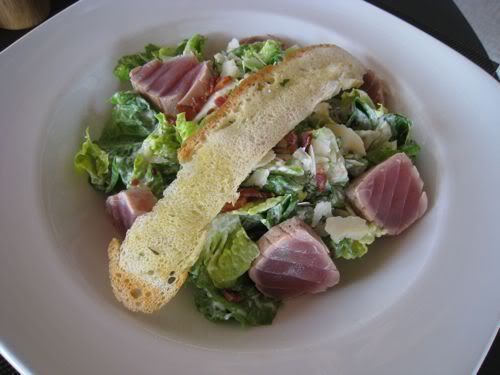 Another huge gastronomic night in
Cheese Burger
Spaghetti Bolognaise
Black Truffle and Foie Gras Terrine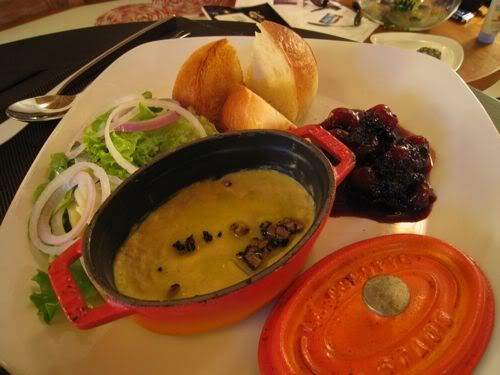 Tuna Tartare with Tabasco Sorbet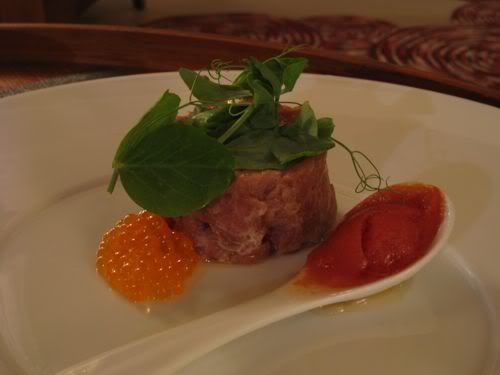 Kingfish or Snapper Miso Salad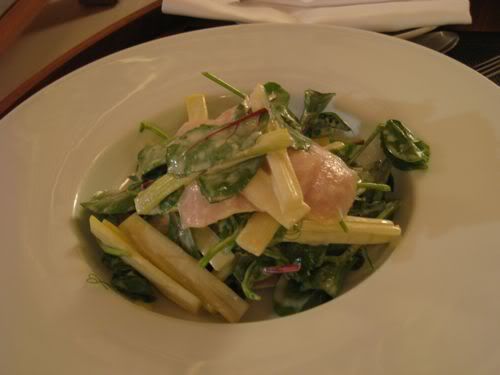 Marinated Prawn Dish
Pig In Action
Steak Sandwich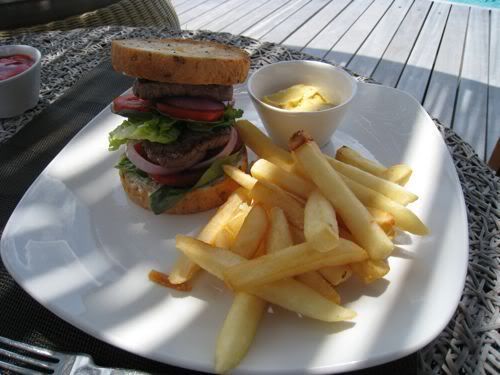 Wrap and Nacho Chips
And here is where we spent every morning enjoying breakfast. The Kitchen. It's your typical buffet style breakfast but with a last assortment of tropical fruit that changes every day along with their bread selection. Our staples were smoked salmon and kingfish, crusty bread, and various preparations of eggs every morning. The first time we asked them for Eggs Benedict, it was prepared to perfection. However, the second, third, and fourth occasions all turned out pretty bad. Wasn't exactly sure why…. The hot food is not on display and is basically cooked to order. Eggs, bacon, sausages, waffles, fried rice/noodles, dim sims, etc etc etc.
It was very relaxing to have a nice laid back breakfast every morning and enjoy the scenery. If only every day could be like this!
The Kitchen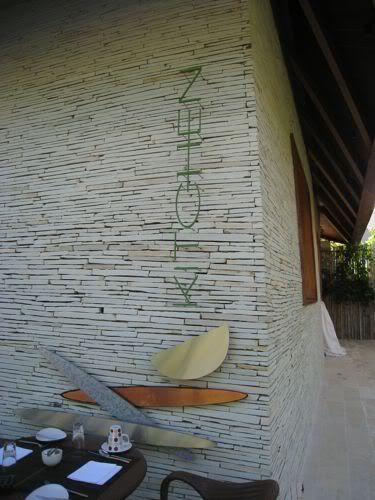 Our Daily Seat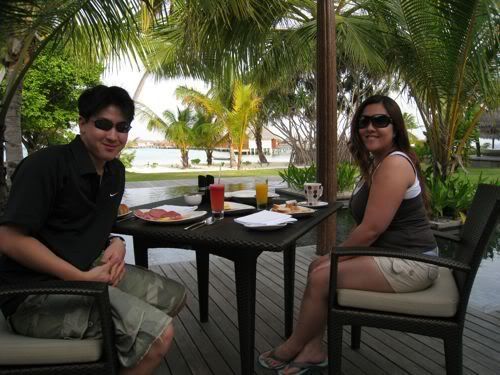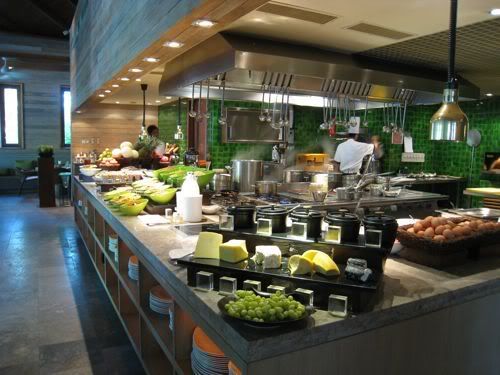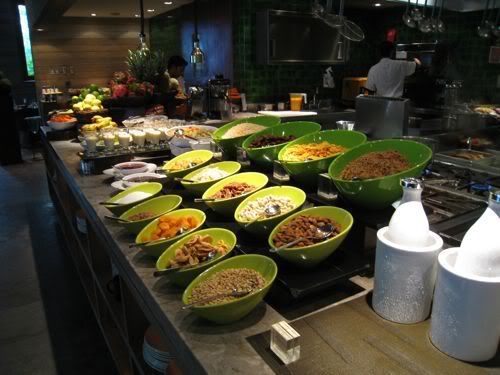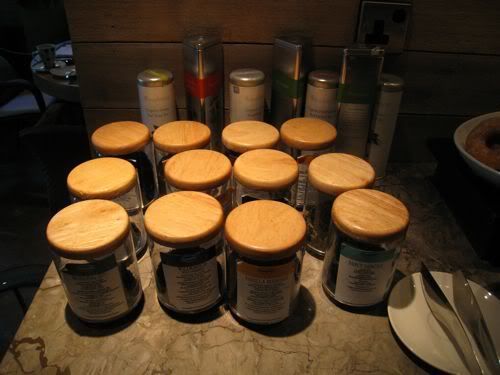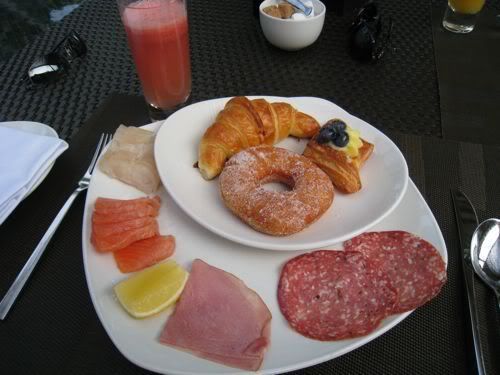 Our Final meal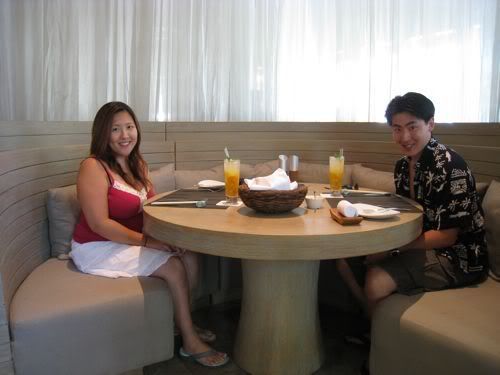 Sashimi from a Snapper we caught ourselves the night before! Yum!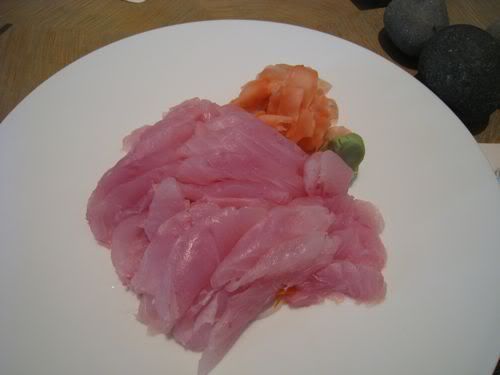 Thai Beef Salad