With another weekend come and gone, it means that we're one week closer to our big New Zealand road trip! We had a couple of meals out, went over to Brandon's place (my brother), and finally got round to sorting out Erica's storage room at Auburn. On Friday night Erica took me for a 90min massage at Ayurve in the city, using her last remaining 2 for 1 voucher.
This was the first massage I've had since my last encounter at some massage place in Holland Village involved me getting molested by the old lady that was my masseuse. *shudder* With her hands repeatedly brushing against my…. undercarriage… and her also getting way too familiar with my butt cheeks, it was no wonder that this massage gave me flashbacks to those unfortunate moments of masseuse-patient impropriety. Now if she had been a young little thing instead of a lady old enough to be my mother, it probably wouldn't have been so bad! But I have to say, having an old lady fully straddling you when you're naked is probably closer to the stuff of nightmares than fantasy….. Oh, and Erica was in the room at the time as well.
Anyway, after the massage we went to Mamak again for dinner as Erica was still a little jaded that Viv and I went last time without her, leaving her cravings unfulfilled and her prata's unordered. We had picked up some NZ maps of the North and South Island along the way so we could plot our road trip in a months time from Auckland to the Milford Sound.
We passed some Korean BBQ joints and I realised that it's been quite a while since I've had Korean BBQ. And it also for some reason reminded me of the first ever Korean BBQ I've ever been to. And so, I decided to revisit that joint on Saturday and take Erica with me.
I have fond memories of the Charcoal Mine in Parramatta. Fond memories of going there for dinner with my Hongkie friends when I was 17, and us repeatedly getting kicked out…. or almost kicked out. We were almost obsessive compulsive in our need to stuff bits of chopstick, paper, and food through the grill and onto the hot coals so as to start a fire. Good times. Thankfully 12 years later, I had almost fully matured out of that phase! (I only stuck a wee bit of paper and food into the coals).
The Charcoal Mine, home to much mischief
The Charcoal Mine is pretty good value for money what with being a buffet and all. With a decent (though not huge) selection of meats, you really can't complain with a $20 price tag for a weekend lunch. Fresh meats with tasty marinades, it more than adequately did the job. For me the place contained good food and much better memories.
The Battleground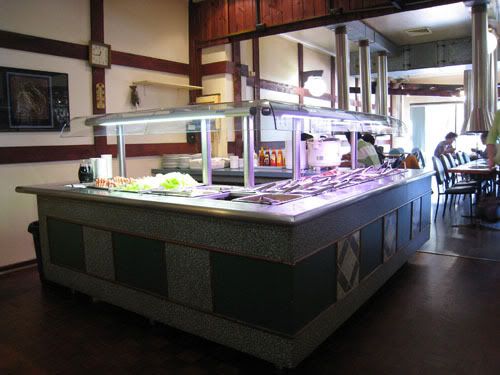 More meat than a Manpower performance….
Carcinogenalicious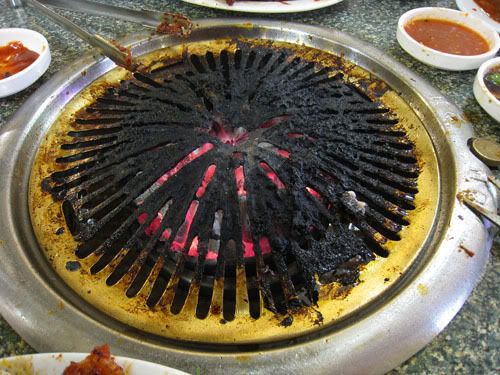 On Sunday morning we decided to have breakfast on the balcony for the first time in a long time. The winter cold had eased up and we were also hit with the realisation that we soon won't be able to enjoy this view much longer. So we made a promise to ourselves to milk that balcony for all it's worth and have breakfast on it every weekend until we leave. It's been so many months since we last did it that we forgot how soothing and relaxing it was to just sit back and chill in the open.
I made grilled ham and swiss cheese croissants for brekky and it was the great way to kick off a relaxing Sunday.
Balcony Breakfast
Ham and Cheese Croissants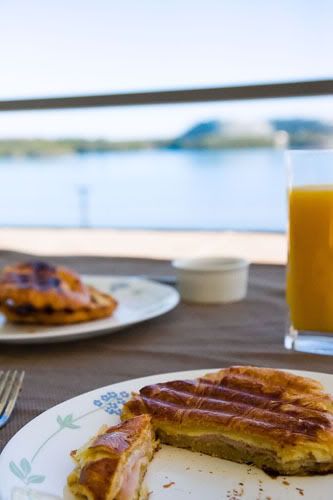 Bliss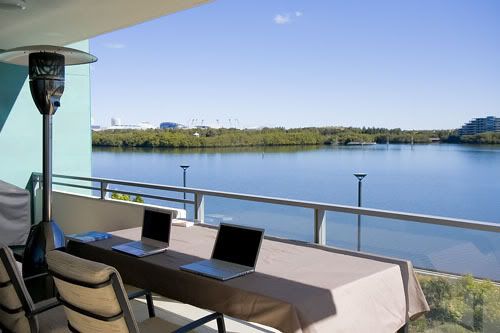 And finally, we decided to go to Hooters for Sunday dinner. Hooters, the glorified and overrated amalgamation of yank food and T&A. Generally the only reason we go there is because they are one of the few places in Sydney where you can get Buffalo Wings. The Hooters girls can be pretty hot on occasion, though more commonly I find them to be quite average. Granted some of them sport some pretty amazing cleavage, but contrary to popular belief most of the girls are more the athletic type as opposed to the model type. The girls look like they could easily run a marathon or go toe to toe with any man at a sport of his choosing. They just look so damn fit and healthy, like they could tear my pants of with their teeth and hogtie me with them.
And that's not a thing! But sometimes…. just sometimes… I wish they were more the lingerie model types, like in the Hooters of my dreams
And I have to visit the Hooters in Singapore just out of pure curiosity….
Hooters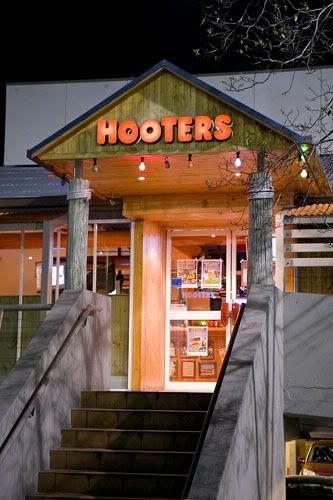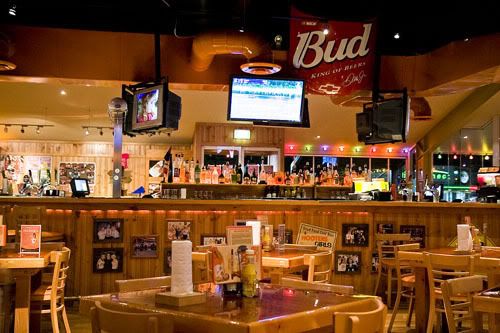 Lol, see what I did there? You know, because we're at Hooters so I'm pointing to her hoo…. never mind.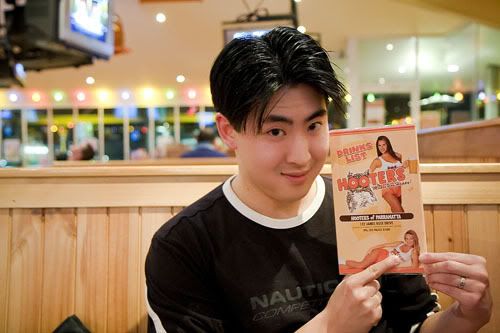 Bud-wei-ser…. Bud-wei-ser…
"Wrong!"
Steak Quesadillas
Curly Fries
Buffalo Wings with Blue Cheese Sauce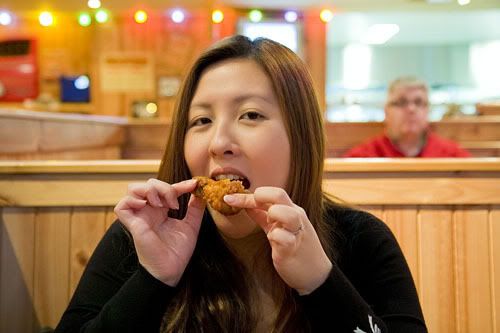 And on tonight's episode of "Librarians Gone Wild…"
And finally, I decided to make Fried Ice Cream. I hadn't made it since my time in Melbourne and as such didn't come out perfectly. The oil wasn't hot enough and the coating not thick enough. But all in all it still wasn't too bad. I made my own chocolate sauce but since didn't have any cream, had to find a recipe that didn't require cream. The sauce was pretty good but could have been thicker…
Deep Fried Ice Cream