I met up with Grete on Sat night for dinner at Almond Bar. It's been ages since I last caught up with Grete and since I'm trying to catch up with as many close friends as I can before I my big move to Singapore, figured it would be a good as time as any. However I did feel bad for leaving Erica at home on her lonesome on a Saturday night and so promised to make it up to her with what will hopefully be a very special home cooked meal on Sunday night that *fingers crossed* won't be a fail bomb!
Well anyhoo, I've never actually been to a proper middle eastern restaurant that I can remember. My foray into middle eastern cuisine has been largely restricted to kebabs in their various forms on the go. Not that I'm complaining about that! But seeing as neither of us were very hungry we just got a couple of small dishes and they weren't too bad at all!
Almond Bar is very very dark and you're almost purely eating by candlelight. Nothing wrong with this, but it's a total bugger trying to shoot the food! I had to do a fair bit of post processing on the photos in order to get them to look all semi-pretty and stuff!
Almond Bar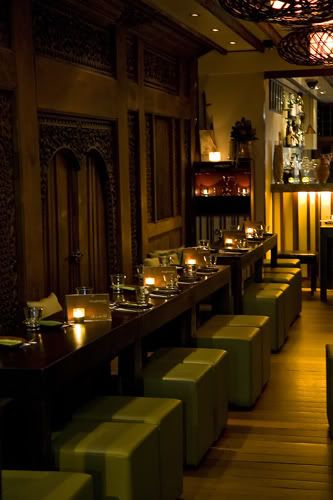 Assortment of Almonds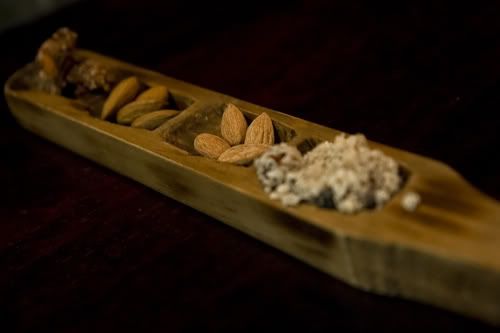 Sumbusic
Traditional homemade pastry filled with Lamb, Pinenuts & onion
This dish to me was very reminiscent of a curry puff… but without the curry and served with yoghurt sauce. I really enjoyed it but then again, I really enjoy curry puffs in all it's forms 😛 Despite the resemblance between the two, I enjoyed it especially with the yoghurt.
Haloumi
Grilled sheep's mild cheese with extra virgin olive oil, oregano & diced tomato's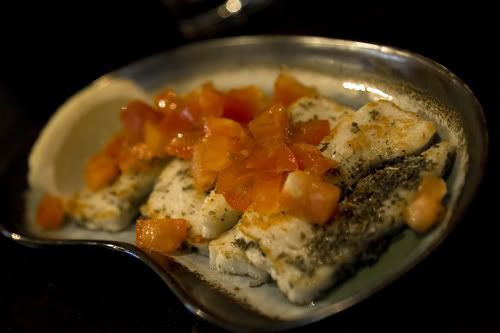 Haloumi is well…. just haloumi. They always taste rather similar in all the grilled preparations I've had thus far and this one was no different, just served with tomatoes. I love haloumi and so naturally enjoyed this.
Chargrilled Lamb Skewers
Marinated in a special house sauce
Normally I view skewers as a cop out dish to order, and that includes satays, but decided to give this one a go because well…. Grete wanted it. It was so tender, juicy, and flavourful. Twas my favourite dish of the night which really wasn't hard seeing as we only ordered 2 meat dishes and Erica wasn't there (because she's always my favourite dish you see 😉 ).
A dessert special I can't remember
I believe this was a weekly special since I couldn't find it on the online menu. It was some pastry that had been deep fried to within an inch of it's life. It was filled with some creamy stuff and was totally delicious. Very very good.
Baklawa
Filo pastry filled with pistachio or walnuts & sugar syrup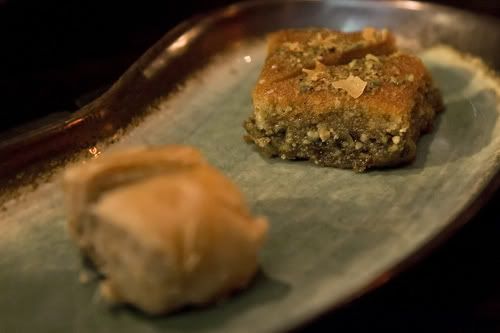 Now this was disappointing. I've had much better Baklawa's from your regular Johnny Turkan's Kebab Shop on just about every street corner. I couldn't even finish this, it was quite disappointing to me. Now don't get me wrong, I'm not saying it's not authentic, because I have no point of reference, I'm just saying I prefer the filo wrapped ones you get from just about everywhere else to this one, authentic or not.
After din din we went hunting for a cafe or bar just to hang out and chat. We headed down Victoria St and ended up at El Mojito. Along the way we passed of all things a Wicked Weasel store!!! I had no idea Wicked Weasel had a shop front!!! And a big shop front at that!!! So I had a few good laughs at it, perved a bit at the posters, and then continued along my way.
I initially ordered a coffee but after Grete ordered a Mango Mojito I figured…. yeah… since we're in a place called "El Mojito's", we may as well try their namesake. Disappointing… Both of them had basically no taste. What a let down given the name! They were arguably some of the worst mojito's I've had! Maybe the bartender had an off night…
El Mojito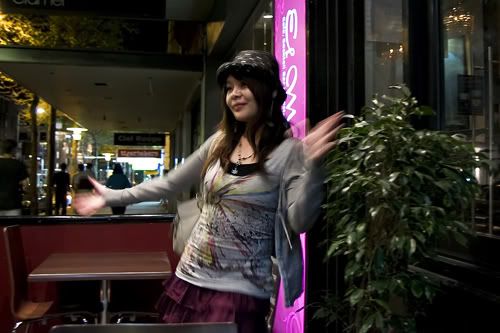 Lemongrass, Lime & Ginger Mojito and Mango Mojito