And finally, the last post of the road trip (but not the NZ trip)! Man…. talk about the motivational struggle to get this done! Anyway, it's basically the last two days of the road trip from Lake Taupo to Auckland.
The last activity we had planned was Trout Fishing in the streams around Taupo. We saved this for last just in the eventuality that we actually caught a ton of fish, and so could lug it all straight back to Auckland and stick'em in the fridge. It was grand thinking, but that nonetheless was the thinking. Lake Taupo is the trout fishing capital of New Zealand and supposedly one of the best trout fishing spots in the world and so we figured we'd better make the most of it.
It certainly wasn't cheap, but it involved having a private guide take us up to the streams where the trout hang and hopefully we'll catch a few, or many, of them. We kicked off around 8am with the guide arriving to pick us up from our accommodation. He took us about 30mins away up to trout stream country where he gave the us the rundown, handed us our waders and rods, and told us to follow him as he trumped around the place looking for spots that the trout would congregate given the current conditions.
We had two choices to begin with when we first booked him, a half day of fishing or a full day of fishing. We chose the half day which was still about 4-5 hours just in case we didn't catch anything, it wouldn't be too boring. But soon we regretted not going for the full 9 hour day. The surroundings were absolutely beautiful with postcard perfect streams surrounding us.
The streams of which we fish looked like something out of a story book, with these untouched and pristine waterways that looked so isolated from the world and beautiful. Even if we didn't catch anything, it was still just a relaxing and beautiful way to spend the day.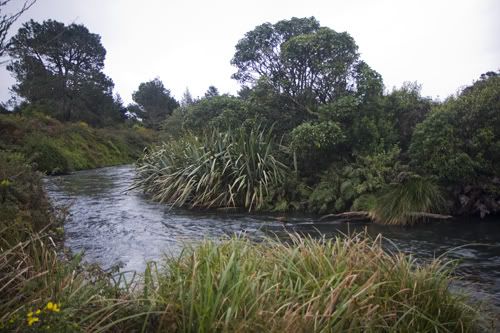 We stopped off at our first spot and the guide gave us a tutorial in how to fly fish. It's quite different from any other fishing I've done and is a far more technical form of fishing. The rod is in constant motion with the casting and our eye has to constantly be on your line to ensure that there's no drag on the lure and the movement is completely natural. With the trout fishing here, you're not allowed to use bait. You instead use a lure, or fly.
Given the time of year, we're getting to the trout to strike the lure more so because it's territorial, than because it's hungry. As so you cast away and let your lure float past what are hopefully the trout hiding spots and as it floats past, hopefully there'll be a strike.
I hooked my first fairly quickly, within about 15mins of casting. But unfortunately it got away, pulling my hook off the line as I was pulling it in. That's another thing, pulling in a trout is quite different from the usual brute force techniques of general fishing. It's important to tire the trout out before you pull it in because it's quite easy for him to escape the line if you just try to force him in. It was quite exciting indeed!
Anyway, there didn't seem to be all too much happening in the water and so he decided we should change spots. When there's alot of trout in the water, hooking a few doesn't really change anything. But if there's only a few, then sometimes hooking even one or two is enough to scare all the trout away. It seemed like a quiet day, and so decided to look for another place.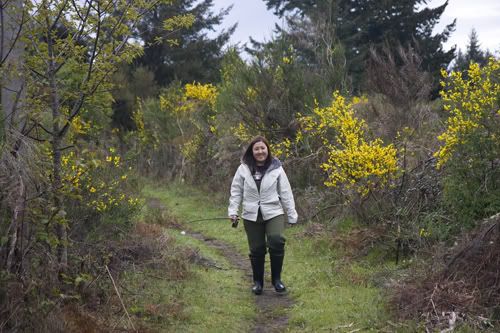 We ended up walking a fair bit all up to get to all the various other spots, sometimes finding other fishing guides had beaten us to them resulting in us having to move further on. Some of the spots were quite hard to fish, either with a heavy current or with much shrubbery to get your line tangled on, but all of them beautiful. Erica hooked about 4, all of which got away. And I caught 1, which was a pissy little 10cm or so in size. It was quite cute, a tiny beautiful little baby rainbow trout, but ridiculously small.
Sad to say, that was it. We didn't catch anything else. It's quite sad and disappointing to pay $350 and catch absolutely bugger all in turn, but fishing is all about luck at the end of the time. Sometimes the streams are filled with them, other times not. That being said, it was still a great experience, standing in the middle of a pristine stream and casting your rod about.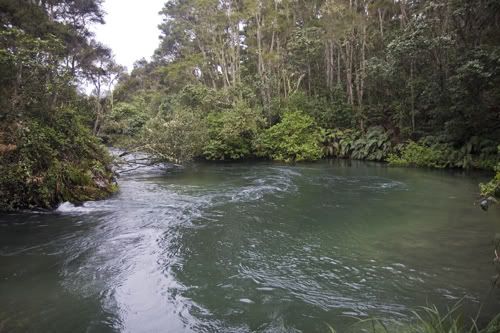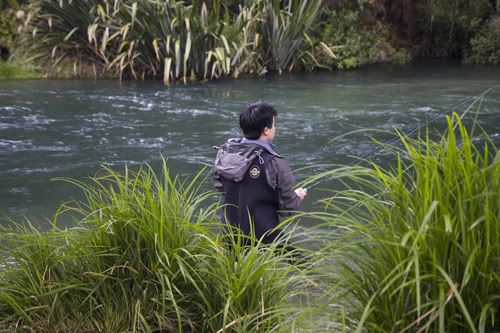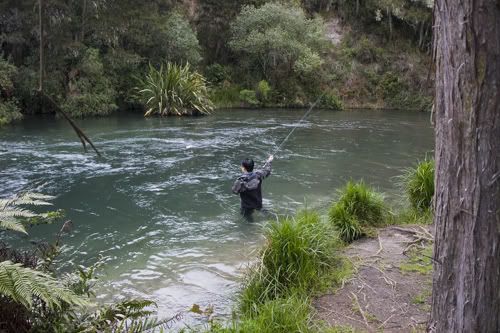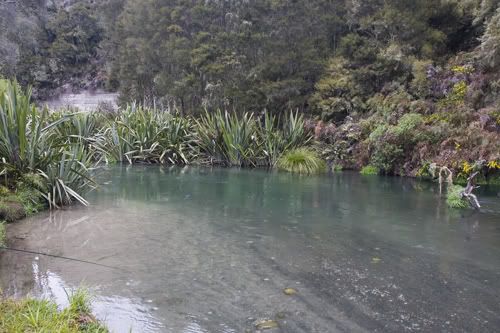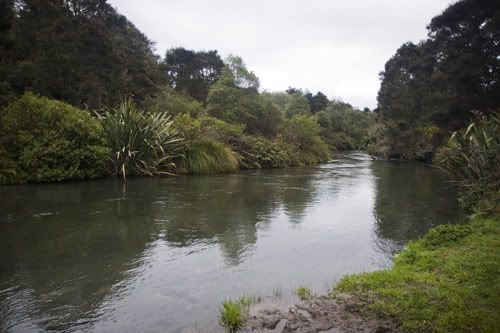 Our hopes of eating fresh caught trout for lunch were completely dashed…. and so where did we end up for lunch? Pizza Hut… that's where. We were actually looking for another Italian place as I a was craving pizza, but as we drove past the Hut I decided to pull it. From young, I used to loooove having the works buffet. Unfortunately, the disappointing thing about the works here was that they didn't put out any thin n' crispy pizzas, it was all pan and classic. Awww crap. So unsatisfying. Guess it's understandable given that there were a whole bunch of teenage school kids in there just eating up a storm. Man, I can't believe how much those maori's eat!!! They just absolutely tear through stack after stack of pizzas, whilst guzzling down a 1.25l bottle of soft drink each!!! Yikes! Maybe that's why they don't dish out a pan as they'd probably eat double that!
And that was basically it for the day. We went home after to chill, relax, and just ordered Thai in for dinner. We had stopped off earlier to buy some dessert for later in the evening which was again overkill. A 2L tub of ice cream just for 2 servings! Man, they really need to make them in smaller sizes! Our last night in Taupo was finished off with another long soak in the hot tub, and then it was back to Auckland the next day.
Pizza Hut
The Works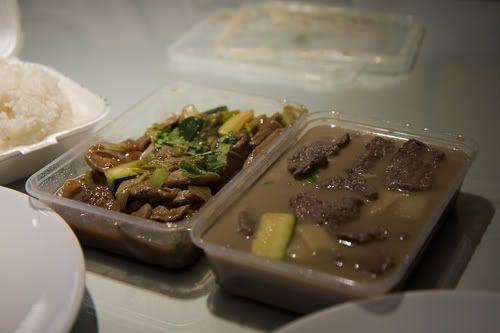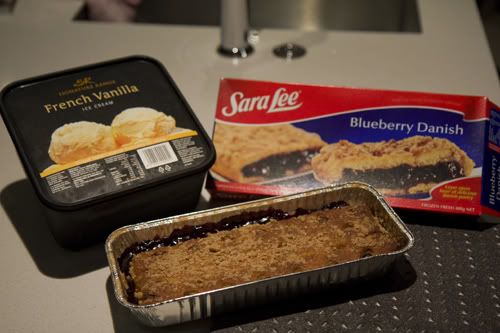 On the way out of Taupo, we stopped off to check out this huge fully of feathered things that were just flocking around. In case you hadn't already gathered from my road trip posts, I love taking photos of ducks for some reason. Why? Really don't know, I just love ducks! They just look so handsome like! Anyway, we saw this family of ducks which was just so damn cute. A mother swimming around with her little brood of ducklings. I love watching ducklings following mother ducks, it's just like the cutest thing ever.
After a while, they swam to the beach and waddled to land. Oh big mistake that was! I promptly cut them off from the water and chased them further in land with my camera! Hehe…. I did feel kinda bad about that, with the mother duck quacking at me in obvious distress. She kept trying to flee back to the water but I kept cutting them off from it, and she couldn't fly or escape because she won't leave her little ducklings behind. Yeah, I'm a big meanie I know. But hopefully if she ever reads this blog she'll think the photo's worth it
Anyway, I eventually let her back into the water and I think I could see the relief of her little ducky face!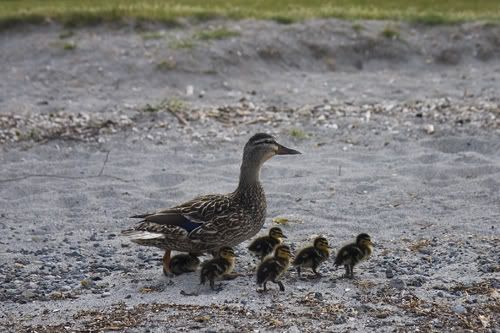 *quack* GTFO!!! *quack*
Leaving Taupo, we just simply had to have a final stop at the Huka Prawn Farm again for lunch. The food there is just too damn good to pass up a return visit. We ordered basically the same thing as we did previously except this time, I asked for extra garlic butter to dip the prawns in and also some rice to spoon it on. Oh man, this tasted absolutely brilliant. It was so decadent just eating spoonfuls of garlic butter on rice…. Granted, our waist lines are really paying for it now, but it was certainly a great idea at the time!
Huka Prawn Farm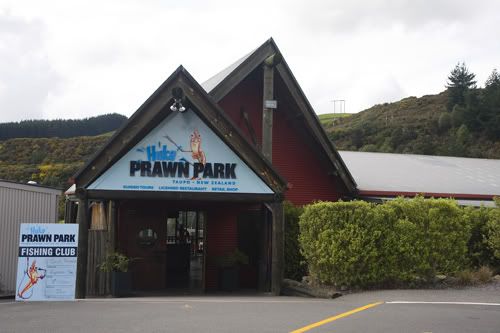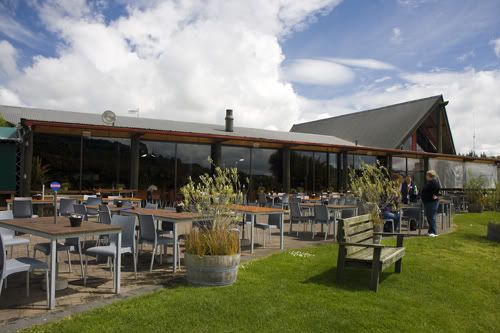 Garlic Bread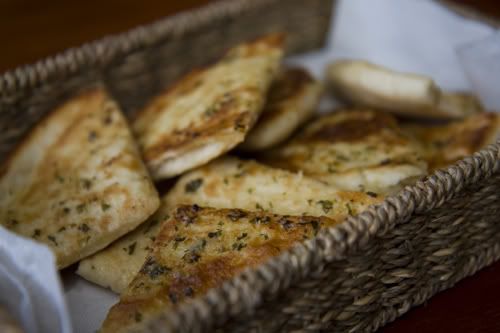 Prawn Chowder
Prawn Platter for Two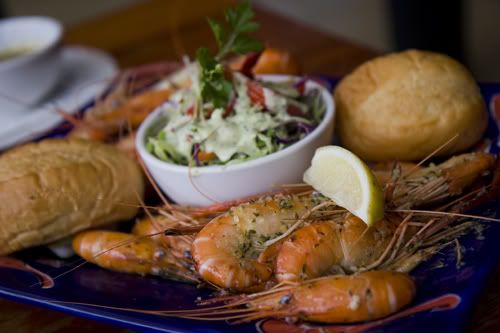 Extra Garlic Butter and Rice
Lil' Baby Prawn… *munch*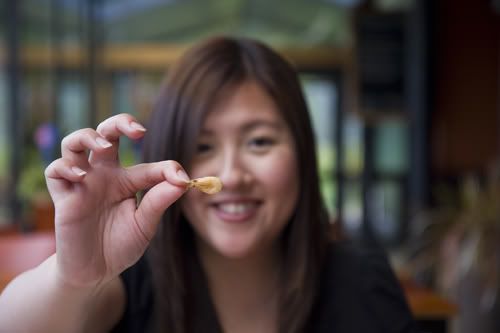 Post lunch, we popped down the road quickly to check out Huka Falls up close and personal, which was something we only saw from afar on our first visit. It was quite nice and didn't take very long at all. And then it was home all the way!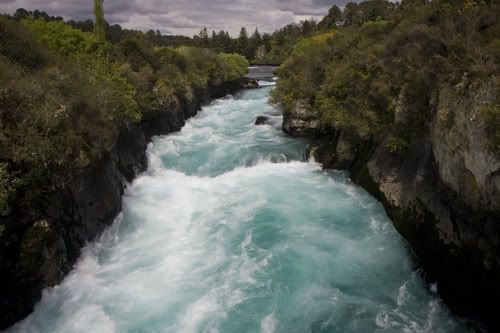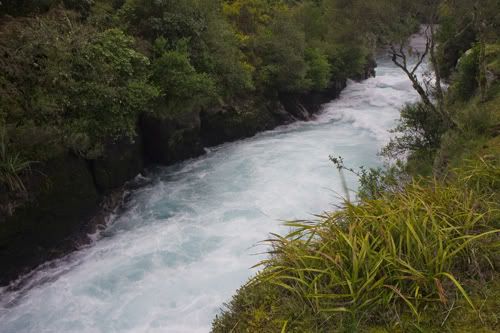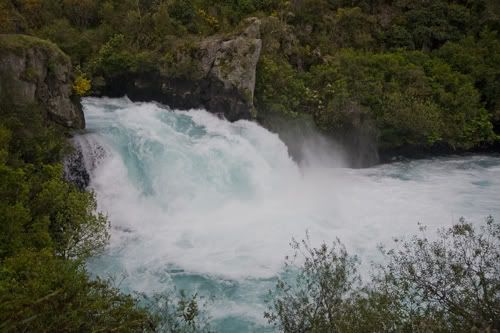 Geez… now there's a fat bastard…..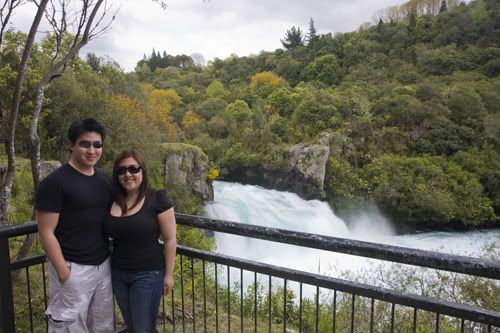 It was about a 4-5 hour drive from Taupo back to Auckland and I have to say, it's finally good to be home even if it's a home away from home. Just knowing that we're back in one place where we don't have to pack up and leave for a while is just relaxing. Being in Auckland, we took the opportunity to sate our cravings for some decent asian food and so went to Grand Harbour for dinner. We had great yum cha there during our last visit, but never ordered ala carte. We simply figured that being good at one would equate to being good at the other but alas, we were wrong. Dinner was very disappointing! The food, spanning all the dishes, was pretty bland and tasteless. It was very surprising to find indeed. So we weren't happy at all with that.
But meh…. it was just good to be home. We figured there would be plenty of opportunity to catch up on other decent chinese food in the coming days.
Grand Harbour Chinese Restaurant
Chicken Wings and Salt & Pepper Squid
Salt & Pepper Ribs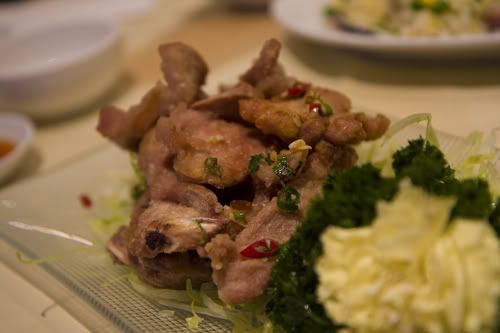 Fried Rice
Minced Pork Eggplant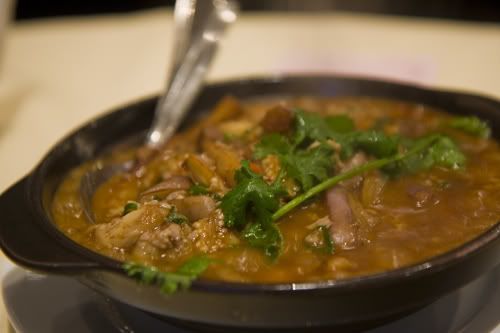 And there we finally go! Road Trip posts done! As you can all no doubt tell, there has been a very severe lack of enthusiasm during the writing of this post as it was just to get it out of the way, but I'm glad it's finally done! Still a few more NZ posts to go, but at least the Road Trippy stuff is out of the way. So all up, it was a absolutely brilliant time that was had by the two of us. But 18 days and 4000km later, I'm sooooooo glad it's finally over. And I can say that it will be quite awhile before I do another road trip because it's a very very tiring affair.
What have I learnt from this road trip? Road trips are awesome fun when you're doing it with someone whom you almost never ever fight or argue with. Sure we've had a disagreement or two along the way, but hardly any and pretty much never a fight or argument. Just like our relationship back home. I know I'm lucky and I love it. Erica and I both compliment each other so perfectly in the sense that we're both so laid back, relaxed, and hardly ever get uptight or wound up about anything, even when things are not going our way. This was compared to previous road trips I've had with my ex partners of which go into critical meltdown after only about an hour or so in the car 😛 We're both determined to not follow in the same footsteps as our parents, where there is always the mandatory road trip squabbling all the way through. And things are certainly looking good for us that it won't happen!
I've also learnt that women make absolutely horrible pack mules when it comes to lugging about holiday luggage 😛 Jeez ladies, grow some biceps and forearms already!