Finally! After 3 previous visits to Tetsuya's with absolutely no photos to show for it, I finally took some! Tetsuya's is a restaurant that really needs no introduction to any Sydneysider. It's arguably Sydney's, if not Australia's, top rated restaurant and is highly placed on the international map. Anyway, we figured this would be a good meal to celebrate us leaving Sydney with. It was where I took Erica for lunch the day I proposed to her, and so the place held additional meaning.
It was initially meant to be 4 of us for lunch, but unfortunately my friend Grete couldn't make it and so it was to be Viv, Erica, and myself. The past 3 times I've been the menu's have been more or less identical, which really isn't a bad thing because it's a fantastic menu. But this time, they've finally changed it. Initially we were a tad disappointed to find out that was the case as we were quite looking forward to the usual but we figured hey… it's Tetsuya… he knows what he's doing! And sure enough… he lived up to his reputation with the new menu.
Tetsuya's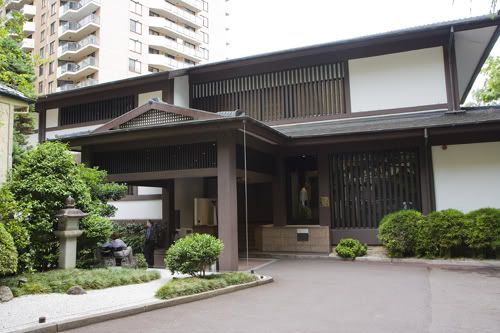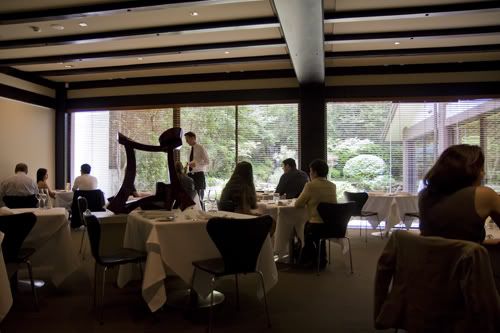 A Green Apple Martini & Lychee Cocktail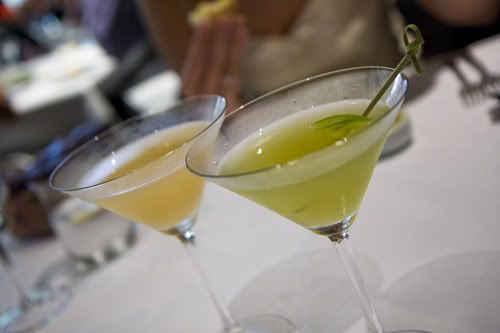 Thankfully, the bread roll is one thing that didn't change because I maintain that their bread roll is the best I've ever had. The shape of the bread itself is utter perfection, with the layers seemingly unfolding to reveal what seems to be an unending layer of crust and more crust. It's like the best part of the bread that never ends! This, coupled with their famous Black Truffled Butter is utter perfection.
Tetsuya's White Bread Roll and Black Truffled Butter
Chilled Corn Soup with Saffron Ice Cream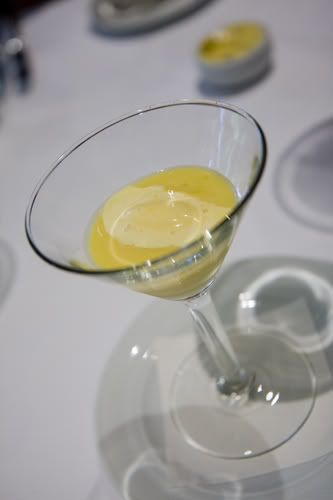 This was basically the same as what they had before, except instead of Basil Ice Cream they had Saffron Ice Cream. I love this dish as it's just so refreshingly smooth and really prepares the palette for all that is to come. How does Saffron Ice Cream taste like? Hmm… don't really know! I can't really identify the saffron taste at all as my taste buds are about as refined as a cave man with a stick. But nonetheless, it's probably a menu staple for a reason.
Pacific Oysters with Vinaigrette
The Oysters are an optional extra that they seem to have on some occasions, and not on others. I love the Tetsuya's Oyster Vinaigrette and we have a big bottle of it at home. It's really the same thing as what they sell in the bottle but just with chopped chives or whatever it is on top.
Smoked Ocean Trout & Avruga Caviar
This is fancy trout tartar that is just beautiful. But like I've said many a time, it's very very hard for a tartar in general to be anything but. Absolutely covered in caviar and topped with a semi cooked yolk, it was divine.
Grilled Scampi Wrapped in Pancetta
Scampi in Sea Water & Lemon Scented Olive Oil
Marinated Scampi with White Miso & Passion Fruit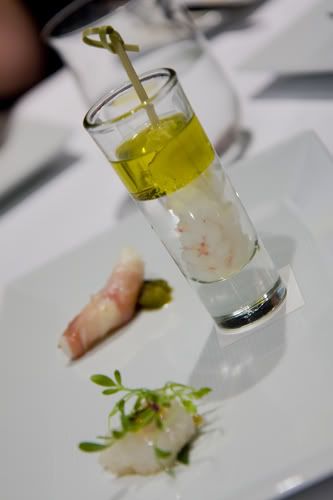 To me, this dish was arguably more appealing to the eye than a Victoria's Secret model making hot lesbo kisses with another Victoria's Secret model. It was just a real purdy dish. My favourite of the three was the Scampi in the White Miso but make no mistake, all 3 were great. I was obsessed with the high novelty factor of the scampi in the sea water that I just didn't want to eat it.
Spring Bay Scallop with Wakame & Lemon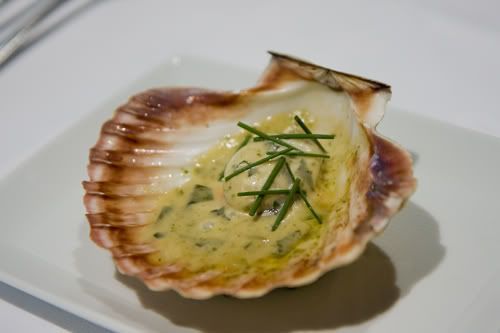 Once again, like all before it, this was a great simple dish. By now, if you couldn't already tell, I'm not really doing a very good job at describing any of the flavours of any of the food because It's been almost a week ago and I just can't remember them now. But it was buttery, creamy, and the scallop was cooked to perfection.
Confit of Petuna Tasmanian Ocean Trout with Konbu, Fennel, Apple & Witlof
This is Tetsuya's signature dish and it is just that for a very good reason, it just plain rocks. The last time we came it was way too salty but thankfully, that wasn't the case on this okay. It was absolutely perfect. This dish is actually in Tetsuya's recipe book and we tossed up the notion of cooking it. But…. the recipe seemed wayyyyy to complicated and so we'll just have to live with having it here on the very rare occasions that we come visit.
Terrine of Queensland Spanner Crab with an Avocado Soup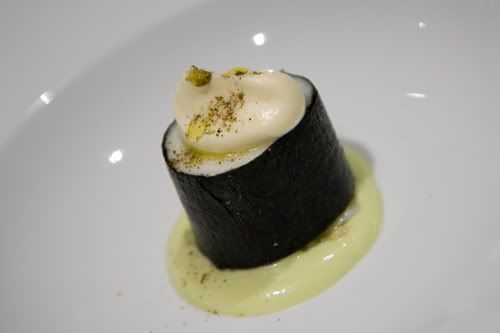 This was uber rich. In fact, it was so rich I don't think I could even have a bite more than what they served. The crab taste was just so strong that just a little was definitely enough. As much as it looks like a tiny little sushi roll like thing, it was a little power house of flavour.
Grilled Fillet of Barramundi with Braised Baby Fennel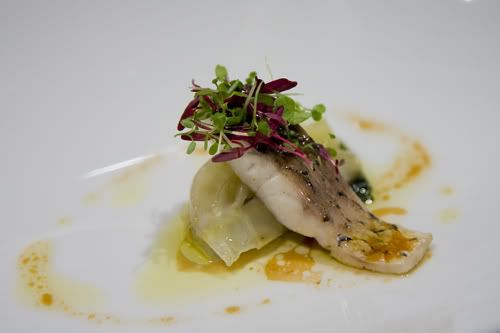 This was probably the most boring dish of the night to me. It had very much an asian flavour to it which was nothing special to us. Very small, but that's probably a good thing given how stuffed we were after the next few dishes.
Twice Cooked De-Boned Spatchcock with Olive & Caper Jus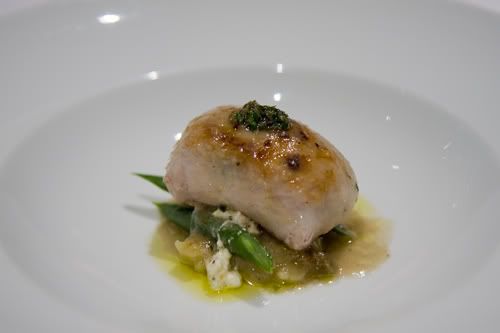 Erica found this to be her least favourite, but I actually really enjoyed this. It was so juicy and slightly fatty. I loved the way it was seasoned and think it was probably the best spatchcock I've had, if by far the smallest!
Seared Fillet of Veal with Wasabi Butter
The last of the mains, this was a great way to finish it off for what's a degustation without beef? This was just sensational. I'm not exactly sure, but the texture of the veal tastes like it's been sous vide'd to me. It had that slight sponginess to it which I really love and was cooked perfectly. I loved the wasabi butter on it and I'm going to try to replicate this at home.
Comte with Lentils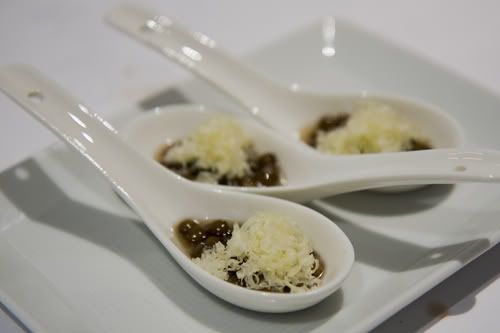 This was just strange and I didn't enjoy it at all. Parmesan style cheese with sweet lentils? Argh…..
Beetroot & Blood Orange Sorbet
Bread & Butter Pudding
Unfortunately, this has replaced Tetsuya's old take on a strawberry shortcake. But fortunately, this one is just as good! Not just good, bloody brilliant! I absolutely loved this dessert!!! The sorbet is just what my mouth needed to revitalize it after the past many courses and the sweet richness of the pudding just perfect to chase than down. I love Tetuysa's takes on the old dessert classic. I wish this was larger… much much larger.
Apple Tarte Tartin with Calvados Cream Ice Cream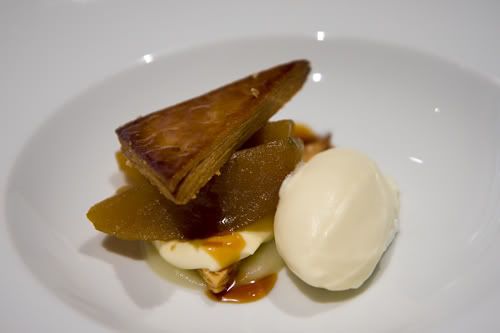 This followed the trend set by the previous dessert in that it was also excellent. The rich buttery pastry, the alcoholic bite of the apples….. wonderful. Again, not large enough. Really enjoyed this.
Fakeass Birthday girl….
Okay, now we did kinda a dodgy on this one. The first time I ever came to Tetsuya's was when I brought my ex for her Birthday. Because it was a birthday, we got an extra course which was a flourless chocolate cake. Didn't like it that much, but it's a freebie extra which no one else gets… unless it's their birthday. The second time I came here was with Erica after I proposed. Because it was a special occasion, we got the free cake again! But noticed that not everyone received it, only those that were celebrating something. Hmmmm…. *cogs turning*
The third time I came was with Erica and her sister Emily when she visited us. Because it wasn't a special occasion, we didn't get any extra course! None of the desserts happened to be chocolate and so Erica mentioned her disappointed with the lack of a chocolate dessert to the waiter and and he said never to fear, he'd arrange something special just to sate her! And out came a chocolate dessert I hadn't seen before, and it was yum!
And so… come the fourth time… I lied 😛 I was just curious as to what the complimentary "special occasion" course was, and so mentioned it was Viv's Birthday. We didn't end up getting and extra course, but we got a different course for Viv. Viv got a special Chocolate fondant whilst Erica and I got a Chocolate Terrine which I struggled with. So damn chocolatey…. and I'm not a huge chocolate person!
If any of Tetsuya's staff are reading this, I apologise for the dodgy birthday! But I only do that because your food is so awesome and creative!!!
Mucho love xoxoxo
"Birthday" Chocolate Fondant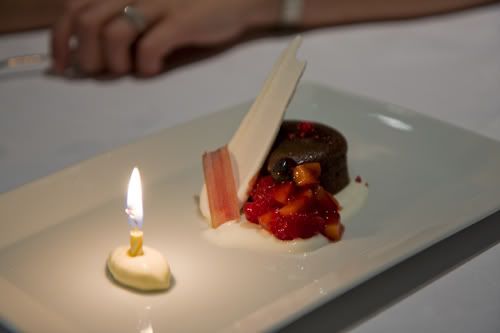 Show us your gooey bits…..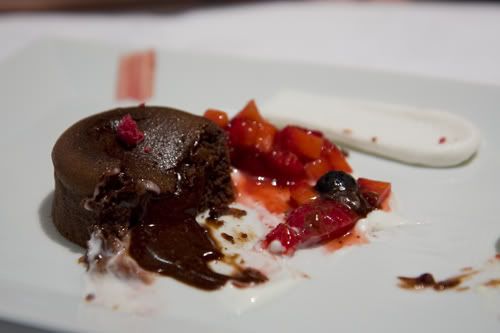 Chocolate Terrine with Mascarpone & Cognac Anglaise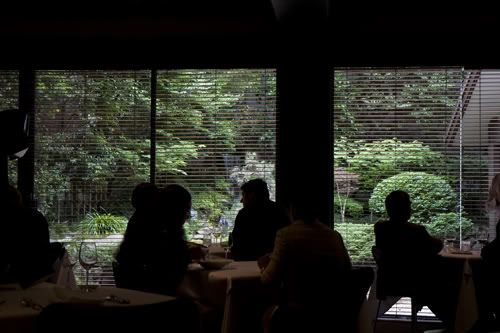 Peppermint Tea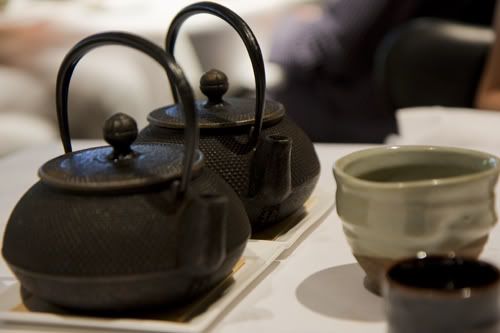 Petit Four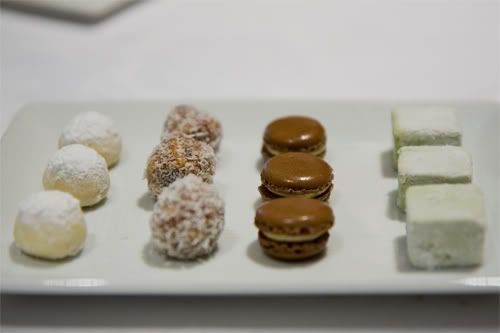 The peppermint tea and petit fours were great finish to a stellar meal. As apprehensive as I initially was about Tetsuya's changing the menu, those fears were truly allayed by the quality of the food. They've proven, at least in my mind, to be the best degustation experience in Sydney bar none. Other's have come mighty close, like Guillaume, but never equalled. Now that I'll be moving to Singapore, I don't know when I'll get the chance to visit Tetsuya's again. But whenever that may be, I greatly look forward to another new and creative menu
Awesomeness plus plus, if you haven't tried the place yet, I really recommend for you to splash out and go try it. It's truly worth the money