Last weekend we got the marvelous opportunity to revisit La Gerbe D'or again. I say marvelous because not only were we there for the magnificent food, but we are also getting the chance to meet Bev's parents whom are here for a visit. Bev is a curious creature, a fact of which no one will probably dispute, and I was very curious to meet the parents of whom this rather curious example of the fairer sex stemmed.
I posted enough about the food during our last visit to this place, and so won't really bother to go there again. Anyway, lunch was quite good fun. Meeting Bev's parents was also quite good fun as they were both very entertaining to be with as far as parents go. They are hell of a lot more fun than my parents, and we really enjoyed spending time getting to know them. On another note, Bev's dad is like the fittest asian Dad I've seen in recent memory.
Initially I was a tad apprehensive about the whole thing as I knew that Bev's mum has been reading my blog. Now… given that I swear like a sailor whom just stubbed his toe in most of my posts, and the fact that I probably make more than what may constitute as a normal amount of sexual references and innuendos, I was naturally concerned that Bev's parents would view me as some raging wife beater whom dropped the F bomb at every conceivable opportunity. And so I endeavoured to be on my best behaviour today! *halo* Not that I swear very much in real life anyway…. which in fact I don't…. I think.
La Gerbe D'or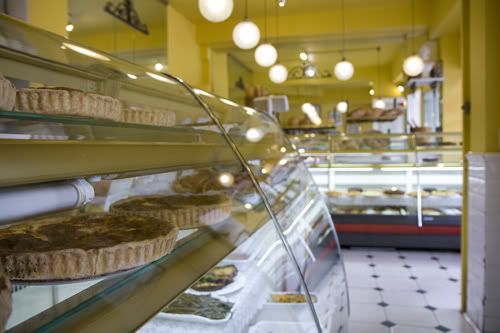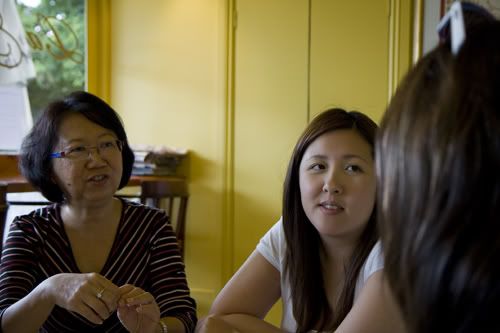 Teh Ladiez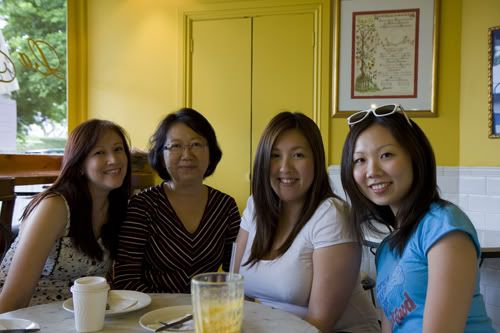 The table ended up being split somehow into two separate factions. The women on one side, and the incredible power of awesomeness personified in 4 human bodies on the other. Which is probably a good thing as I don't think any of us guys were particularly keen on catching cooties or girl germs or some such. Anyway, it all worked out in the end. The guys had more fun talking about…. whatever it was we talked about and the women could chat uninterrupted about pot pourri or dresses or whatever it is that chicks dig.
Teh Awesome
Anyway, we ordered a whole bunch of stuff to share with everything top shelf as usual, except for one of the Croque Madams of which the eggs were slightly overcooked. Boo…. no runny gooey eggy pleasure…..
French Toast
Salmon Brioche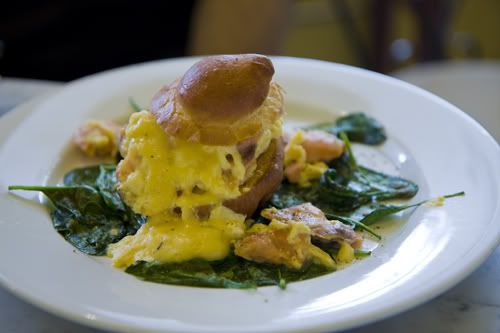 Croque Madam
Onion Tart
Eggs Florentine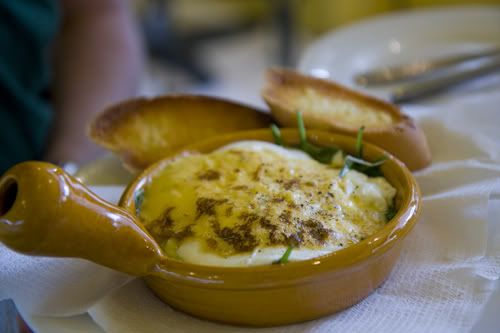 Rillettes de Canard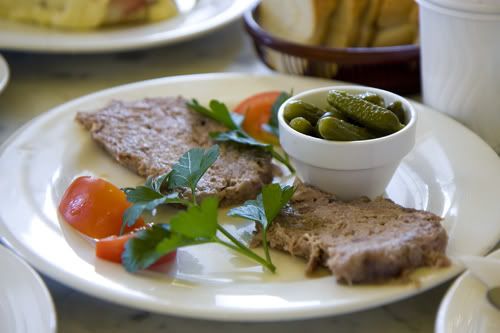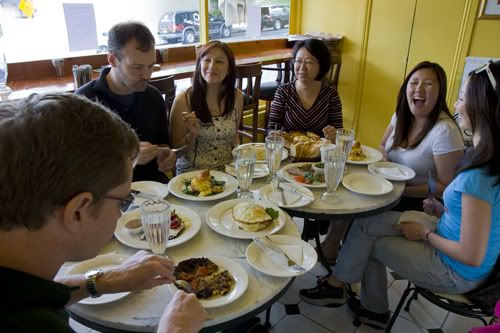 Strawberry Vanilla Slice
Some scroll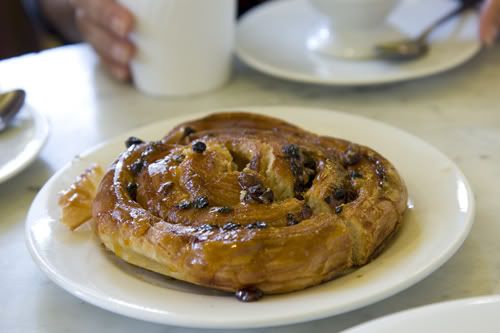 St Tropez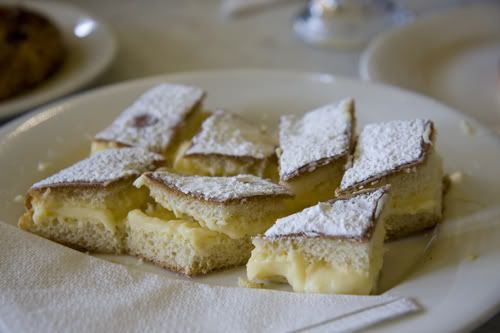 Almond Croissant
Fruit Tart
Nut Thing
Man, I was well and truly stuffed after this, given our minimalist diet of the last couple of weeks or so…. The rich foods, the sweet desserts…. oh the guilt of it all. Nevermind, it will probably be the last time I'll be here for a good long while and so may as well make the most of it! We sat around for a while chewing the fat and demonstrating to Bev's folks the bunch of glutinous lunatics that she chooses to hang out with.
Your E Penis compares not to mine Bev….. nor your real penis…. I hope…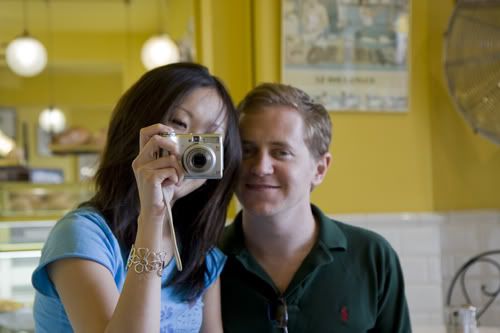 Why the suspicious look Lisa?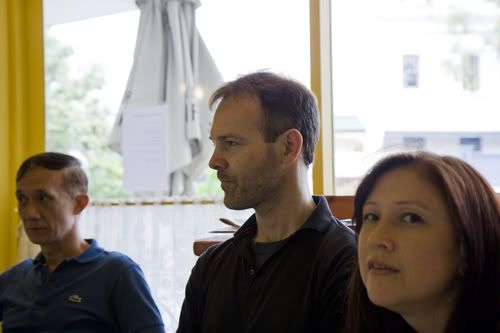 Lisa's nice… so she's exempt from any corny captioning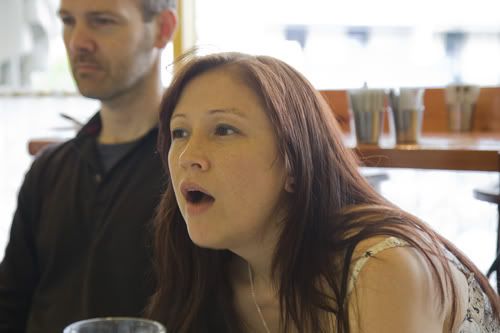 There are many ways to describe this photo. But I think I'll go with…. "Raging homos"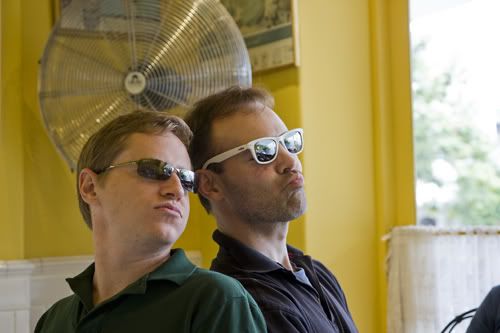 It's amazing how people can look so different from certain angles….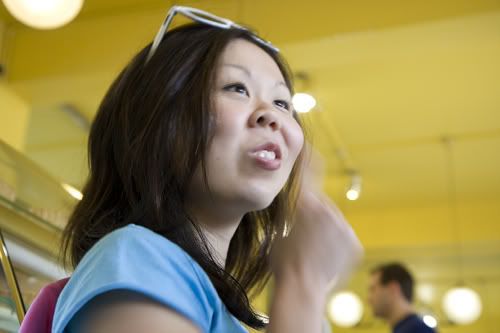 Group love…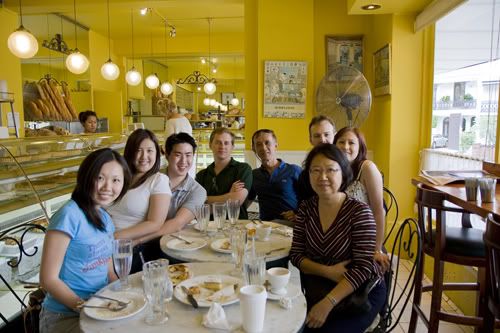 Post lunch, Chris and Matt nicked off leaving the 2 remaining guys to be dragged along with the 4 remaining women whilst they shop hopped their way around the streets of Paddington. Well… at least Daddy Bev and I had each other for company as the other ladies went from store… to store…. to store… to store… to store… and bought nothing. Hooray for productivity! 😛
On the plus side, all that walking did aid the digestion somewhat and meant I felt that little bit better about all I scoffed down. In summary, it was a good day. Bev's parents were pretty cool and entertaining to chat to, and more importantly, they seemed perfectly normal. Which again made me wonder how Bev became Bev…. Maybe the stork that delivered her had a busted GPS or something….
Awww…..