Last Monday we made our way down to Canberra to visit Damo as it would probably be my last chance to see him in a long time. Furthermore, it was also good for Erica to visit our nations capital given that we live so close to it and all.
Normally I don't have much time for Canberra. It's one hell of a boring place. The only times I've ever been to Canberra were for school excursions in High School, for work, or just passing through on the way to the snow. There's nothing to really do, and nothing to really see. After visiting the place once I can't fathom why another would ever come back here by choice. Outside the professional realm anyway.
Canberra's only redeeming feature is that it's the Porn and Fireworks capital of Australia, along with also being the Political capital of course. But really…. gives a shit about the latter right?
Anyhoo, it's basically a breezy 3.5 hour drive or so from Sydney. We arrived in Canberra around 5:30pm, timing it so that Damo would be back from work by then. Unfortunately Nat, his gf, was in Fiji at the time and so we weren't able to catch with her during this trip. He lives in the Embassy district to it's quite cool to be living amongst all the various Embassies of which I just love to drive around and gawk at. Just looking at the varied architecture of them all and how they reflect their own culture…. it's just very interesting.
View of the Parliament House from Red Hill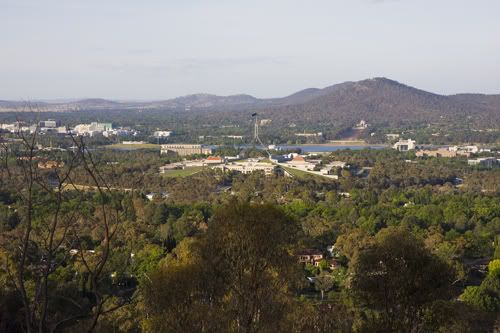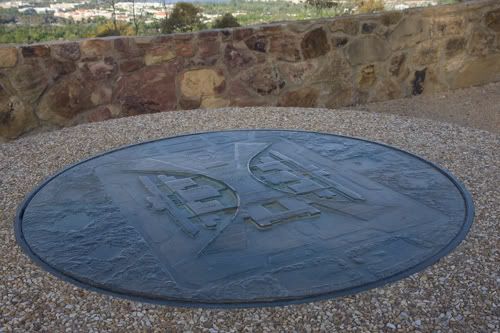 Damo…. you ridiculously tall bastard….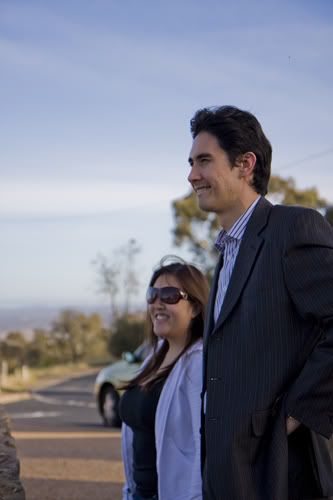 The car with the rump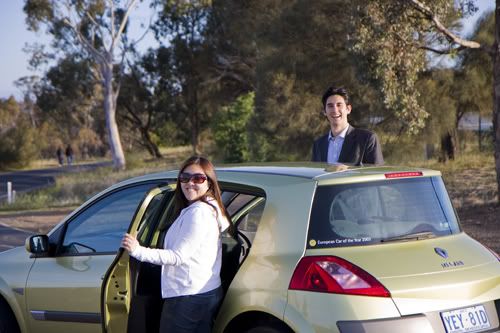 There wasn't all that much time for us to do anything because it was already quite late in the day, and so we just went off to dinner. On the way, Stan (Damo's nickname) took us to some scenic lookout, called Red Hill or something, which basically allowed us to survey Canberra from above. It wasn't all that interesting, but at least it gave us a closer look at the geometric layout of which Canberra was designed. How the city is basically laid out in axis's… or something.
Once we were done with that, it was off to din din. Stan had booked a table at a restaurant called Pangaea which was a tapas style joint. The menu was actually very interesting with a very unique selection of dishes prepared from a wide variety of cultural culinary backgrounds. We stayed away from the mains and just got a whole bunch of little dishes, and I have to say, it was sensational. Now, I normally wouldn't associate Canberra with quality foods but I guess with all these foreign diplomats visiting and our nations parliamentarians working here, the food has to be up to snuff.
But anyway, the food was surprisingly good.
Pangaea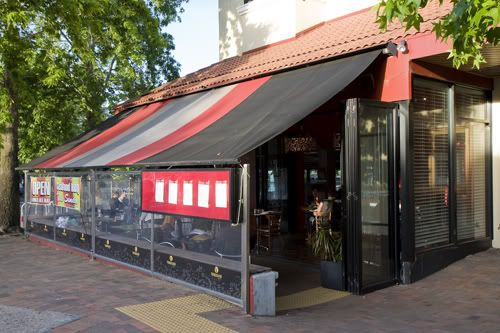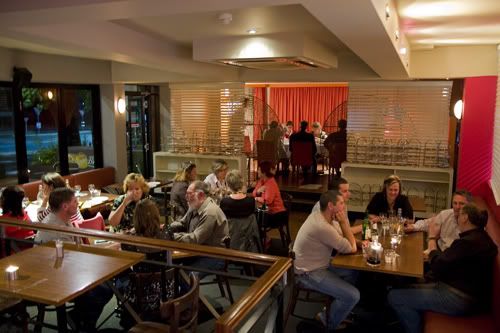 Each and every dish was prepared to perfection and just simply tasted great. There flavours were bold and strong where they needed to be and were light and subtle also when needed to suit. My favourite though by far was the Mushroom and Black Truffle Risotto Balls which were faaaaantastic. Crispy or the outside, soft and cheesy on the inside, and just packed with the perfect about of flavour without being too overwhelming. I should have ordered another place of this… completely for myself!
Wagyu beef carpaccio
Cornichon batons, baby capers, black truffle dressing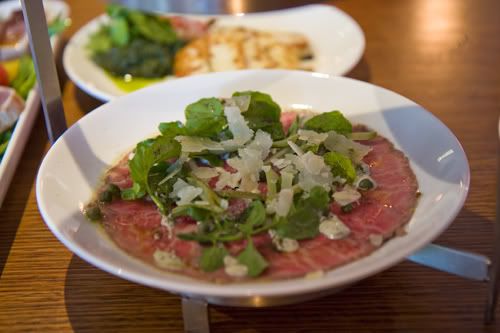 Porcini mushroom & black truffle risotto balls
sage, reggiano parmesan & black truffle mayonnaise
Crispy Master Stock suckling pork belly
Chinese Mandarin BBQ dipping sauce
Seared yellow fin tuna Nicoise
Saffron kipfler potato, Ortiz anchovy, green beans, cherry tomato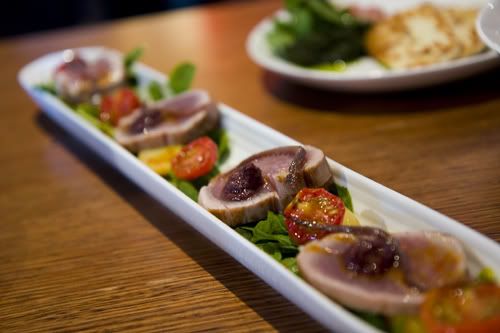 Grilled haloumi
Salsa verde, vine ripened tomato & Spanish onion salsa, extra virgin olive oil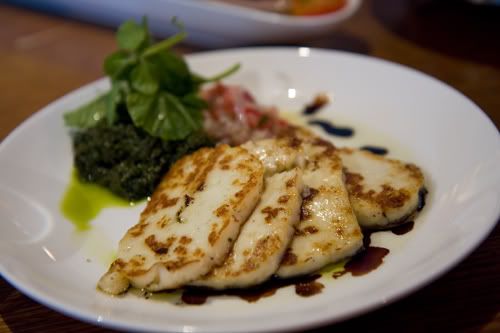 Lil' plates of pleasure….
Pan seared Queensland scallops
Royal Thai yellow curry sauce
Pacific oysters
roasted with stilton blue cheese mornay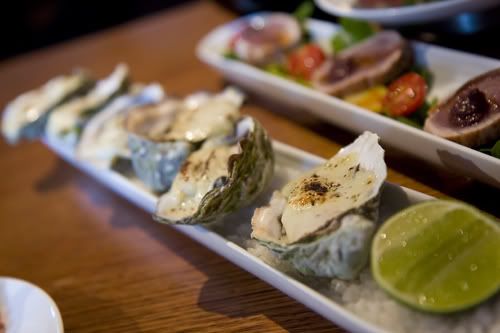 The Haloumi and the Pork Belly were also standouts. The Oysters I ordered because they sounded quite interesting. I generally adore my Oyster Mornays, but have never seen a blue cheese mornay. And so I just simply had to try this one out. The first one I had I found good, but very jelat. The blue cheese was very strong and quite overpowering. However, squeeze some lime on top and that changes. The lime really helped to cut the boldness of the blue cheese and made the whole thing far more enjoyable. That being said, I probably wouldn't order this again, but I'm glad I've tried it.
Dessert was also very solid with their Creme Brulee being very good in my opinion. I love creme brulee's and this one had enough of a twist to it for me to really savour it and not just consider just a creme brulee like any other. Can't comment on the Chocolate Fondant, but Erica seemed to enjoy it.
Hot Callebeaut Chocolate Fondant
White Chocolate, Ganache, Vanilla Bean Ice Cream
Vanilla Bean & Kaffir Lime Crème Brulée
Pistachio Biscotti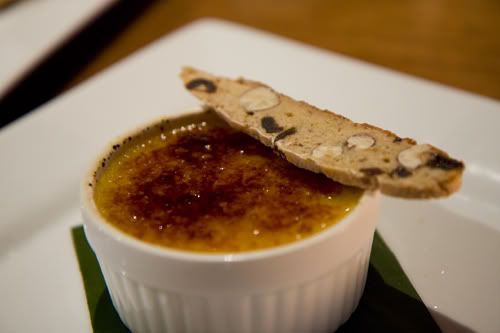 So all up it was a terrific meal which came as just a bit of a surprise, but no doubt a pleasant one! We retired back to the pad after all was done to digest and work out what the heck we were going to do the following day. I wanted to play with his cat a little more but it's a rather anti-social little thing. Being saved from the pound and all that, I think she's probably got a few problems up there in her moggie mind. Likes being touched on the head, hates being touched anywhere on the body. Weirdo! I'm like….. so the opposite 😛
Random pic of Lola the anti-social cat