Last saturday, the day after the crepe dinner, a farewell lunch was organised for Erica and myself *sniff* at the Bathers Pavilion. The Bathers is at Balmoral Beach which is actually one of my favourite little getaways in Sydney. This was actually the first place I ever came to with Erica, when I first met her and there was nothing going on between us, and ended up being a place that we have regularly frequented since. I still remember the day. It was after my Vodafone soccer comp and I just asked her if she wanted to grab a bite to eat. Ahhh… the days of truly innocent gestures. But… if I had been trying to hit on her, then I would be a bit peeved as her friend Hairul invited himself along… the bald bastard… 😛
The Bathers Pavilion is a fine dining establishment that overlooks the beach as is really quite nice. It's a great place to come for lunch as the view is not bad at all by any means and I love going for a stroll along the beach post food to walk off whatever I've just scoffed for lunch.
It was a relatively small and intimate affair that was just going to be for the 9 of us. 9 is actually a perfect number because should we have hit then then we would've been restricted to a cut down menu and also slugged with an extra 15% surcharge. So we just managed to evade that little pitfall.
Now I'm not saying this in a bad way, in fact it's probably a good thing because I assume the older folks have a much better taste in food, but it seemed to me that the mean age of all the other patrons in the restaurant, barring us, were probably somewhere in the vicinity of our parents. I.e, they all seemed to be old fogies. Again, I'm not saying that's a bad thing, in fact, it's not a thing at all. But it's just a thing I noticed. Like if everyone else bar us where wearing viking helmets or if they were all just teenyboppers… I would have likewise made a piece of inappropriate commentary to suit.
The Bather's Pavilion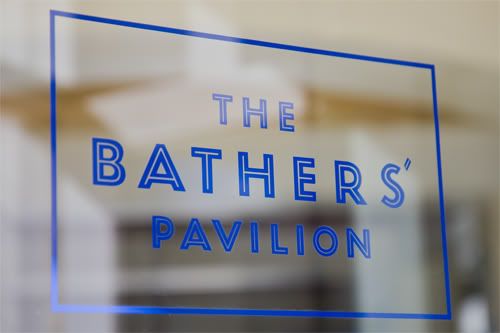 It's almost like a retirement village…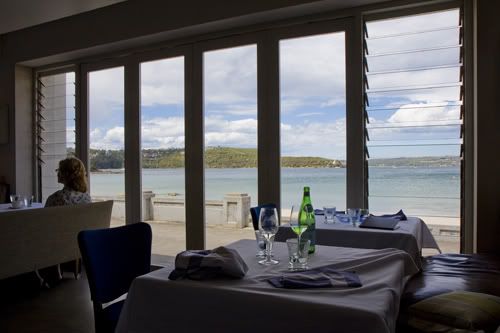 The lovely new mother looking radiant as always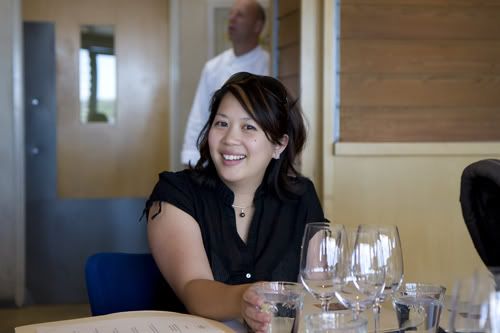 The new father looking…. well…. like someone stole his lollipop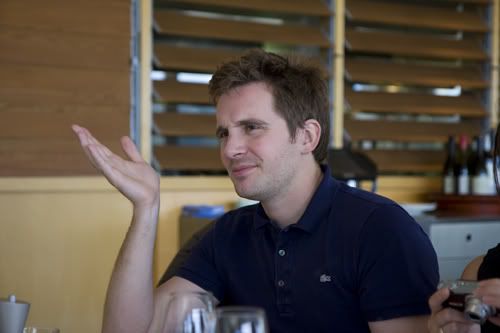 Hai guys!
Now I'm not going to bother going into much detail about the food because there are a lot of pics and we all really only tried our respective dishes bar a sneaky pinch or two from our neighbours. But I didn't think it was all that special given the price and atmosphere. Of course that's purely subjective but well this is my party and I can cry if I want to. The food isn't bad by any means, far from it, but it just wasn't a stand out. The tuna entree was quite bland and the rabbit thought tasty, still wasn't anything to write home about.
Even during our last visit to this place there was nothing that really wow'd me. Again, nothing was bad, but there was nothing that really stood out either. Which is rather disappointing as it's almost always an expectation for an entree or two in the very least to put a smile on my face even if the mains fall flat on theirs.
Lovely warm crusty bread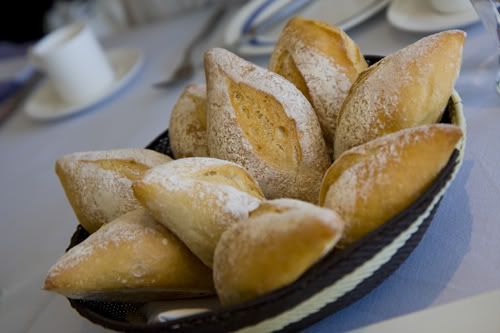 Amuse Bouche- Tomato Consommé with Basil Oil… I think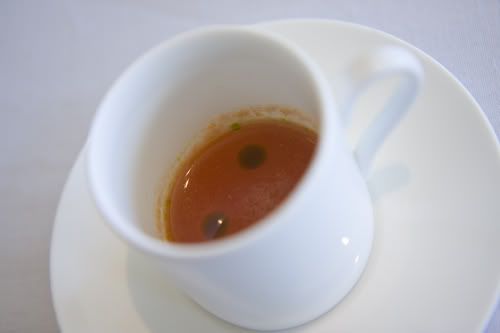 Yellow fin tuna sashimi with mud crab salad
fennel, orange caramel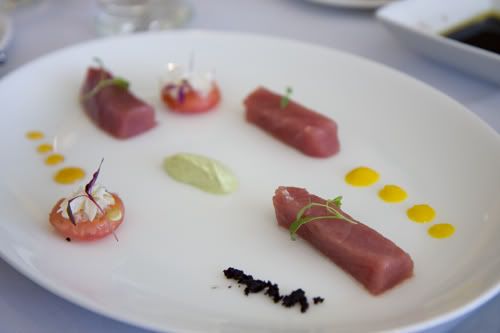 Rabbit, prawn and foie gras terrine
carrot mousse, muscatel purée
Poached quail breast with celeriac and Ibérico ham
crisp quail leg, mushroom consommé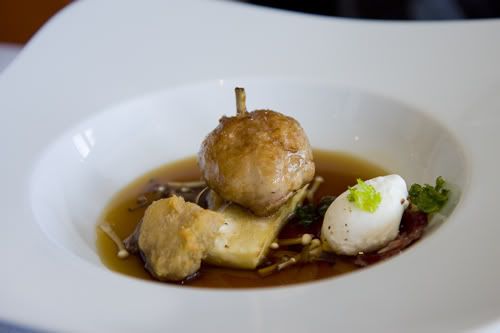 Steamed goat cheese angnolotti with capsicum fondue
anchovy burnt butter
The cameras all come out to play…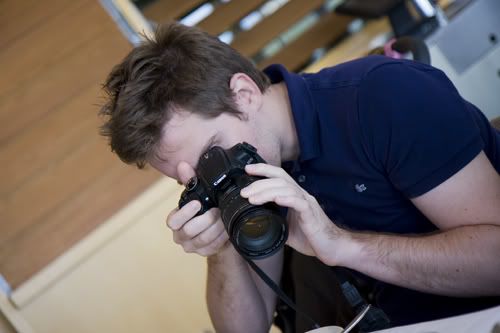 Funky Cheryl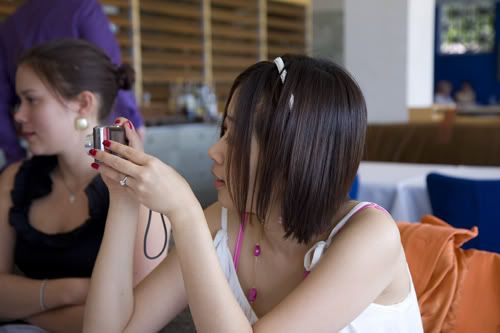 Forky Viv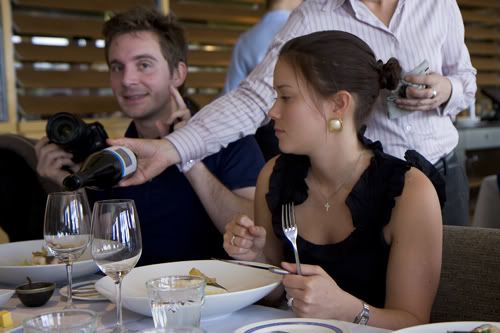 Group action
I was pleasantly surprised though by one of the courses and that was my pork belly. The pork belly was cooked and seasoned to utter perfection, so much so that I didn't really bother eating it with any of the accompaniments. The skin was light and crisp and the flesh wonderfully succulent and juicy without being salty. After I finished it, I mentioned to Erica that I wished I had some apple sauce to go with it. Little did I realise that there it was all along, just sitting on my plate next to the pork. *face palm* Now before you call me stupid, just bear in mind that Bev did exactly the same thing!!! She didn't touch any of the other accompaniments and mentioned after she had finished her pork that she wished she had some apple sauce to go with it!! haha… funny. Note to kitchen: Make your apple sauce look more like apple sauce, not bright yellow bean puree or something that scares vege haters!
Erica had the tenderloin which also wasn't bad. The meat was cooked perfectly by my standards, and that would be almost blue. The texture of the meat was heaven but unfortunately everything else that went with it was largely forgettable. As for the rest… well… can't really say as I didn't try any of them! Viv seemed to echo my sentiments about the food.
Crisp pork belly with boudin noir
apple, kohl rabi, pancetta and grain mustard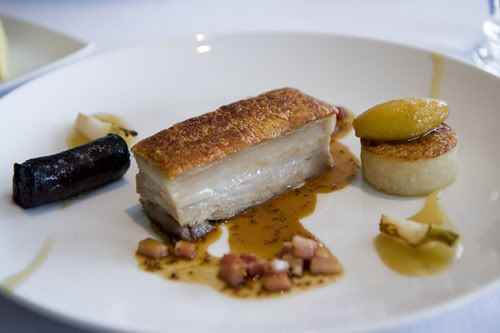 Pasture fed Victorian beef tenderloin
braised Waygu rib cap, mushrooms, Salardaise potato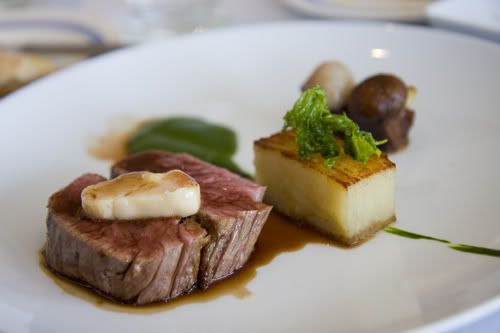 Roast kingfish with smoked eel and pancetta
cauliflower, boulangère and matelote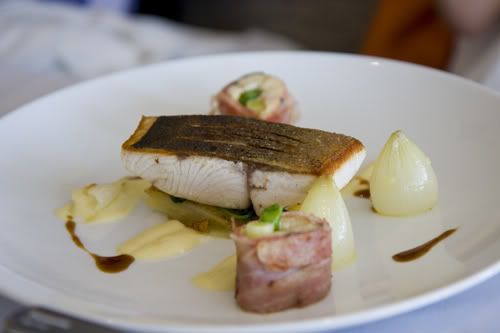 Pressed shank and lamb shoulder parcel
loin, parmesan croquette, eggplant caviar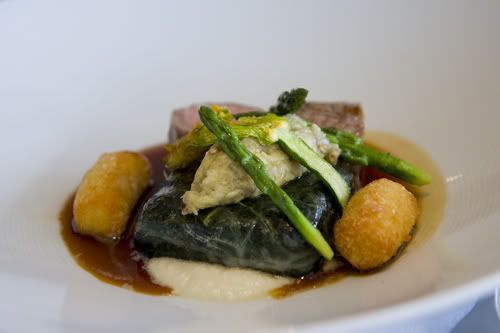 Mr Chef dude comes out to say hello! And also to ask if anyone has seen his hair….Oh ho! Snap!
Noooooo…. that's not asian at all!!!
We enjoyed the break between the mains and dessert and took the opportunity to take a few photos and just have a chat. The chef came out for whatever reason and spoke to the two Frenchies at the other end of the table. Didn't really catch what they talked about except for something about the chef living in France at some point or being from it, and how he thought that there was a super awesome dude in a green shirt sitting down at my end of the table.
Manu had given us a bag of pressies earlier when they first arrived and now seemed as good a time as any to open it up. I guess the best way to describe those gifts would be that they continue the same theme of the pressies that we first gave to him the night before at the crepe dinner. Except he's outdone us the bastard!!! I take hat off to you Manu, you won this round!
A couple of the presents were subtle enough in appearance that we could visibly extract them from the bag and display them before all present. The last one however…. I think it best to remain in that nondescript brown bag until we make our way outside
Awww geez. Okay Manu… you win. Touche and well played my friend!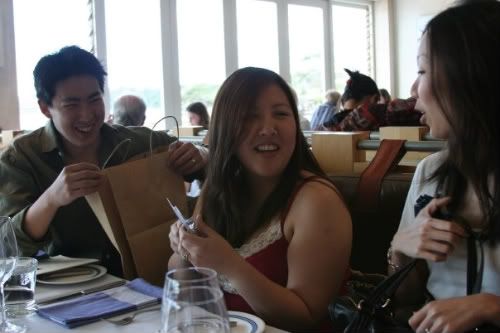 Lets just say that this ring is for me, not Erica, and no it does not go on my finger…
See, it's always the sweet ones that you gotta watch out for…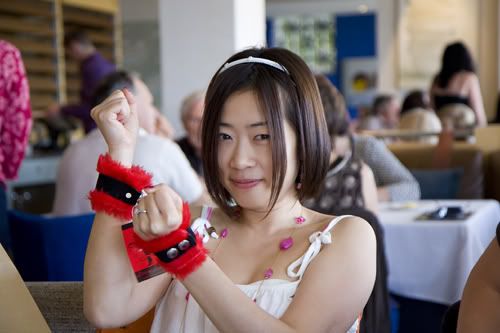 And then came dessert. I ordered the Assiette of rhubarb and didn't really know what to expect, as I've never really had rhubarb before. But it wasn't bad at all and I did enjoy it. Erica ordered the chocolate thingmabob and she seemed to enjoy that too. I guess desserts are fairly standard and hard to be like… not good, unless you're really trying to do something different.
The petit four that followed were pretty strange. Then again, I tend to think of most petit fours as being strange more often than not. I'm never really a huge fan of those things.
Caramelised pineapple and ginger tart
iced coconut terrine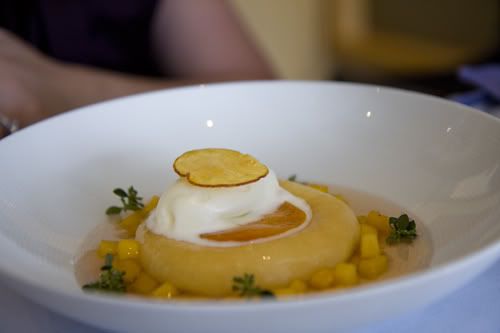 Milk chocolate crème, passionfruit curd, basil foam
chocolate dust
Assiette of rhubarb
rhubarb brulée, jelly and panna cotta shot, ripple ice cream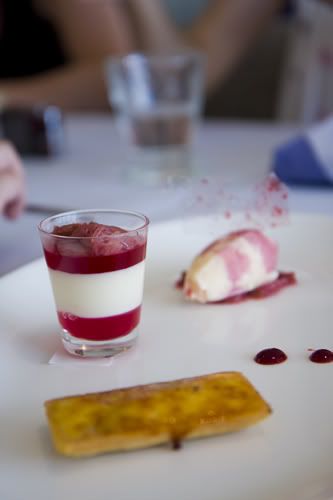 Petit Fours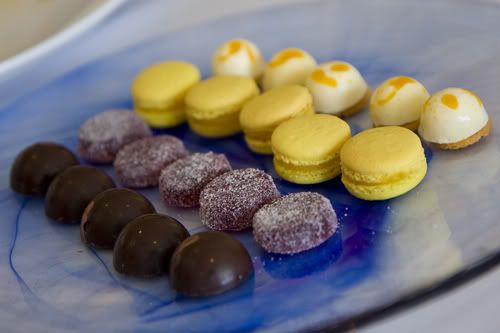 The salty caramelly guts of it
And here we have poor little Arthur being pimped and passed around again. Poor little guy, if I was a baby, I'd hate this part the most. Being all cozy and comfy like in my cot or pram then suddenly being thrust into someone else's arms. But then again on the bright side… boobies. Hmmm… so maybe it's not so bad after all. Anyway, more happy snaps of Arthur as follows.
Arthur being pimped out for photo ops… again
And again. I swear they must be charging for it
Lil' Arthur on boob recon…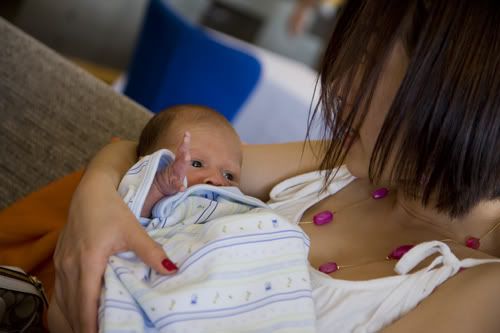 And finally returned to sender
On the roof of the Bathers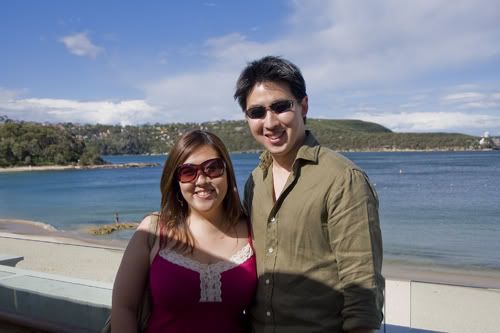 Balmoral Beach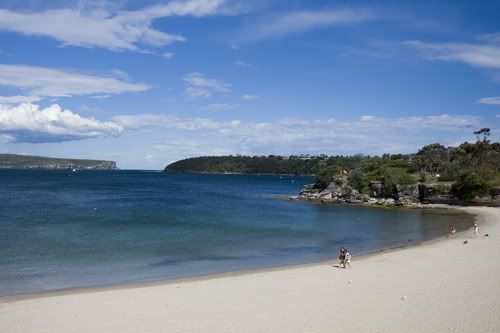 And finally we're able to display the third and last pressie to all once we had escaped the civility of the restaurant. It's a "Double Dong" as the box says. What's a Double Dong? Well…. use your imagination. If that doesn't work, then look close at the following photos. If that still doesn't work then well… your mind is probably just too pure, untainted, and far be it for me to be the one to pollute it!
Not sure on the practicalities of use of which the item in questioned was designed for, but it does make a pretty good bat or truncheon. I made for an immense feeling of satisfaction to turkey slap, or any other kind of slap, Chris and Manu with it. The scary thing though was that they loved ever minute of it. Sick bastards….
This little (or not) present didn't make an appearance in the restaurant for a pretty good reason…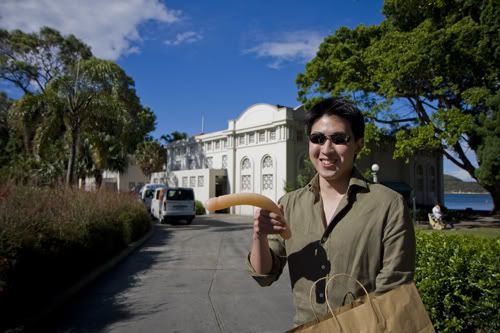 Erica obviously disgusted at how small it is… you know, being used to me and all. Haha yeah, Hello fantasies!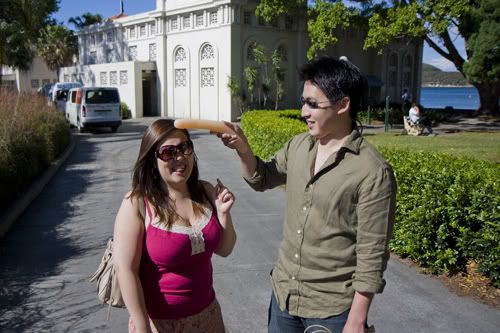 Because there is no greater bond between kindred spirits than a double ended dong….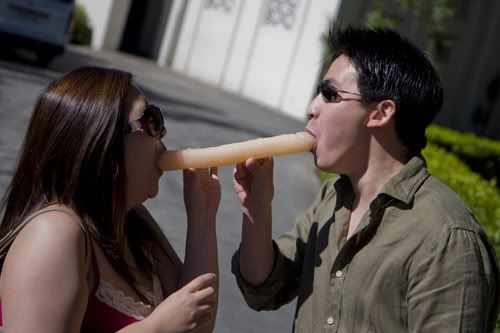 All I need now is for a chick to hit me up with the "Is that a double ended dildo in your pocket or are you just happy to see me?"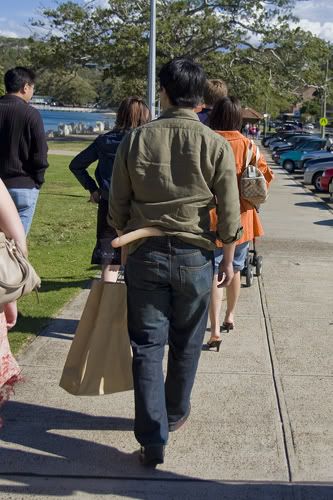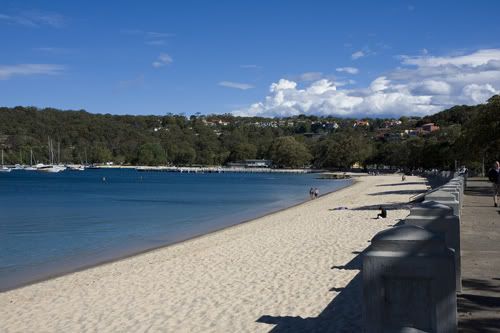 My wife trying to stop the wind from going up her skirt… which is a change because it's usually me that she's trying to stop instead. Inappropriate comments, oh yeah!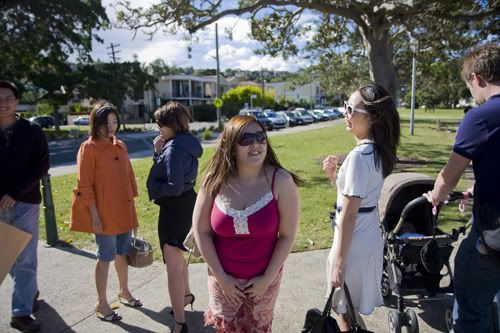 We went for a leisurely stroll for a little bit down by the beach to just soak in the relaxing ambience, enjoy each others company, and try to stick a big rubber member in each others ears like all mature adults do. It was a stunning day to be out with crystal skies, a hint of cloud, the shining sun, and a wondeful cooling breeze.
Words are just not able to appropriately capture all the joy that was felt under that blue sky. But hopefully the pictures will…..
A sign that says "Ladies". Bev nowhere to be seen…. coincidence?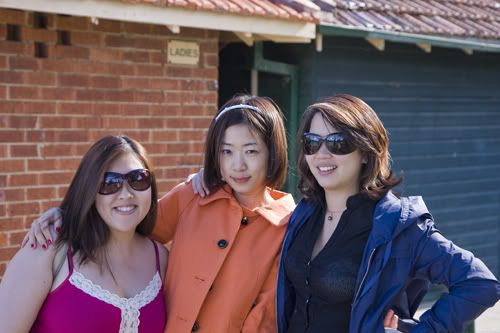 This shot would have been so much more interesting if they had heeded the photographers advice to include some rubber props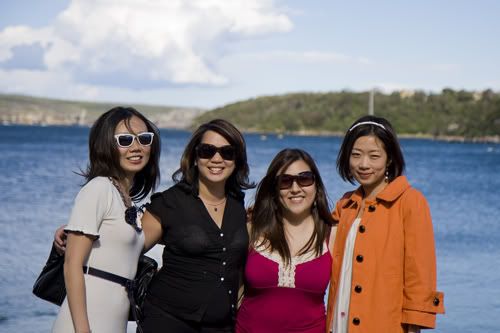 Okay jump if you've ever had homo-erotic fantasies about Hugh Jackman!!! Awww geez guys….
Manu… I think there's a rather large worm crawling out your ear…
You know Frenchie…. it's considered rude in most cultures to slap another guy with a big rubber dick….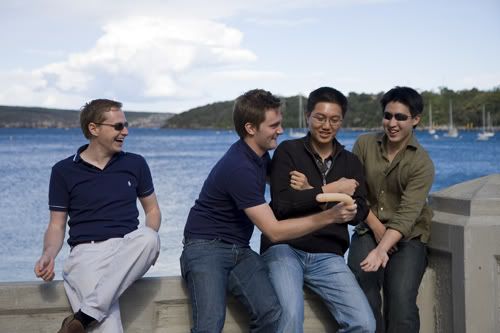 Au Revoir Arthur!
A wonderful day, and a wonderful farewell lunch. Thanks for organising guys, we had an awesome time!!! We'll see you…. well… in a few days again!