Quay was the last fine dining experience we had before we left Sydney. It's a place that we've heard countless friends rave on about. Quay has also received more awards and accolades than Michael Jackson has had children reaching for strategically placed candy in his pants.
With it most recently being crowned the Sydney Morning Herald Good Food Guide 'Restaurant of the Year', we just simply had to make time for it. We rocked up last Thursday and opted for what Quay bills as "Sydney's most magnificent lunch". Excluding the veritable 5 star feast that lays within my pants, this modest bit of chest beating could arguably be true given the testimonials from many whom have been there. And so we spent the entire week rubbing our little hands together in anticipation of that impending lunch date.
Quay is located in the old overseas passenger terminal at the rocks and features some stunning views of the Harbour Bridge and Opera House. The Harbour Bridge from our the front of the restaurnt and the Opera House from within. I loved the interior of the place which was of a very modern and contemporary design, featuring funky purple carpet and highly reflective gloss ceiling tiles.
Quay Restaurant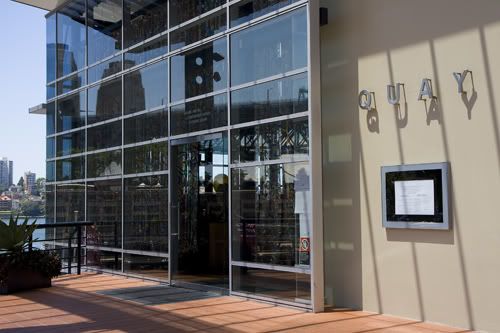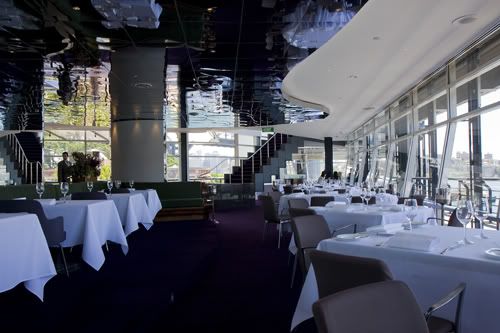 Lovely view of the Opera House
We kicked off lunch with a couple of cocktails, which were yummo, and a slice of sourdough bread. Multiply that by 3 for me because I'm a pig. One strange thing though was that we requested some balsamic vinegar and olive oil, only to be told that they didn't have balsamic unfortunately but could only give us some olive oil. That was a bit surprising truth be told. Actually, it was more than just a little surprising… it was more like 43mins into The Crying Game surprising. I mean how can a top shelf restaurant such as Quay not have any Balsamic which is like any restaurant basic? I bet if I went outside and asked a stray cat "Psst… hey, do you have any Balsamic?", it'll probably have some for me.
So note to Quay…. get some Balsamic!! But it wasn't a downer or anything, I still enjoyed my bit of buttered bread, it was just more of a surprise than anything else. The amuse bouche that came soon after was a tasty little thing. It was Tuna Tartare mixed with cucumber Jelly and yuzu oil, all served on Creme Fraiche. It was a great way to whet the appetite and prepare us for the upcoming feast.
A Lychee and a Limoncello Cocktail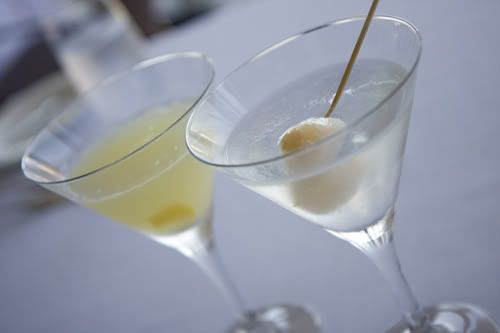 White Sourdough
Amuse Bouche of Tuna, cucumber jelly, creme fraiche, and yuzu oil or something…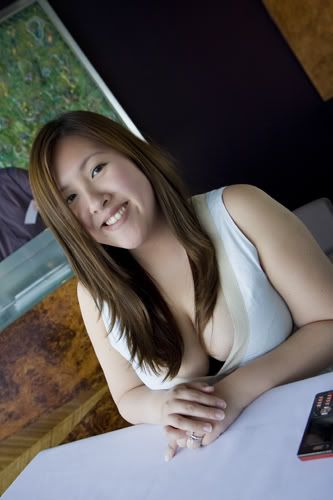 Sea pearls
sashimi tuna, smoked eel, octopus, egg white pearls, sea scallop, tapioca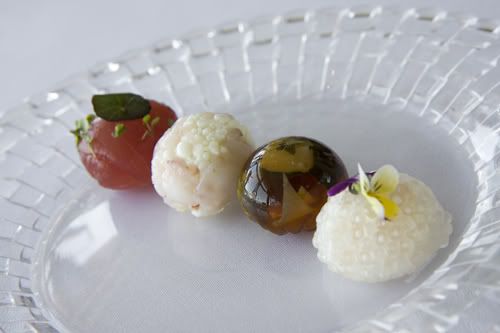 Rare breed pig belly, gentle braise of green lipped abalone
handmade silken tofu, Japanese mushrooms, chive flowers
And finally we have what we've been waiting for, the Sea pearls! I've seen photos of this online and it just looks like the most interesting of things. It both looked and tasted interesting to say the least. The weakest of the bunch was probably the tapioca, or the one on the far right. Though as much as I enjoyed this dish, it didn't make me go "Wow!" like the
Trio of Tartares at Martin Bosleys
.
I also enjoyed the pig belly very much. This had more of an asian flavour to it and was absolutely delicious. I loved the combination of all the different textures together. The juicy pig belly, it's crispy skin, the firm chewy texture of the thinly sliced abelone which looked like pencil shavings, and the mushiness of the silken tofu. Superb.
Reflection of the Opera House from the back of the restaurant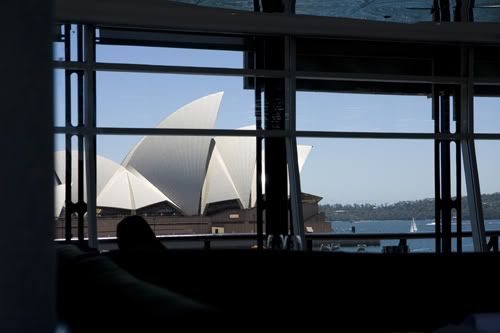 Poached rangers valley pure bred angus beef fillet
baby spinach, morels, tasmanian truffle butter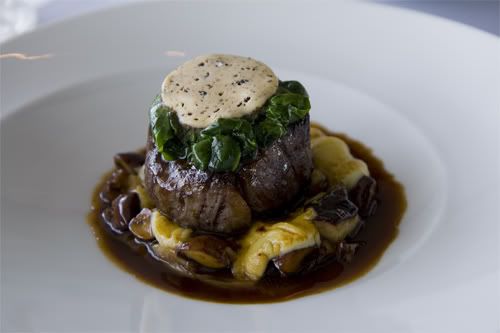 Roasted Veal fillet, truffle custard, nuts, seeds, pulses, grains, shoots,
fungi, organic baby garlic
Potato Puree or Paris Mash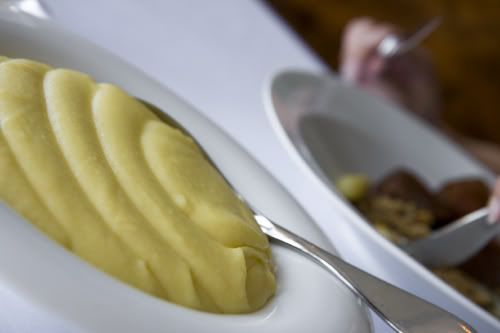 For the mains, I ordered the special which was the Angus beef fillet whilst Erica ordered the veal. I was told by the waiter that sometimes my beef is prepared with wasabi butter, other times, with truffle butter. Today was truffle butter day. I've said many times that it's rare for me to enjoy a steak that isn't served with pepper sauce. I'm not a huge fan of fancy restaurant sauces and I just enjoy my steaks plain and simple. That's probably why I hardly ever order steak outside of pubs and steakhouses.
But this was truly one of the best restaurant steaks (as in, not your usual steak and chips kinda steak) I've had… or beef fillet if you will. I think it was a little on the rich side for Erica but I absolutely truly loved it. I asked for it to be done rare only to be informed that they only served it medium rare. Well, I figured the chef knows best after all, this was hardly the Outback Steakhouse or Lonestar. The chef be right. Medium rare or not, the steak was truly meltinyourmouthlicious.
Erica's veal was also very good, but nothing on the beef fillet in my books. The nuts and seeds of which it was served with was a tad on the strange side, specifically texture wise, but aside from that held it's own well. My beef fillet was too busy being ravaged by me like a virgin on her wedding night for the veal to really stand out much in my memory aside from it giving me a wave or two.
And the paris mash? Well…. it was…. paris mash. And by that I mean mash that is richer than Bill Gates and more sinful than Satan. In other words, completely divine. It just went harmoniously with both the meaty dishes. It was like Sonny and Cher, like cookies and milk, like windows and the BSOD, like lesbo's and strap-ons, like….. well… you get the idea. Where you have steaks, you just can't go wrong with having mash.
Adding the eighth texture
Eight texture chocolate cake, Featuring Amedei 'Chuao' Chocolate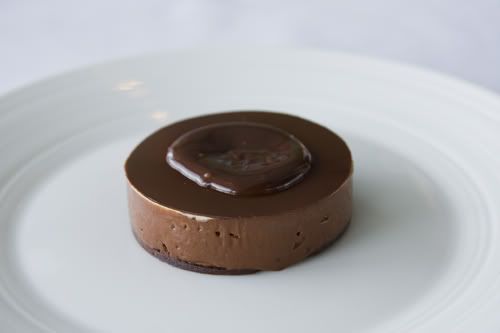 Peach snow egg
Cracking open the egg
For dessert, well…. anyone who even looks at the menu here will know what at least what one of those desserts will be given that there is a girl at the table. And that would be the eight texture chocolate cake! It's one of those dishes that have ended up being one of Quay's signature preparations and for good reason too. It a cakey, tart, thing that comprises of 8 different textures of chocolate (duh…) and it just chocolate heaven for those whom love chocolate. Unfortunately, I'm not one of those people. I had a mouthful and though I really enjoyed it, couldn't have much more than that because it was just so chocolately. However one thing I did love was that crispy layer somewhere within it that had a wonderful crunch to it. That was kinda nice…. When the dish is served, the waitress pours molten chocolate on the top so it melts through the top layer and slightly into the middle. Kinda cool…..
I much preferred my Snow Egg which was a meringue type thing that has either been baked or fried, and has a soft ice cream centre. The whole thing sits on a bed of peach ice or granita, and is just refreshment personified. After eating such a rich lunch, the last thing I want is a heavy chocolate dessert and so I really relished the refreshing peach flavoured ice. The "egg" itself was somewhat interesting. In fact, it tastes much more like a blob of souffle than anything else I could describe. It had that strong egg whitey taste which is a little too weird for me on it's own. But with the ice cream "yolk" and peach ice, it was great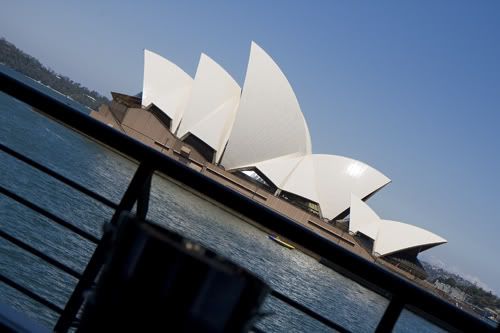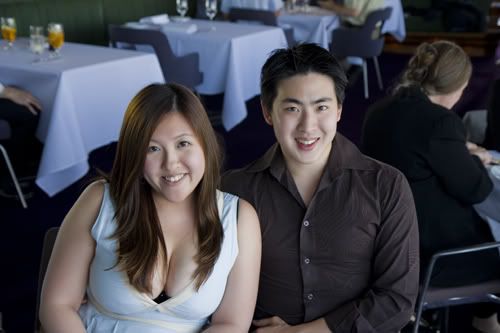 All up, I have to agree with everyone that Quay is quality indeed. From the food, to the decor and ambience, the view, and also the service. It was all top shelf and ticks all the right boxes. It's definitely a place I'd recommend to anyone visiting Sydney and for those that live here, you should give it a go