And finally, this is my last Aussie post and then it's all Singapore related from here!! I think… Backlog will be well on it's well to finally being cleared! We had one last dinner out the night before we left, more so for me to catch up with Paul and Monica than for the actual need to eat out.
It will be strange moving away from Paul whom has been one of my closest friends for about 15 years. As long as Paul was around, I've always been able to comfortably wallow in the knowledge that I would never ever be the most juvenile or immature person in the room. With him being twice the man-child that I am, a fact that he would probably dispute as being somewhat backwards, no matter how low I'd stoop to get a cheap laugh, or how deep within the depths of political incorrectness I'd plumb, he could always be counted to go one further or deeper.
We've both come a long way from those early years of him zapping me on the ear with an electric flyswatter in frustration over losing like 20 consecutive bouts of Street Fighter II, to us breaking into our high school the night before exam day to putty up pretty much all the door locks in the entire place just for laughs (we had already graduated). Good times. Yes… many things about us have changed since those days but at least one thing still remains constant…. we're both still bloody children.
Anyways, I decided to try out a restaurant that I've heard much about from friends. It was the A La Facon de Shimizu restaurant at Willoughby. Silly name, but apparently some good food. Bev had her birthday dinner there just a few weeks prior that I was unable to attend due to an unfortunate bout of food poisoning, and Erica had seemed to rate the food quite highly. Good enough for me!
A La Facon de Shimizu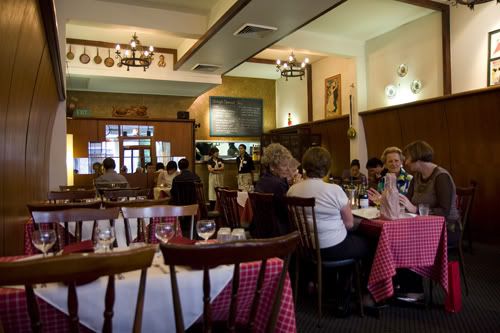 Charcoal filtered water
The restaurant serves charcoal filtered water which is all meant to be better for you or something like that. I can't really remember as I didn't pay too much attention to the description about it on the menu. Either way, tastes the same and didn't make much difference to me! Erica and I went totally nuts with our ordering which we felt slightly abashed by. Between just the two of us, we ordered 5 entree's and 1 main. Yeah… you heard us. Well… technically one of those entrees was shared between the 4 of us but P&M didn't really each much of it. The waitress probably thought the 2 of us absolute pigs…. she be right.
It was just that the menu looked so good and given that most of the entree's that ticked our fancy were primarily comprised of raw figured, we figured it wouldn't be that filling. I ordered the Camembert and Muscagot with the Steak Tartare as the main, and Erica ordered the Scallop Carpaccio and Snapper Carpaccio as the entree, with the Tuna Tartare entree as her main. Whew… mouthful.
The food here is more of a fusion than strictly Japansese, which is great for Monica as she's not the biggest fan of Japanese food. The menu here is largely influence by Japanese cuisine as one can see from all the raw seafood dishes, but also has a western or french element too them as is obvious from the mains.
Now the photo right below demonstrates why I don't really take the camera out when I meet up with Paul. He usually subjects me to all sorts of ridicule and insults that though vary in terms, all revolve around either being some sort of homosexual or a girl. Umm… thanks mate.
I believe this is right about where he called me "Fag". Standard….
Monica pondering the level of maturity of the male company present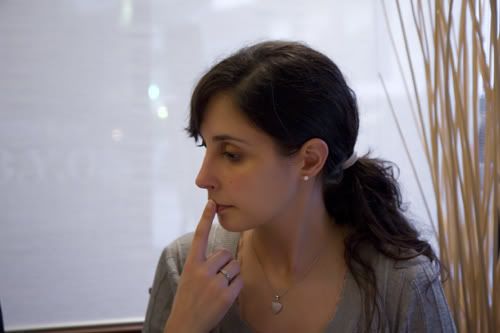 Bread and Balsamic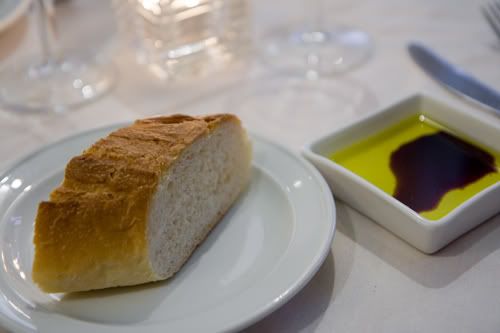 Grilled Chicken Rissoles with Teriyaki Sauce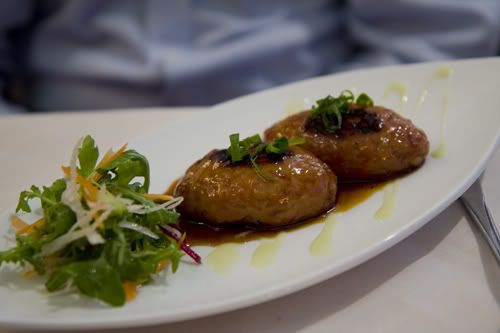 Grilled Chicken with Gorgonzola
Paul and Monica ordered the above two entrees which I can't comment as I didn't try, but the below entrees are ours, ours, and all ours again. The Scallop and Kiwi Fruit carpaccio was the special of the day and was just great. The fresh and delicate flavour of the scallop went quite well with the tangy grapefruit dressing which wasn't too tangy at all. I'm allergic (or used to be when I was a child) to kiwi fruit and so didn't really go near it. I'm probably not allergic anymore, but well…. kinda still stay away from it out of habit.
The snapper carpaccio was also very good, then again, can a seafood carpaccio not be good when fresh at all? The portions were all surprisingly large, as I've heard from others, and I think provides excellent value for money. The muscargot was though still tasty, was a wee bit of a disappointment in my books as I felt there wasn't enough of a flavour penetration with the mussels. Perhaps it could have been marinated in butter longer or something? Don't know. It was still good, but my taste buds expected more of garlic butter punch.
Fresh Scallops and Kiwi Fruit Carpaccio with Grapefruit Dressing
Snapper Carpaccio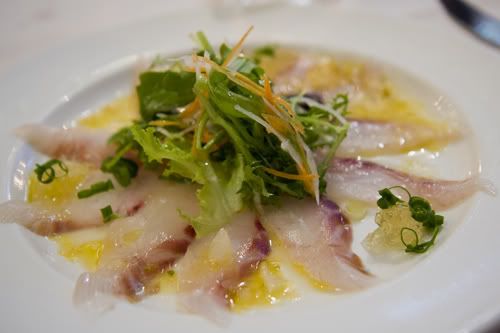 Muscargot
Tempura Camembert with a Mixed Berry Sauce
*multiple cheesegasms*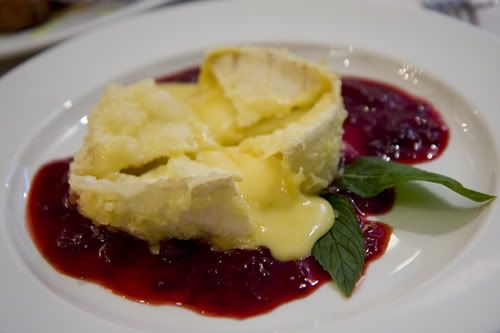 And finally, the Tempura Camembert…. awww baby. Just look at that, this bad boy just speaks for itself. If you love cheese, you'd think you've died and gone to heaven. If you don't, well… sucks to be you
It would probably be better if they had pre sliced the entire wheel of camembert and fried those segments individually. The problem here is that once the thing is sliced open, all the insides just goo out and it gets cold very very fast, so it's not a dish you can take your time eating. The boldness of the cheese went just wonderfully with the sweetness of the mixed berry sauce. I love it and wanna make love to it….. so so good…..
Grilled Snapper and Scallops with Fresh Tomato "Salsa" Sauce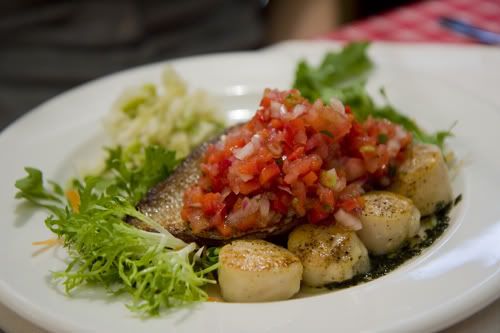 Grilled Salmon a ma facon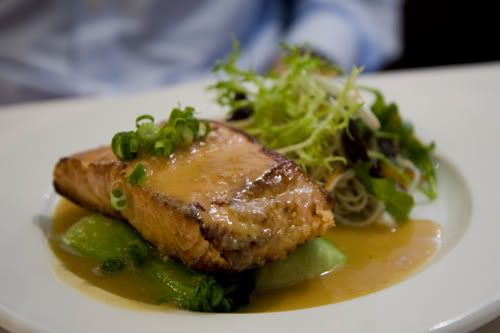 Again, the above two dishes were ordered by the others so can't really comment on them. Below is my Steak Tartare which I absolutely loved!!! it's their take on the traditional steak tartare which was a dish eaten within the trenches of world war 1. Traditionally it's just a mix of raw beef mince with onions and a raw egg yolk sitting on top. Yep, it's all raw! Not the sort of thing to strike everyones fancy but mine it certainly does. With the Shimizu's rendition of it, it's smacked into a hamburger looking patty and just seared on the outside, leaving the inside still wonderfully raw. Oh man…. this was sooooo good. The meat was seasoned to perfection, slightly salty on the outside, but when eaten with the raw mince interior it was just heavenly.
The combination of textures of both the cooked and raw mince was divine. This is something that I would personally recommend to those that aren't baulking at the idea of raw mince. For the main, Erica ordered the Tuna Tartare from the entree menu which was actually huge! For an entree, the size of the thing is actually quite colossal. For small eaters, it's something that would definitely be fine if ordered for the main. The whole thing was quite wonderful in both freshness, form, and texture, but I found the seasoning to be just a tad on the bland side. Perhaps that may have been just the inaccurate perception of a person with a mouth full of salty hamburger, or perhaps not. So assuming my hamburger didn't come into play, the tartare would have been perfect with just a tad more seasoning.
Steak Tartare a ma facon
Mmmm…. raw mince….
Fresh Tuna Tartare
All up, dinner was terrific and the restaurant definitely lived up to it's recommendations. The value for money here is terrific with the sizes all being quite large. So this is it… our final dinner in Sydney for quite some time to come, and I couldn't have been happier with it. Monica, good luck keeping your man under control and Paul, too bad buddy, you're now gonna have to find someone else to scam your porn from!!!
Hope to see you guys soon when you come down to this neck of the woods on holiday!!!
Ciao guys!