To take a slight break from all the chronological holiday posting, I'm jumping forward to the Christmas dinner we had in HK on the return trip from Macau whilst we're still in the 12 days of Xmas (or some crap like that). We actually had Xmas dinner on the 23rd instead of the 25th because it was a) far far far far far cheaper, and b) the family is splitting up on Xmas day! Christmas Day would be spent with Emily and the MIL flying back to Singapore, and Erica, the FIL, and myself jetting on to China. Not very Christmasy like!
We decided to have the dinner at Spoon which is apparently some swanky fine dining joint in Honkers that is meant to be very good and very pricey. Spoon is located on the Harbourfront in the Inter-Continental hotel and looks out upon the Harbour and the HK walk of stars. It's quite a nice place actually with a stellar view of the HK Harbour with all the pretty neon lit buildings fringing it.
Spoon
We opted for the 6 course degustation instead of the 8 course and boy were we thankful for that later on! The food was rich, filling, and definitely stuffed me to the gills! They had different plates for each person laid out at the table which all turned out to be completely decorative but none the less it was kinda interesting. Anyway, after much horsing around with the camera it was time to eat! Man, they gave us so much bread which is always dangerous when it's warm, crusty, fresh bread. I stuffed myself with about 3 of them which was probably a big contribution to why I felt so stuffed after the meal 😛 Argh… nice bread… my achilles heel….
The amuse bouche was also pretty tasty with the goat cheese spread being quite the delicious gooey spread to eat with both bread and crunchy things of which the name just eludes me.
Different plates for everyone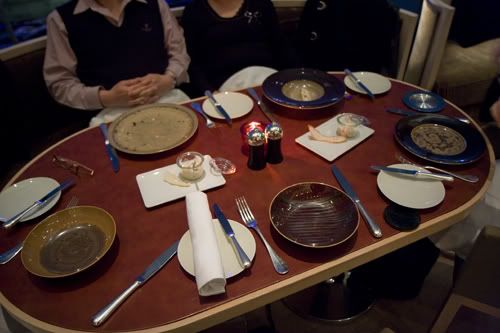 My other family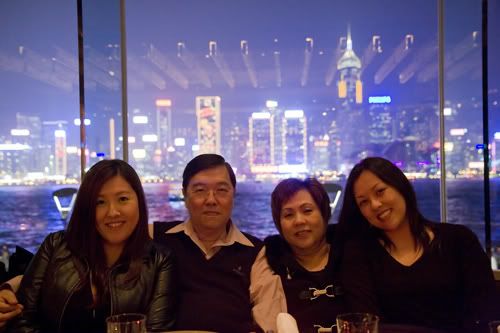 Amuse Bouche which were crunchy bread things with a goat cheese spread
Wonderful and colossal basket of bread…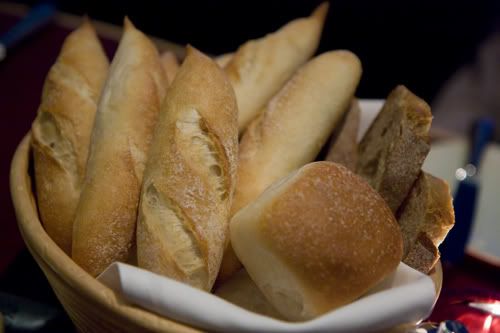 Sea scallops seared/marinated, mixed brocoletti
French "aquitaine" caviar, yuzu cream
Soups and consomme teaser
chilled tomato, potato and leek, and beef
Homemade terrine of duck foie gras,
grape/vanilla/sichuan pepper condiment
Ravioli of braised black pork cheek
creamy Jerusalem artichoke and truffle, wild arugula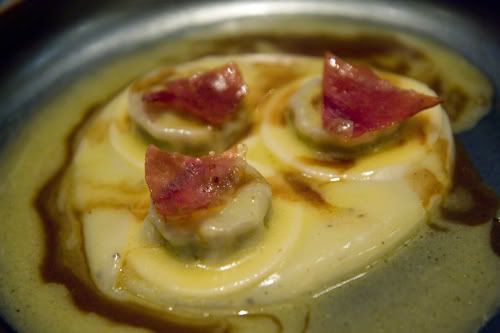 My Xmas pressie to Erica from Mikimoto… and some gratuitous cleavage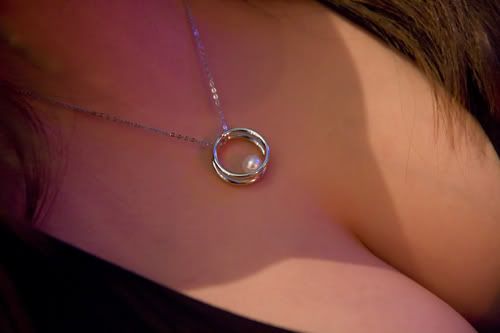 Japanese sea bass studded with black truffle (alternate dish for the family members that don't eat beef)
with roasted and braised endives, truffle condiment
"Black Angus" tenderloin, beef juice
girolles, artichokes, salsifis, country bacon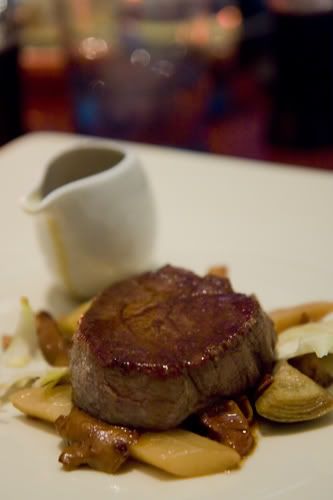 Classiest spork I've ever seen… And I think they should have called the restaurant Spork instead btw
All chocolate and orange
Mont Blanc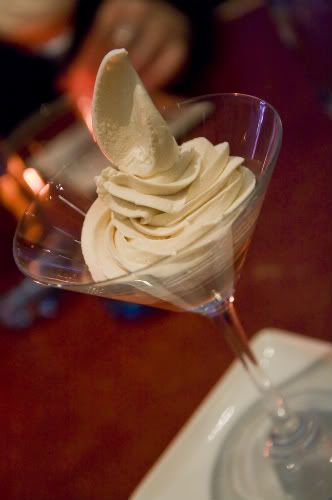 Petit fours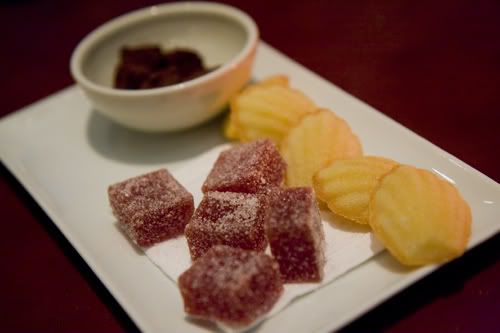 Laser light show in the background
I'm feeling particularly lazy today so I'm not going to bother going much into the food itself suffice to say that it tasted every bit as good as it looked. The highlight of the entire course for me was the pork cheek ravioli which was faaaaaaaaaaaaaannnnntastic!!!! The creamy cheesy sauce that it swam in was absolutely devine!!! I ended up scooping up all the excess sauce from everyone else's plate because it was that good, that rich, and I'm just that greedy! Definitely recommend this place to all that are looking for a fine dining establishment to try whilst in HK.
Ceiling covered in decorative spoons, specially made of mercury
Merry Christmas Y'all!
With dinner done, we all sauntered down to the HK walk of fame and had a look see at the hand prints of the stars and just soaked in the touristy, winter christmas ambience of the waterfront. Much fun. Sigh… I miss winter…