Back to getting some of the china trip out of the way. This day was nothing more than a transit trip from Hong Kong to Sanya. We didn't have all that much planned and so it all revolved around eating, waiting, flying and driving. Yeah yawnville central I know, but bridging posts usually are.
The day kicked off with Erica and I accompanying her Mom to watch her eat brekky so she wouldn't be lonely, then us catching a cab to my thus far favourite beef brisket place on some street I can't remember. All I remember about it's location was that it was opposite one of the Wing Wah outlets where they sell the waxed duck and lup cheong and all that. Mmm… beef brisket noodles. The chilli here is actually pretty darn hot which surprises me as I always thought hongkies can't really take the heat! Also needless to say, I got my dose of fried fish skin again. Mmmmsies…
So far my favourite beef brisket place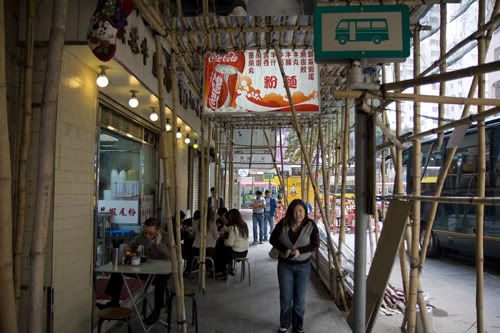 More deep fried fish skin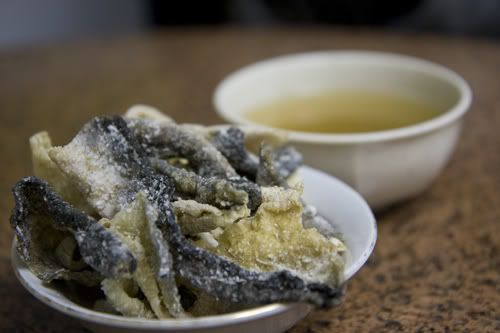 Wonderful Beef brisket noodles… shibby!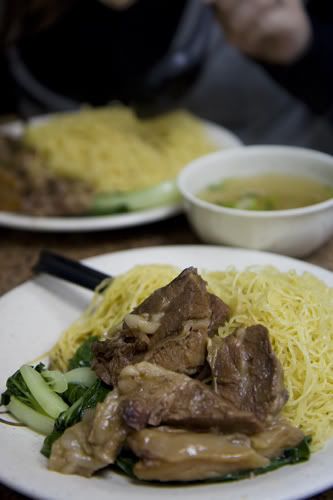 We actually opted to fly Business Class for this particular flight from HK to Sanya because the prices of BC were actually only a tad more than Economy, so even though it was only a relatively short flight we opted for the increased leg room. Finding the Dragonair lounge proved to be a complete pain in the ass. They probably had the worst location out of any lounge in the airport and was tucked away in some obscure corner and only accessible by some obscure escalator. It took much wondering around and scratching out heads over the map to actually find it. Even some of the local staff at the airport we asked had no idea where it was!!! Damn you Dragonair! You should be called… I dunno… StupidhiddenawayanimalAir!!!
Inside the lounge wasn't too bad with the minimal selection of free foods being quite decent. Asian ham sandwiches are always yum (don't know why… think it's their fake tasting butter and strange ham that I grew up with that I still love) and the taro spring rolls and fishball soup surprisingly good. Anyways, I filled myself up on these and kicked back with my laptop whilst Erica and her mum went off wondering the airport to buy some cosmetics.
The Dragonair Check-in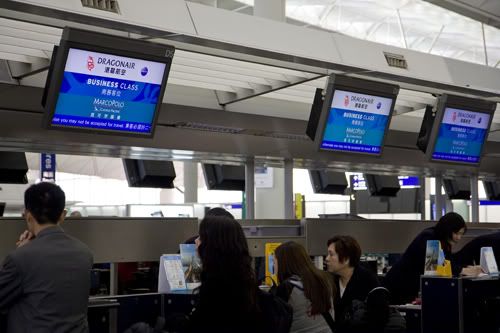 Stupid Dragonair Business Lounge that took so damn long to find
The lounge food selection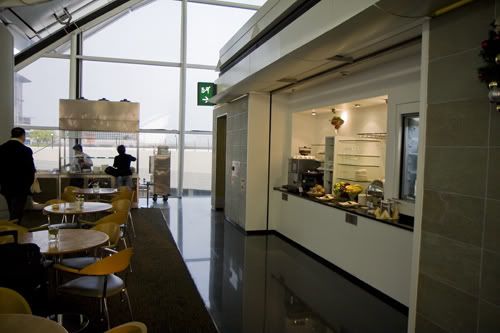 Taro spring rolls and assorted sandwiches/dim sims
Fishball rice noodles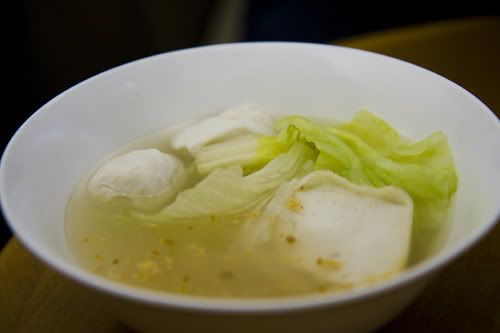 Another thing I didn't realise or budget for was that gate 48 (our gate) was on the furthers opposing corner of the airport to where I was now and only accessible by the internal train system… bah! So having left it a bit late I had to sprint all the way to the train, and then again from the train to the gate with all my bags and luggage juggling everywhere. Lucky I don't possess a large pair of boobs either or otherwise I'd be doomed.
Our seats were located smack in the front row of the plane so it was great! We would be the first to alight and everyone would have to wait for us instead of the other way round! Hah! Food was pretty rank as you'd now come to expect. Really… I think Business Class really stopped trying to impress in the food department back in the 90's or something. From all reports I've heard it's all only a marginal step up from Economy, but just with fancy place settings and cutlery.
The first row of the plane! W00t!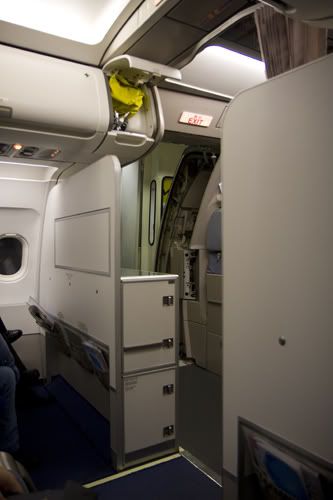 Hong Kong Disneyland maybe?
1 of only 8 Bizclass seats
Some guava juice cocktail which wasn't half bad…
Fish choice
Stirfry
The wee tiny Biz Class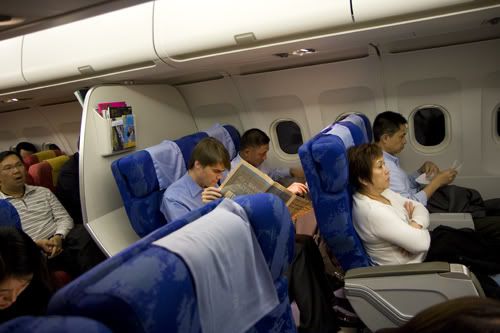 Sanya Airport was a tiny airport as one would expect from a little resort town. The staff all there look like they're dressed in Chinese military dress uniforms completely with the accompanying unfriendly looks and demeanor. The immigration guys were soooo damn slow, taking ages to analyse and scrutinise each passport. Our guy was the worst of them. He was slow slow that I was soon frustrated into making some rather unflattering commentary my breath. Erica cautioned me against voicing my opinions too loudly here as security would probably be all too willing to take me aside into a small room and toss my ass inside out just for posterity.
Getting to the resort was also another interesting experience as it was also my first encounter with China roads even if it's not the mainland. I notice our drivers would flash his high beams non-stop at every car that was either directly in front of him or in front but the lane next to him. It's just flashing and flashing and flashing. Everyone like just seems to drive with their high beams on as well. Aside from our driver driving about 90% of the way from the airport to the resort at like 40km/hr, of which I was getting so frustrated because I just didn't know why he was driving so slowly and flashing everyone, it was a rather uneventful trip.
Sanya Airport
Glad to be alive
Warp speed engage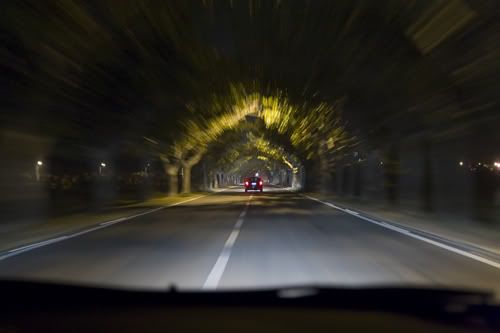 Erica's dad opted to stay in a serviced apartment instead of a hotel as it would be more of a social experience. As much as Erica and I would have preferred the privacy of a hotel room where we can become our usual anti-social recluse selves and just get up to all sorts of naughty holiday high jinx behind closed doors, we had to remember that this was a family vacation. And so with 7 people soon to be under the same roof, it would be a pretty crowded apartment.
We stayed in a 4 bedroom apartment that was quite nice but unfortunately there was only 2 bathrooms. We were the first to arrive and the rest of the family would end up arriving close to midnight. Erica's dad has this thing about family members not all taking the same flight, just in case there's a crash or something. And so seeing that there's only 1 flight from HK to Sanya they had to go the long round about way from Singapore to Mainland China, then catch the bus to the ferry terminal, then catch the ferry to Sanya. It's all a bit silly if you ask me.
Another thing is that I'm not used to saying in a resort where many of the staff actually can't speak any English at all and this really reflects how much of a developing country China still really is. A basic level of English comprehension is something that was missing here and I guess the island of Hainan is not a place which rates that highly on the must visit list of westerners and europeans alike. Most of their visitors are from China, Hong Kong, and surprisingly Russia. So in that respect it's understandable.
The Aegean Conifer Suites Resort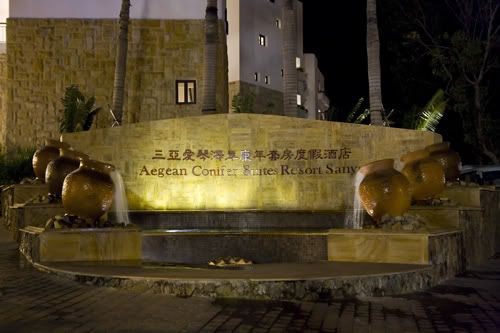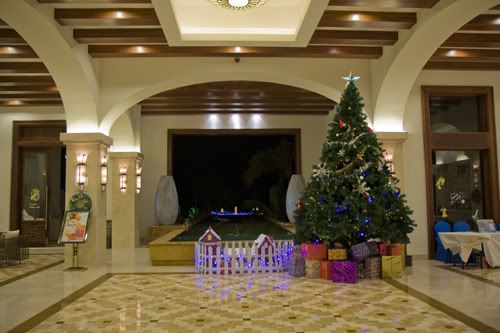 Kitchen
Master bedroom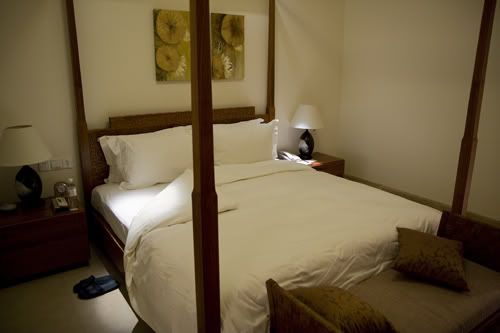 Master toilet
Lounge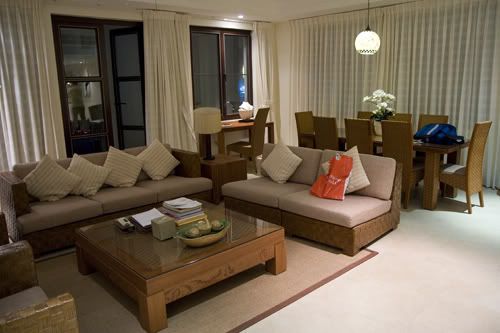 Seeing as we hadn't had a proper dinner yet we ordered from the very limited room service menu. And what more appropriate thing to order in Hainan than Hainanese Chicken Rice!!! It was more out of curiosity than anything else and I'm glad I ordered it because it would turn out that this was the only chicken rice that I'd ever get to eat during this trip. It wasn't bad by any means and I did enjoy it. But it wasn't great either. Then again, it is a room service meal after all from a largely mediocre resort….
Erica ordered the sandwich which would have been terrific if it wasn't for the fact that her cibiata was the consistency of concrete cinder block. It had just enough give so you didn't smash your teeth into pieces and was hard enough to kinda make you wince. Pity… because the filling was actually quite nice!!!
Cibiata sandwich with fresh mozzarella and salami
Hainanese Chicken Rice… in Hainan! Pity it's also room service chicken rice…