A nice quiet weekend it was to relax and spend at home after the visit from Erica's family last week. We had dinner at my favourite el cheapo italian joint, Bar Italia. I've been here probably over 10 times, and I order the exact same thing every single time. The yummy Spaghetti Sicula which I never tire off. Erica makes a great version which has chorizo as well as bacon, but it's nice to just dine out. I should try something different, but I always end up craving that dish. A simple bacon and chilli pasta tossed in oil, it's light and tasty without being overwhelming like other saucy pastas. As as is standard procedure, this is chased with their terrific Tiramisu Gelato which is fantastic. Huge chunks of sponge mixed into the gelato really give it a terrific texture. At $14 for a massive dish of pasta, it's great value.
Bar Italia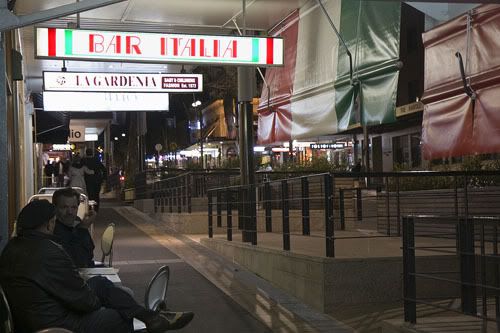 Garlic Bread
Spaghetti Carbonara
Spaghetti Sicula
Tiramisu Gelato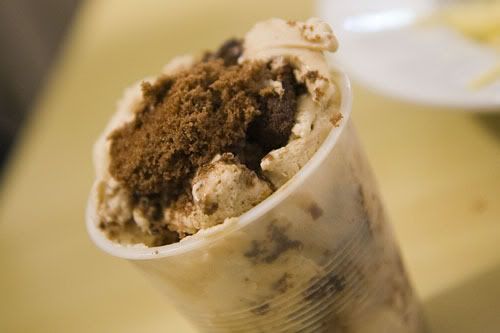 I decided to try my hand at Claypot Chicken Rice on Saturday night and I have to say it turned out quite well. We tried it a year ago quite unsuccessfully. Back then our previous attempt resulted in a cracked pot and some rather soggy rice. This time, we remember to soak the claypot in water prior to cooking like you're supposed to which prevented the pot from cracking. I tried a new recipe and aside from the rice still being just a tad soft, the taste was otherwise pretty good. It had that wonderful burnt taste that Claypot rice is supposed to have from the rice burning at the bottom. Will perfect it next time, just need to cut down a bit more on the stock.
Claypot Chicken Rice
On Sunday we went to my parents place for lunch after Church and also so I could do some test shots on Sydney (my dog). My dad cooked fried Hokkien Mee (or Rochor Mee) for lunch and it was great. He's been experimenting with that dish trying to get it right and it now tastes pretty much spot on. I watched him closely to learn how to cook it and it's much more simple than I thought. Definitely the most authentic fried Hokkien Mee I've had in Sydney, especially since we grow the proper lime (Limau Kasturi or Calamansi Lime) that you're supposed to eat it and which you can't get in the shops here.
Fried Hokkien Mee (or Rochor Mee)
And lastly, after the weekend Erica and I have some huge news!!! But I'll get to that in the next post.