It was quite an enjoyable weekend we had. We managed to get some stuff finally done that we've been putting off for a while, and yet also enjoy ourselves thoroughly. Friday night involved us heading over to check out Viv and her bf's new place which I have to say is wonderfully cozy and gorgeous. Our apartment is many things, cozy just isn't one of them. It's the downside of having two glass walls, massive amounts of sunlight, and light coloured floor and walls. They all equate to "cold".
Anyway, we had dinner at Luciano's which was some Italian joint just down the road from her place. And after that, I set up HTPC, and treated her to the wonderful visual spectacle of which you've probably seen in my previous post. Mmmm…. I've no doubt she appreciated that surprise whilst on a full stomach
Luciano's Pizza
Garlic Bread (duh….)
A Half Mexican and Half Nacho Pizza
Penne Matriciana
Spaghetti Carbonara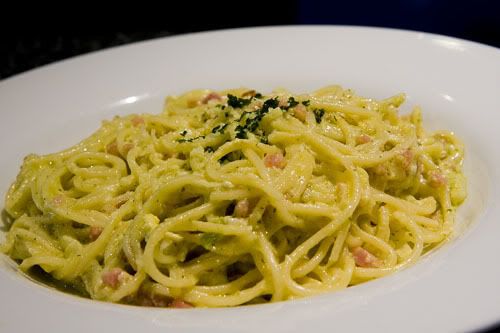 Finally, an honest shot of Viv smiling! Or smiling whilst trying not to smile. Either way, it's honest
Some fruity gelato dessert
Some non-fruity gelato dessert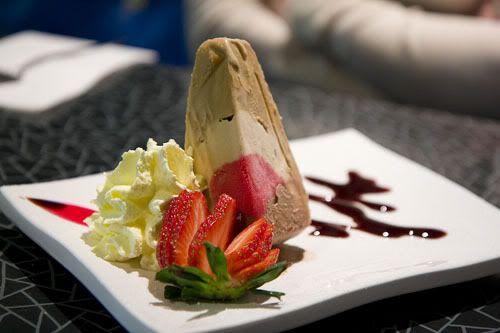 Baci gelato dessert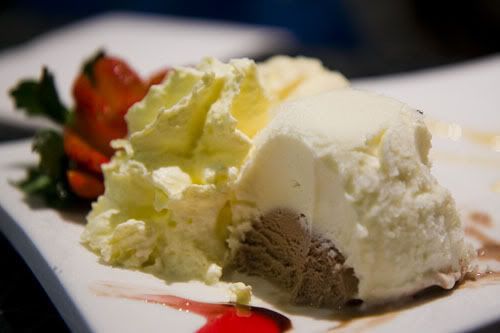 On Saturday, we finally completed our move from our storage cage in Auburn to a much cheaper and closer one in Rhodes. After much procrastination we organised for the removalists to come at 11am and whist everything to the new joint. That's one more thing now out of the way. We wanted to make sure it was done in time to catch the 3pm session of The Dark Knight at the IMAX Theatre at Darling Harbour.
Best thing about it? $9 IMAX tickets!!! It's great knowing someone whom can score cheap tix. Thanks Mon!!!
It's terrific not having to pay the usual IMAX prices of $20+ a ticket which is pretty steep when you couple it with parking charges at Darling Harbour. We're trying to make sure we watch all the 3D movies on offer before we move to SG because the 3D movies kick ass.
We've already seen the The Dark Knight, but I wanted to check out the scenes that were specially filmed for the IMAX screen. And I have to say some of those scenes were pretty impressive, where you're actually looking down into the guts of the city and getting a nice sense of depth and almost vertigo inducing. Neat….
Post movie we had an early dinner at The Little Snail, but I've already posted about that.
IMAX Darling Harbour
What we're watching
The Ball & Chain…. I kid I kid!
The queue for this movie was fucking insane. The session was almost completely sold out, it was incredible. As you could see from the photos, the queue for the movie snaked all the way down the stairs and exploded out the door! Crazy!
Where's Wal… I mean Erica? Can you find her?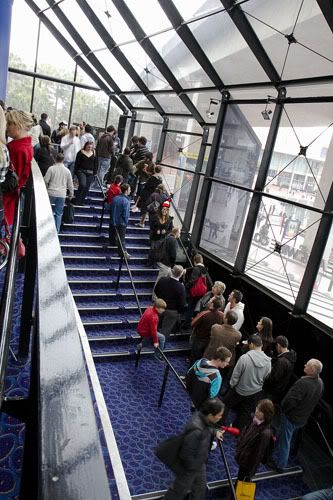 So Classy…..
Insane queue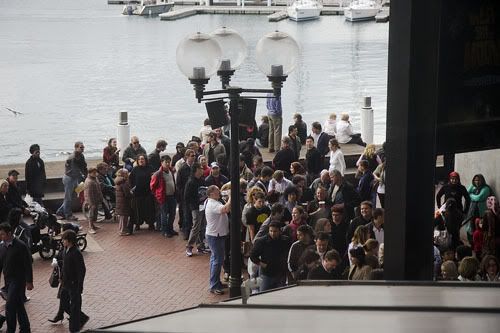 Not bad for a shot in almost pitch dark conditions without a flash. RAW PP FTW!
Darling Harbour is real purdy….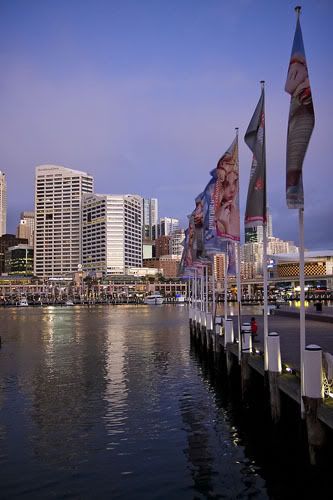 IMAX by night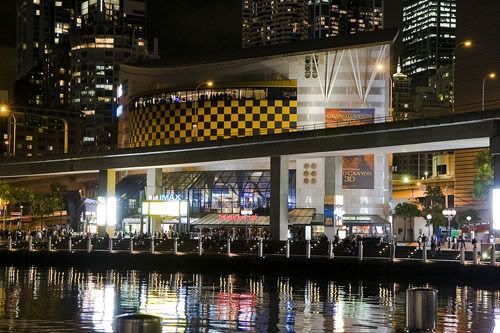 Now it's time for another wonderful and relaxing Sunday morning Brekky! We took a break from church instead opting to have a very pleasurable balcony breakfast at home and watch a session of Joel Osteen ministering from Lakewood Church that I recorded from cable.
I made my own rendition of French Toast and Erica made her yummy fruit smoothie. Unlike normal french toast, I mix sugar, vanilla, and cinnamon into the egg batter itself. And I deep fry instead of pan fry the bread. I find the bread much tastier and crispier that way, with the flavour and sweetness infused within and no need for syrups or butter. Crunchy on the outside, fluffy on the inside, it was yum
Served up with fresh fruit it was a nice, light brekky…. though probably not healthy at all!
Seeing as we just dug out the blender from the storage, Erica was keen to make her fruit smoothie. With bananas, blueberries, strawberries, frozen strawberry yoghurt, and OJ, it was certainly a frozen mix to rival any of Boost Juice's finest and was certainly refreshing.
Silver Blenders = Pure Sex
French Toast with fresh fruit
So colourful it's almost like a cocktail for Unicorns…..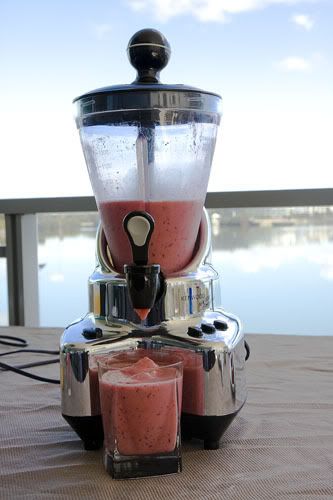 My morning hair…. laugh and you die
And lastly for dinner I whipped up my Seafood Lemon Pepper Linguini again since Erica was craving it. Whilst Erica baked her always yummilicious Chocolate Walnut Brownies…. Mmmmm…. I love eating all the crispy edge bits…
Seafood Lemon Pepper Linguine
Chocolate Walnut Brownies