And the weekend just passed was another that was simple and relaxing. I kicked off the the weekend with a simple brekky of kaya toast, Ya Kun style. Ya Kun is still my favourite Kaya Toast in Singapore what with it being so incredibly thin and crispy… MMMmmm. I have to admit that it is a pain cutting a single slice of thin toast in half, then trying to butter the bugger without it breaking, but the results are always more satisfying that merely spreading it on top. Soon enough, I won't have to frickin' do this any more!!! Woohoo!
Poor Man's Ya Kun Kaya Toast
We then had reservations at Gold Class in Macquarie Centre to watch Hellboy 2. Surprisingly, Erica actually wanted to watch this much more than me. Generally, if a movie has awesome special effects, I'm all over it like a fat kid on a sandwich. It's the only factor that will spurr me to pay dollars to watch something in a movies with total disregard for the cast or plot. However for some reason, I was pretty "meh" about the first Hellboy.
Anyway, we caught it and I have to say it was much better than the first one. There's just so much more shit going down, more things getting trashed and blown up, and more monsters getting whopped by a big red fist. I love Gold Class, apart from pandering to that sense of misguided elitism in me, it's just so damn comfortable. I swear, I'm always torn between curling up and falling asleep in those armchairs, or actually watching the movie.
We pigged out and ordered wedges, beef nachos, a platter of chicken tenders, and a apple and berry crumble with ice cream. Fuckin' aye…. beats the pants off pop corn any day! Downside, you come out of the movies absolutely covered in food and sauce as eating sloppy foods in the dark is no easy thing. Plus I also lost my keys somewhere in that cavernous recliner. Grrrr……
Gold Class Lounge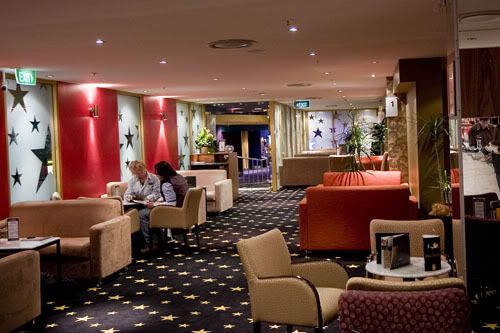 Gold Class Bar, Bar keep, and Bar wench…..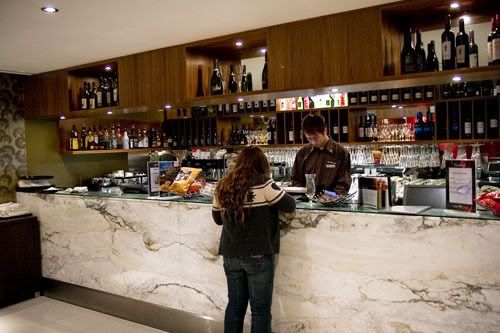 Le Menu
Mmmm… Comfy….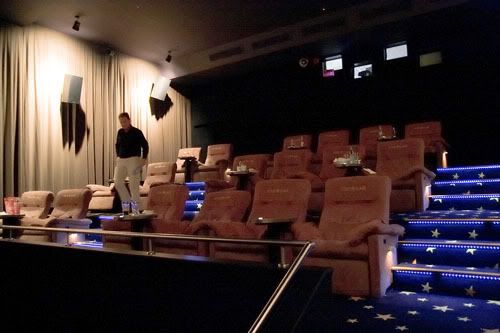 Some Beard Papa Mini Custard Puffs that we had after
We cooked dinner instead of eating out. Erica made her awesomely awesome Lasagna which I've said many times is the best Lasagna I've ever had. Though I have to admit, my homemade Cheesy Bechemel Sauce also had an important part to play in that
After eating Bechemel Lasagna's, you just can't go back to eating them without. Mmmm… layer upon layer of cheesy goodness… *drool* Though we are really in dire need of a bigger pan as ours always overflows…
Lasagna
Slice of artery clogging heaven….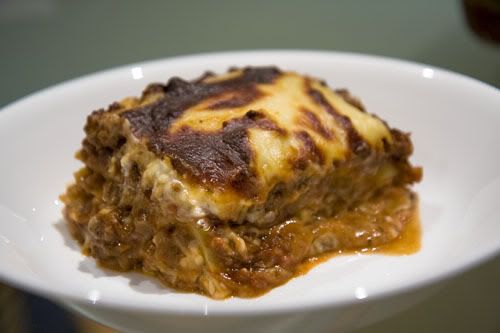 For Sunday brekky Erica gave me some reprieve and made yummy scrambled eggs on muffins with smoked salmon. We also finally managed to dig out her old coffee machine from the storage and thus, no more instant! Makes no difference to me really as I'm very happy with instant (I'm weird like that), but Erica can't stand instant coffee. But I have to admit I do enjoy the froth on a cappucino. To hell with the coffee, I just want the froth!
Scrambled Eggs on a Muffin with Smoked Salmon
Cappucino
And finally, it's our final meal for the weekend. Now don't adjust your monitor, and there isn't a problem with your eyes either. But yes, you are looking at vegetables on our plates. No really, it's not an illusion nor a mirage. They are actually veges. I know it's hard to believe but miracles do happen! I made bacon mashed potato and salad with a Japanese citrus dressing, and fried up some Beef Chilli and Greek Lamb sausages. Nice, easy, and satisfying.
Beef Chilli and Greek Lamb Sausages on a bed of Bacon Mash with Salad
A face only a mother could love. Actually… no.