And a wonderful Saturday to spend indoors it was. With the sky gloriously overcast, and a steady light rain dominating most of the day, a better time to rug up on the couch doing sweet jack all there never was. We kicked off with a simple breakfast of soft boiled eggs and toast fingers to dip in them, followed by a chaser of kaya toast. It was probably the healthiest breakfast we've had in a good long while.
Soft Boiled Eggs and Toast Soldiers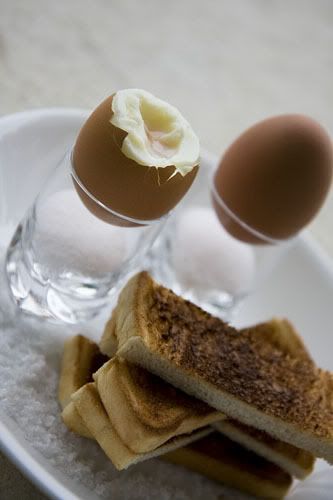 Kaya Toast
Post brekky we headed up to the shops to by what we needed for dinner, then came back to laze around some more. The whole day wasn't entirely unproductive, as I finally got off my derriere long enough to photograph things that I've been meaning to sell on eBay for yonkers. My 17-85mm IS kit lens, my spare pair of new titanium riding gloves, and a video card I mistakenly ordered a while back. Now hopefully I can get around to actually listing them by the end of the weekend!
For dinner I decided on Salmon. I was initially planning to make Roti John for dinner, but wanted to compliment it with something light. I eventually ended up postponing the Roti John until tomorrow and just focused on the Salmon meal tonight instead. Erica and I experimented to make a Miso Salmon on a bed of grilled Miso Glazed Eggplant. I have to say it turned out pretty well for a first try. We made two different miso glazes for the Salmon and Eggplant respectively and they both turned out pretty well. We weren't sure whether or not to mix vinegar into the japanese rice and so erred on the side of caution and didn't. The salmon was wonderfully juicy but I think next time I'll undercook it even more so the core of it is slightly rare. Also, I might try soaking the Eggplant in water next time to plump it up and give it a juicier texture. This Eggplant turned out well, but serving it next time with a moister, juicier centre may be better. We'll just have to wait and see! Another keeper for the recipe book!
Miso Salmon on a bed of Grilled Miso Glazed Eggplant
Ohhh yeah Miso Horny!!!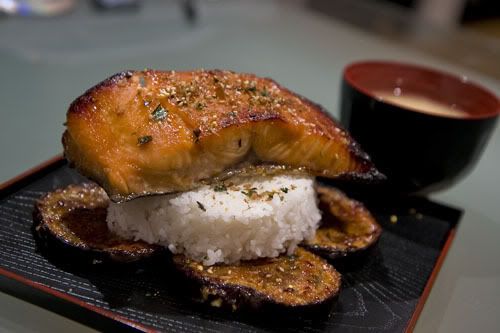 I also had to start cooking tomorrow nights dinner of Vietnamese Beef Pho as usually we boil the stock of ox tail and beef brisket in advance for a day or two in the slow cooker to get the stock uber tasty. Except, I thought we had brisket still in the freezer when we actually didn't!! Grrr… so no beef brisket. I'll just buy some rib eye or wagyu from the store tomorrow and just throw some raw, thin slices on top when I serve it.
And we finally capped the evening off by watching the extended version of the Two Towers again. A good way to kill about 4 hours! I've lost track of how many times I've already watched it and god only knows how many more times in the future I will! Now when the hell is the LoTR Trilogy going to get released on Blu-Ray!!! Hurry up already!