Another lazy day of uneventfulness of which I'm definitely not complaining about. We skipped brekky today and went straight to lunch. Finally got around to making Roti John from a recipe I pinched from Camemberu. I have to say it turned out pretty well. I haven't eaten Roti John in yyyyyyeeeeeeeaaaaaarrrrrrssss so I didn't have that much to compare it too, suffice to say that it wasn't anywhere near as oily as the original and still tasted pretty good.
I threw in a whole bunch of chilli but there was pretty much no spice to it at all. Next time, I'll mix chilli powder (or maybe chilli padi) into the beef mix to give it more kick. The big chillis is more for the flavour than anything else as opposed to heat. I also cooked some of the onion in the beef, then mixed in raw onion later into the mixture since Erica doesn't like too much rawish onion. Plus I tried two slightly different methods of preparing the bread. One, I just covered the bread in the egg/beef mixture and fried which turned out pretty good. Second, which turned out better, was to butter the bread, fry it till crisp, then cover it in the mixture before frying again. Next time, I might try it a third way, which is toasting the back of the bread before the frying process so the entire thing is crispy. Mmmm…..
Pretty happy with the way this turned out. It would be a great easy thing to make for when I next have a BBQ or burger night for friends
Chillis aplenty, though all bark and no bite.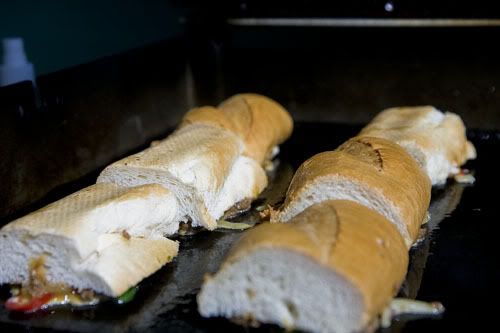 Roti John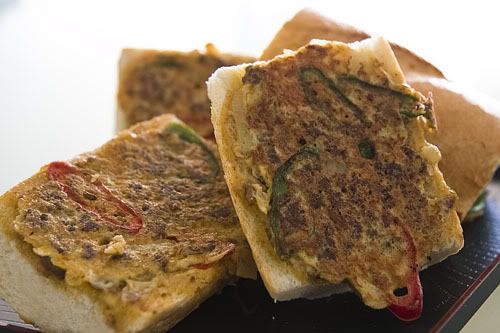 And here's Erica whom is still busy organising our upcoming New Zealand road trip
After lunch it was pretty much relaxing all the way till dinner. Plan holiday, list things on eBay for sale, watch a recorded sermon from JO on cable, and just sit around scratching our balls for the rest of the time. Well I did anyway, I don't know what Erica scratched proverbially instead. 3 more weeks and counting till we jet off! Woo!
Couch Camouflage: Fail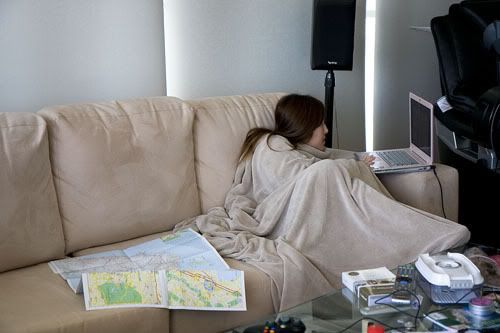 And lastly for din din we had the Beef Pho that I prepared yesterday. I hate my fricking slow cooker/crock pot. It's this cheap Kambrook piece of crap that has a lid which doesn't sit properly. The steam keeps bubbling through the lid causing water to slowly spit everywhere. Even on low, the water ends up evaporating just too fast as a result which involves me having to keep topping up and diluting the stock. Annoying. We have such crap selections of slow cookers in Sydney compared to Singapore where the selection was huge! Will have to replace this when we go back.
And lols, look at the pitiful sprig of mint on the Pho. They didn't have any thai basil and so had to make do with a handful of mint that i squashed by accident 😛
Vietnamese Beef Pho
We capped off the night by watching Street Kings which I had downloaded ages ago and never got around to watching. Boy has Keanu Reeves put on weight! But I really enjoyed the movie as I do most cop movies with well executed gun play.