Friday night was great, I caught up with Paul and Eugene (otherwise referred to as Eugenitals), the latter whom is a friend from High School whom I haven't seen in almost 12 years. It's great catching up again with long lost pals. It's even better when you find out they can still be as filthy minded as ever. Solid. Some things are more fun when they stay the same. We had dinner at Musashi on Pitt St in the City. No pics because I tend not to pull the camera out when I know I'm going be accused of being a gay asian homo if I did so. Post dinner, we adjourned to new bar at the Rydges hotel for a drink.
I have fond memories of the 3 of us back in school. Where I used to kick their asses at Street Fighter 2 at my place and Paul would sneak up behind me and smack me on the ear with my electric flyswatter, which bloody hurt! Then run away like a frightened schoolgirl when I tried to nail him back. Good times. I miss the school days, I miss the best days. Looking back, I wonder why it took us that many years to regain contact…
Well… winter is truly over because on Saturday it was friggin' hot! It wasn't even autumn like, one could almost have thought it was summer! Gah! We didn't really have any plans for the weekend. Originally Erica wanted to go for a ride on the Firestorm, but it was just too hot and so figured we'd just chill instead.
We headed up to Flemington to our favourite Vietnamese place to get her favourite dish. Apparently, Singapore doesn't really have top shelf Viet (so she tells me) and thus wants to slurp up as much of it as she can here before moving back. We basically ordered the usual suspects.
Hoang Gai Vietnamese Restaurant
I just have to add before I continue, I fucking hate it when inconsiderate pricks open the door to an air-conditioned restaurant on a hot day, and just leave it open. Whether they come or go, they don't have the sense of decency or responsibility to close it. Given that I was sitting next to the door getting blasted by hot air whenever some inconsiderate prat would open and not shut the door, I was getting really close to chasing the culprit down and shoving a fistful of chopsticks up their ass. Anyway, I digress…..
It was too hot to lug around the 40D and so I got reacquainted with my old IXUS 860. Man… I forgot how light and convenient a compact camera was compared to the big SLR. Carrying and shooting the little thing was like heaven compared to it's bigger, newly adopted, and attention seeking brother.
Prawn Spring Rolls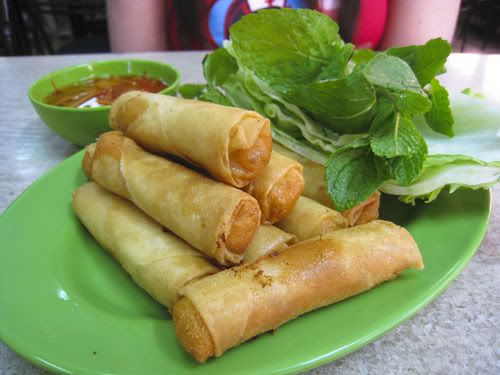 Tomato Rice with Grilled Pork, Shredded Pork Skin, and Egg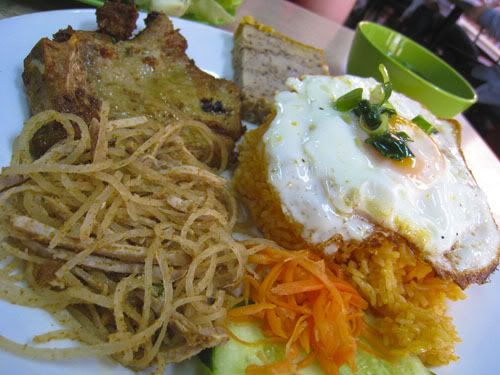 Spicy Vermicelli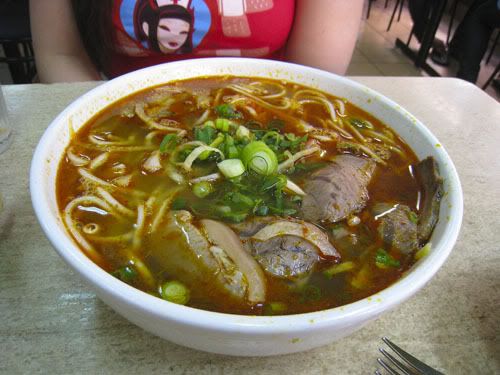 We then picked up groceries for din din. Brisket for Sunday night and stuff for Hokkien Mee that night. Cutting brisket is always good fun (cue sarcasm). Took me ages to trim the fat off the 1.5kg of brisket we bought. 1/3 of that was pure fat. Should have taken a photo for posterity… Brisket is oh so tasty and tender, if only it didn't have so much fat. Oh well.
I gave Erica the choice of choosing dinner. I was either going to try making a spice crusted lamb rack on wasabi mash, or fried hokkien mee. I left the choice to her. Unfortunately, she chose hokkien mee (dammit, I wanted to try a new lamb recipe!).
This was my first time frying Fried Hokkien Mee, or Rochor Mee if you will, and was emulating my dads recipe which tasted so good last time and was the most authentic I've had in Sydney. All in all it was pretty good. But no point trying to perfect it now as we'll moving back to SG in a few months!
And for dessert, we had Blueberry Danish (Sara Lee, not homemade!) whilst we watched the first disc of The Return of the King Extended.
*simmers*
Fried Hokkien Mee
Blueberry Danish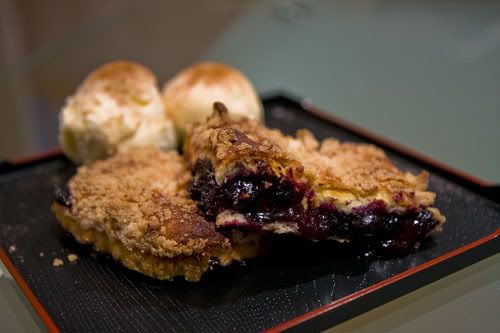 For our Sunday morning brekkie, I made Pikelets with a Blueberry Compote. I haven't really made pikelets before. In actual fact, the last time I ate Pikelets was when I was still living in Singapore, as a wee lad. Turned out pretty well but needed more sugar in the batter. I was making Blueberry compote for the first time and it was incredibly easy, though I screwed up the first batch and had to make a second 😛
Blueberries are now in season and they are wonderful. Fantastically sweet, there were perfect. I wasted a whole cup of fresh blueberries in the first batch as I let them simmer for too long, and all the juice evaporated, so had to throw them out 😛 The second batch was perfect. Very simple to make and definitely a keeper, will continue to make these even when I move back to SG. Pikelets are like pancakes but more sweet, cute, and fun
I can't believe I just said that, I must have been raped in my sleep by a Hello Kitty strap-on or something…..
Pikelets with a Blueberry Compote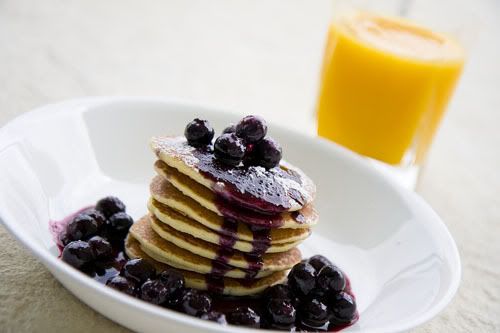 We decided to have a light simple lunch of guacamole and chips which is Erica's domain as she's the resident guacamole maker around these parts. We did it slightly different this time, instead of using Tabasco sauce to give it the kick and tang, I blended some bottled jalepenos with sour cream and avocado, then got her to mix it into the guacamole. It was much better! It gave the guacamole the tang and kick it needed without altering the taste as much as the Tabasco usually does. Recipe updated.
Corn Chips and Spicy Guacamole
And lastly Erica tried her hand at making the Hong Kong style Beef Brisket noodles for dinner. She started cooking them on Saturday so that it would have more body and flavour when we ate it on Sunday. She was cooking it for the first time and experimenting. Not bad, not bad at all! It tasted a little different from the Hong Kong style Beef Brisket noodles, but was very tasty. Can definitely pass for authentic when eaten with the chilli oil.
Incidentally, we also tried a new chilli oil. Usually we use one I call the "Dead Woman Brand". Because the bottle has black and white pic of a women that looks like it belongs on a gravestone. It's from China and Erica doesn't really like it. We tried a new one from Lee Kum Kee which is a Teow Chew style chilli oil (so says the bottle) and it was much much better. Dead Woman Chilli Oil is now going to get thrown out
Beef Brisket Noodles
And with the passing of another weekend, we are now only 2 weeks away from out big New Zealand Road Trip!!! Woohoo!!! Can't wait!!!