Wow… getting two old posts out of the way in consecutive days. Impressive by my own standards! I anticipate only getting one more done before getting bored and procrastinating again. Besides, as least this was a hell of a lot more interesting than the last.
I was quite glad to get out of Sanya as although it would be a relatively good place to relax, it's almost impossible to relax on a family vacation. Old folks just don't understand the meaning of the word "relax" as defined in the Generation X vernacular. They're quite familiar with the words "nag", "bug", "bother", "frustrate", "cockblock", and other such pearls, but unfortunately not "relax". So if we're going to have to be doing stuff I'd rather be in a place where there's actually stuff I'm interested in doing! And so I couldn't wait to get my ass to Macau!
Macau, aka the poor mans Vegas, aka the place Chinamen and dodgy Hongkies go to piss their money away and get some sweet Asian street meat. Until Erica told me that her family wanted to come here I didn't really know all that much about Macau. I never even knew it was like a mini Vegas. All I knew was that it had casinos. My earliest memory of it was my ex-business and newly married partner bragging to me about the prostitutes he slept with when he was in Macau. Yeah…. thanks for sharing dickface. Something to be reeeaaallll proud of I'm sure. Anyway, gambling and whores… it sure as hell didn't sound like any place I'd ever like to visit.
It was only when Erica explained that the casinos were all modeled on those from Las Vegas that my interested started to peak. Given that I've never been to Vegas, this I guess is the next best thing…. just without Siegfried and Roy and their owner eating white tiger.
The "First Class" Lounge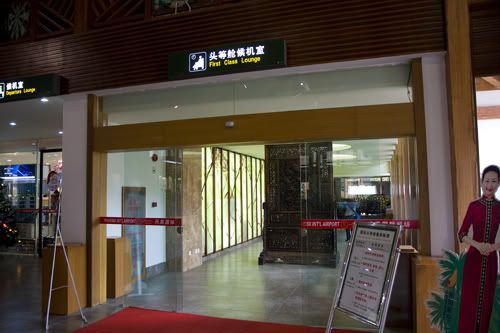 It's like I travelled back in time to before bad taste died…
Given that we had Business Class return tickets to HK from Sanya on Dragonpleasedon'tcrashonme Airlines, we got to wait in the oh so trendy first class lounge with these amazingly comfortable seats. And by "trendy" I actually meant "horrendously cheena ching chong" and by "comfortably" I actually meant "hard as fuck". The lounge looked like some illegal opium den from the 60's located in the back of a dodgy Chinatown restaurant somewhere in LA. I've always wondered why asians always looked so stern. And now I've realised that it's probably because they're in constant agony from sitting in these stupid chairs. Ask a Chinese furniture designer the meaning of the word "ergonomic" and he'd probably look at you in confusion and hold up a pork bun.
My parents actually had, and still have, an ancient furniture set just like this that I had to spend years sitting on during my youth. I hated every second of it…
Anyway, the food on offer wasn't all that much. Just an assortment of pre-packaged cakes and sweets. Much to my surprise, they actually had wireless internet. I'm sure the IT company that installed the wireless internet here was just as surprised when they received the contract. Anyway, Erica, her mum, and myself were travelling to HK by plane, then taking a ferry from there to Macau. The others all left hours before us and so would arrive much earlier. Again, it's the whole "the entire family can't travel on the same flight" concept in action….
Pre-packed lounged food. Boo….
They probably wouldn't even furnish a POW camp with these chairs…
Airline Green Curry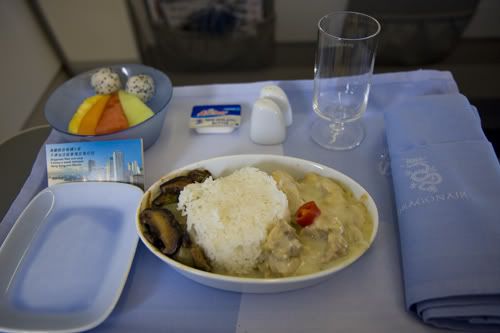 Macau is surprisingly close to HK by ferry. I guess this is why so many Hongkie businessmen go broke and kill themselves. Having that many casinos at the doorstep of a race of people whom probably have a genetic pre-disposition to gambling addiction is probably not a good thing! But is it good business? Oh hell yeah I'm sure it is! Which is why I think having a casino in Singapore is stupid stupid idea. Casinos are just evil. Fun evil, like most evil, but still evil all the same. I honestly can't imagine any social impact study, which I assume is compulsory, giving a casino the green light to go ahead with development. But apparently they do because we still have them around. Anyway I'm digressing again….
We opted to stay at the Venetian because a) it's new, b) it's basically the same as the one in Vegas, and c) it's fricken' massive. I actually didn't mind which hotel I stayed it as long as it was one of the Vegas ones (i.e the MGM Grand, the Wynn, etc etc…). There were like 3 massive buses from the Venetian waiting at the ferry terminal to shuffle their guests from the dock to the hotel. 3 huge full sized coaches waiting and getting filled up… kinda gives you an idea how big the place is.
On arrival at the Venetian, 3 things immediately run through your mind. 1) It's huge, 2) No no… it's fucking HUGE, and 3) those gondola oarsmen have sweet hats. The place is pretty amazing. It's just so…. bling. Everything is so ridiculously gaudy and glitzy that you just can't help being blown away.
The Venetian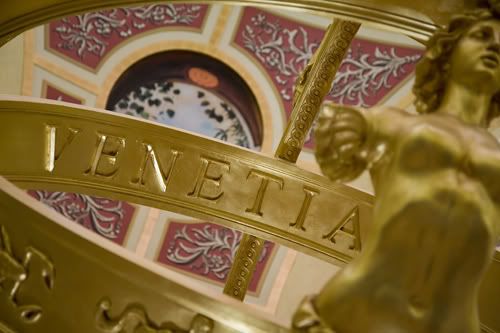 As much as I try to say it, words just can't describe how absolutely massive the place is. It's like a hotel, casino, and a massive shopping centre all rolled into one themed blingy package. It's just so big. But I'll let the pictures do the talking in the next post. We didn't have much time to sightsee as we headed on straight up to our rooms and just crashed until dinner. The decor of the rooms thankfully weren't as loud as the rest of the hotel, but quite comfortable and tastefully done. Nice big rooms and bathrooms, me likey. A definite refreshing change from the small bedroom that Erica and I were holed up in for the last two nights!
Looking at the pictures brings up a point that I've always wanted to mention. What is the deal with ornamental pillows? They serve no functional purpose whatsoever and just get in the way when you want to rest. The pillowcase is usually made from some material that isn't very touchable and you have to find a place to throw them whenever you want to hunker down under the sheets! I can't stand decorative pillows, they are useless and greatly annoy me! I love my pillows, I really do, in fact my ideal number pillows in bed, just for myself, is 4 or 5. But they are functional pillows, with very touchable normal pillow cases. Not stupid rough ones that look pretty but you have to sweep aside whenever the bed's about to get used. I dunno… maybe it's just a chick thing. I do admit they make the look prettier, but not at the expense of the inconvenience 😛 Again… digression.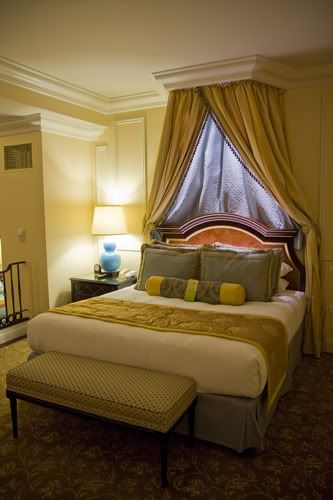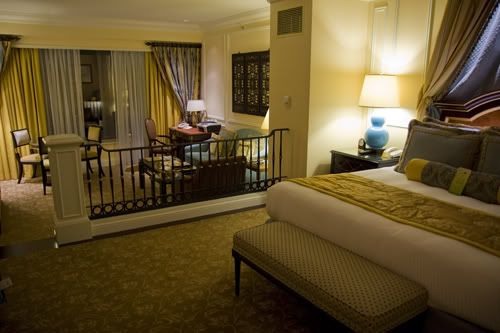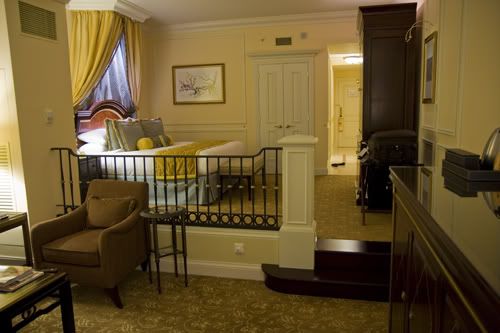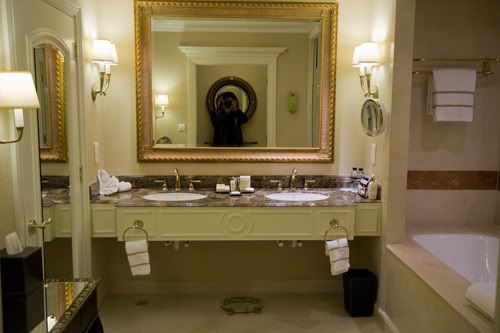 For dinner we settled on a place within the hotel called Kougetsu. It was a Teppenyaki restaurant and not a very cheap one at that. Through out the course of the meal, our chef explained that virtually every single ingredient they use is imported directly from Japan. The salt, seasoning, rice, other ingredients you'd never suspect…. all from Japan. I'm guess it all adds to the price though not necessarily the taste. I loved the decor of the place which was very spacious and contemporary. There were a few private rooms for the larger groups and they stuck us in one of them. I love private rooms, it's so much cosier and quieter.
Kougetsu Restaurant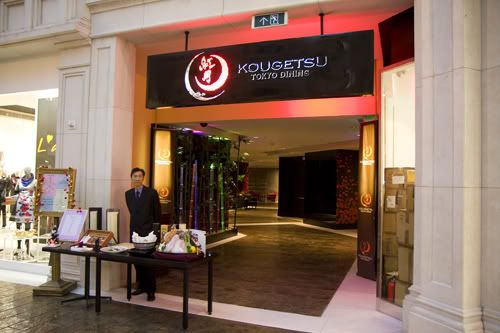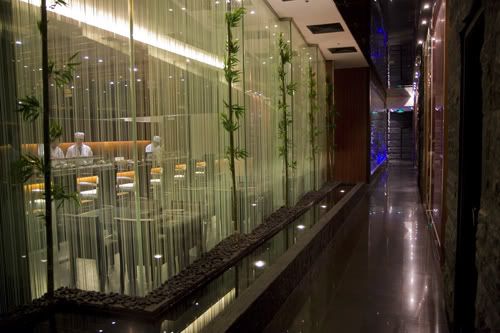 Private Teppenyaki Room
Amuse Bouche of Scallop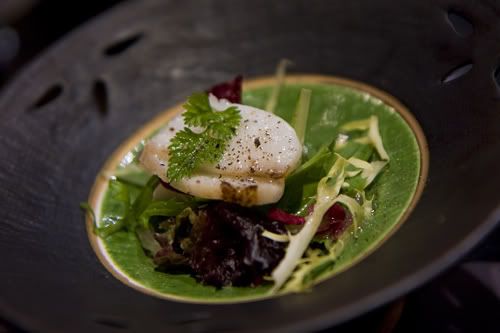 Surprisingly we actually didn't order that much. Normally we tend to over order, especially if I have anything to do with the ordering, but on this occasion we were quite reserved. I can't remember the prices, but everything was definitely on the higher end of pricey. I remember being somewhat taken aback at the cost of the sushi platter. For that price I could have bought a couple of African slave children to do my bidding and still have enough change left over for a hand job from the dealer himself. The sushi, though wonderfully fresh and tasty, wasn't $xx worth of fresh and tasty in my books! But I guess fancy hotel + fancy restaurant = fancy prices.
The taste and quality of everything as a whole was very good, with the foie gras being the stand out (as it always is). The foie gras was absolutely delicious but unfortunately it was just all too little. After he had cooked our meal, the chef then cooked a wagyu steak that other table outside had ordered and I remember it looked friggin fantastic. He chopped up the chunks for fat from the steak, then fried them till all that wonderful fat or tallow came out, then fried the wagyu in it. Oh lordy….. how I wanted to hogtie the chef and pinch his steak! And no… I don't mean that metaphorically… you grubs.
Sashimi platter
Some fish dish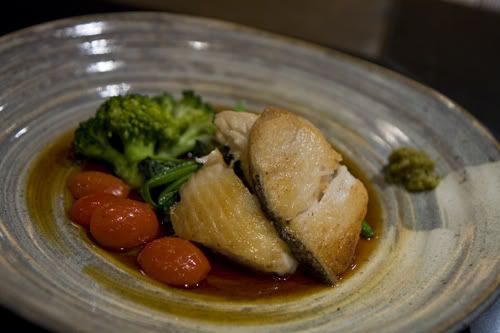 Mushroom tosser
Mmm… saucy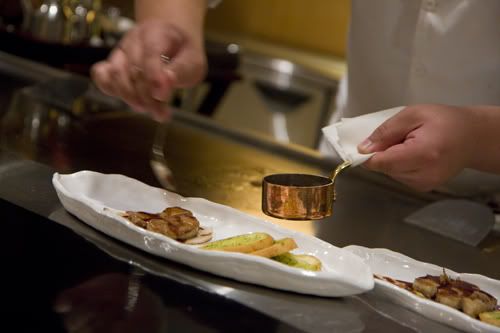 Foie Gras on Mushrooms with a random slice of garlic bread
Zhu Zhu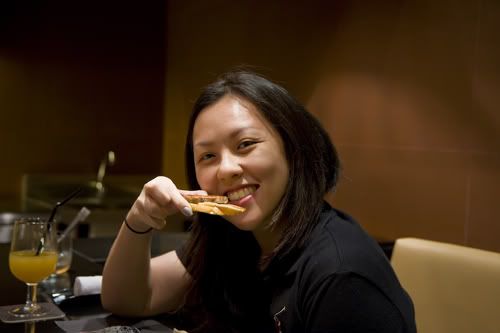 Seasoning that was also important from Japan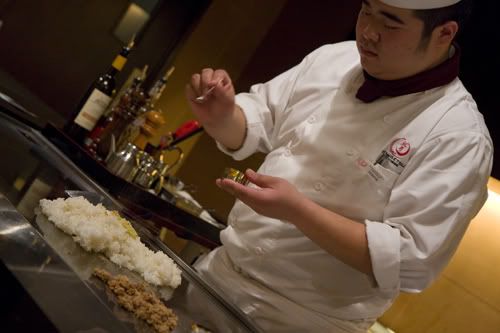 Jap Fried Rice
I can't remember why we didn't get dessert here and the only obvious reason that comes to mind is that it probably wasn't all that attention catching. Instead, we settled for gelato at a gelato stall in one of the open courts. Tried the Egg Tart and Blackforest flavours, both of which were pretty good! I love those gelato's that have chunks of cake blended into them. So darn good…. And to go with our dessert we had these 3 tenors whom proceeded to serenade the crowd with your usual 3 tenor staples. A good effort however I believe that the one of the criteria to becoming a true tenor is to have the body mass index of a of a couple of conjoined walrus's. Keep up the good work fat boy, you'll get there.
Mmm Gelato…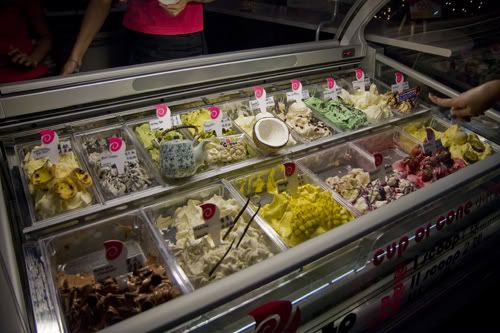 Mmm Egg Tart…
Mmm Blackforest…
Mmm cakey bits…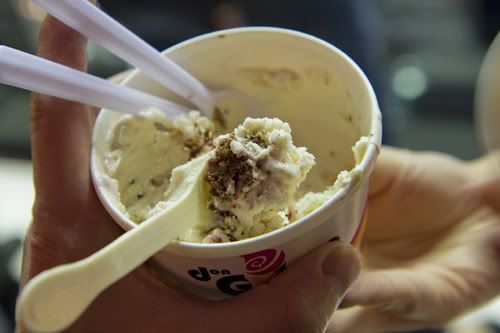 Anorexic Tenors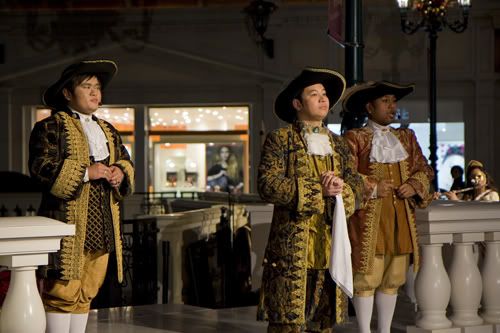 Finally it's back to our room for some rest and sweet nookie, then it's off to sightsee around Macau the next day!