I'm still struggling to finish my NZ posts, but at least this brings me one closer!
Today was a day that we were quite looking forward to, food wise. There's a restaurant here called Martin Bosley's that is rated as one of the top restaurants in New Zealand, winning the title of best Fine Dining Restaurant in New Zealand in 2007. The menu looked pretty awesome and I tried to book it for dinner to celebrate Erica's Birthday during our last stay in Wellington but unfortunately, it was all booked out then. We had better luck this time round when Erica booked it for lunch as a belated birthday meal for me instead.
Given that we've been having a rather unfortunate stretch of disappointing meals over the last few days we were desperately looking forward to something with Wow in it! And so we hoped that Martin Bosley's would live up to it's reputation.
We checked out of the hotel at 11pm and since we had an hour or so to kill, went over quickly to check out the free Wellington Museum just to kill some time until our lunch reservation.
The museum itself was okay, nothing flash or wow. I got bored after about 10mins. We quickly checked out the souvenir shop, picked up some choccys, then made our way over to the restaurant.
Museum of Wellington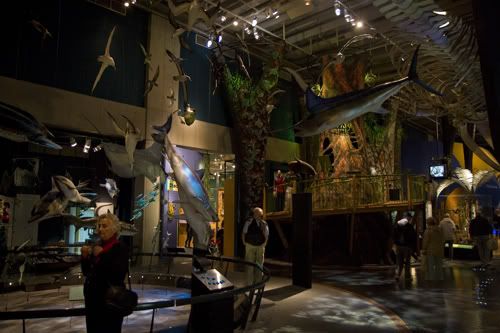 The restaurant is a very small and intimate affair that's housed inside a yacht club, as one could probably guess from the name. There aren't many tables at all and only sits a relative few. No complaints there, we were one of only 3 tables to be seated at our time of lunching. After ordering, they gave us some complimentary shooter to begin with which was pretty tasty and fruity. I can't remember what alcohol was in it, but it was quite the refreshing freebie. So yays. Following that was the bread which was actually more scone like than bread like. Soft, warm, fluffy, it was very good and different from the crusty bread that is usually served.
Following that was the amuse bouche which was an Oyster topped with something I just can't remember. Mine was like double the size of Erica's and incredibly creamy. So good…. Mmmm… I love huge fat oysters. I think they deliberately give the guys larger oysters than the girls given the obvious difference in size between ours.
Martin Bosley's Yacht Club Restaurant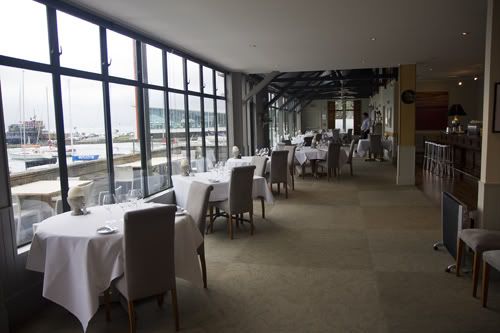 Some complimentary shooter
Fresh baked bread with Butter 'Fleur de Sel'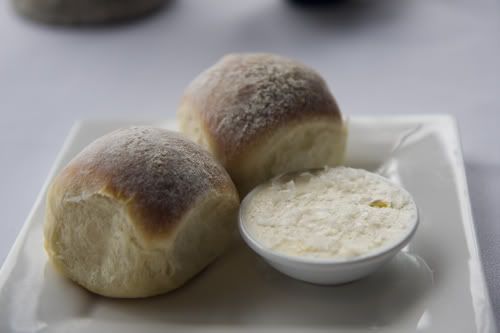 Amuse Bouche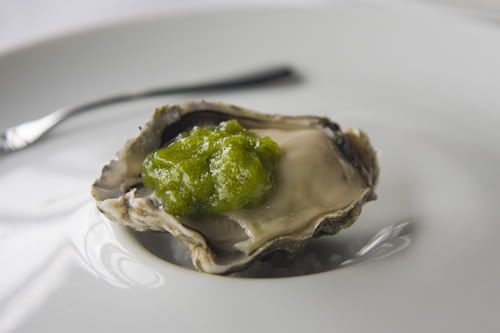 Now comes what we've been waiting for! Anyone whom knows us knows that we absolutely live for our seafood tartars! They are the best dishes ever and too much is never, ever enough! So suffice to say our faces absolutely lit up in glee when this entree came! It was huge! It was by far the largest tartar I've ever seen. It was 3 big square blocks of various seafood and looked incredible.
It was basically a deconstructed dish which I gathered from looking at our mains later is Martin Bosleys style of cooking. Aside from the marinated tartar, the additional flavour ingredients are all separated and are to be eaten together with the tartar that it was paired with. And can I say, it was absofuckinglutely incredible! This is honestly one of the most amazing things that I've put in my mouth except maybe that time I was forced to blow a Unicorn.
The flavours of the ingredients were so different from what I've ever tasted before that it was just… beyond description. Wasabi sherbert? The texture of the wasabi sherbert popping on your tongue and mixing with the crackling and spanner crab was indescribable. For each of those tartar combinations, I've never sample anything like it. It was truly one of the best entrees I've ever had. And on top of that, it was a very generous size to boot. Fucking booyah!
The other entree we ordered was a Tuna Carpaccio which was also superb. Usually carpaccios are pretty thinly sliced, but this was done quite thick. Again, the portions were extremely generous and it gave us the opportunity to savour and relish each bite of the thick and refreshing slices of tuna and cold cucumber foam. It like the tartar above, is probably the best fish carpaccio I've ever had too. Absolutely superb.
Trio of Tartars
Bluenose, Chilled Crab Bisque, Saffron Milk Wafer, Red Capsicum Gelee; Queensland Spanner Crab, Scallop, Wasabi Sherbert, Pork Crackling; Pacific Big-Eye Tuna, Poached Oyster, Onion Soubise, Earl Grey Tea Powder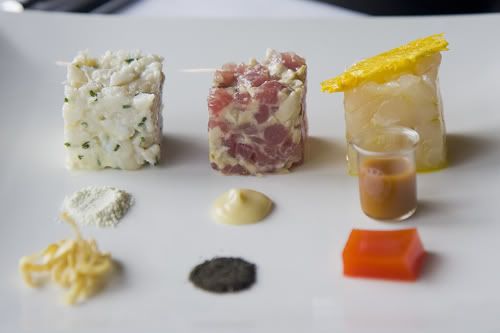 Carpaccio of Big-Eye Tuna
Frozen Cucumber Foam, Preserved Lemon, Farmed French Caviar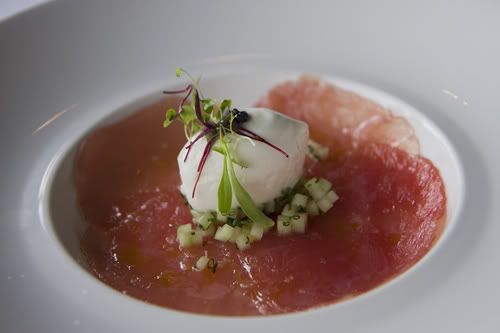 Now like with 99% of the restaurants I've ever been to, the mains rarely ever live up to the expectations set by the entrees. Martin Bosley did a pretty good job of matching the high standard it had set with it's first courses. The service of Tuna was again, very very generous. 2 big slabs of seared tuna which was still wonderfully raw on the inside. It was simply wonderful. The tuna just went so perfectly with the Monkfish Foie de Mar that I just was happy ignoring everything else that came on the plate. So so good.
The Sous Vide Lamb was also very good. Although it looks small in the photo, it portions in reality was actually quite decent. I've come to love sous vide and the rawish texture of the sous vide cooked flesh was terrific. Everything here again looks deconstructed, and works very well allowing you to alter the flavours in your mouth as you like. Wonderful.
Pacific Big-Eye Tuna
Monkfish Foie de Mar, Brioche Crumbs, Summer Truffle, Carrot Puree, Su-Miso Emulsion, Crisp Spinach, Red Wine Sauce
Sous Vide Lamb Loin, Amaranth,Ratatouille, Black Olive Dust, Basil Puree, Crushed Tomato, Olive-Red Wine Reduction
Dessert didn't let us down. Erica ordered the 5 textures of Valrhona which I didn't really touch as chocolate isn't really my thing. But I as so incredibly happy with my Banana Macadamia cake. The cake was very very good and the glass of butterscotch foam just incredible. Altogether, it combined to be one of the best desserts I've had in recent memory.
5 Textures of Valrhona Chocolate
Banana-Macadamia-Miso Cake
Sour Cream Ice Cream, Butterscotch Foam, Cinnamon-Coffee Glucose, Macadamia Glass
The entire meal was simply incredible and not only was this the best meal I've had all trip, the entire experience puts it into probably the top 5 fine dining experiences I've ever had in my life. It was that good. I recommend to anyone to stop by Martin Bosleys if their in Welly. They certainly won't regret it! And after the past week of eating crap, it all tasted that much sweeter
With lunch now set under our belt, it was time for the 5 hour drive to Lake Taupo. And so we drove, and drove, and drove. Approaching Lake Taupo we passed one of the surrounding mountains and we were still surprised to see the huge amount of snow still covering the mountain. The ski fields down in Queenstown had already shut and so we thought it was the case here. But no, we found out from the locals later that the ski season in Taupo goes all the way until November and so that's why.
Still plenty of snow in the mountains
Our destination for the day was the Sacred Waters Apartments in Lake Taupo. It was a new place and very nice. It was actually a new 3 bedroom apartment which we leased but they locked access to the other bedrooms. They could unlock it if we wanted but we told them there was no need as it was just the 2 of us. It was very very plush and modern, I loved it. All the furnishings through the kitchen was quality stainless steel Fisher and Paykel which was a pleasant surprise. The didn't go on the cheap with anything. Half the floor of the apartment bar the lounge and bedroom was heated too, which was a nice touch.
The big hot tub outside on the balcony was this stainless steel contraption which reminds me of something they may use in a hospital to soak cadavers in or something. It was bizarre. I've never seen a huge and completely stainless steel hot tub before. I guess it's easier to clean…. But we put it to good use, soaking it up later on in the evening after dinner. Great to soothe out the kinks in our muscles after spending so many hours in the car.
The Sacred Waters Apartments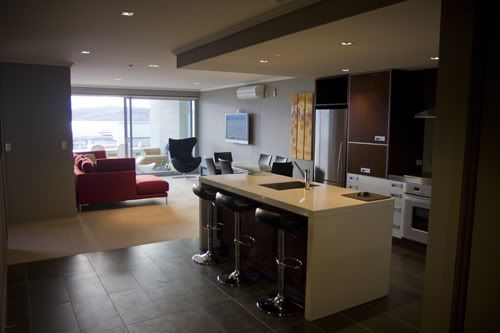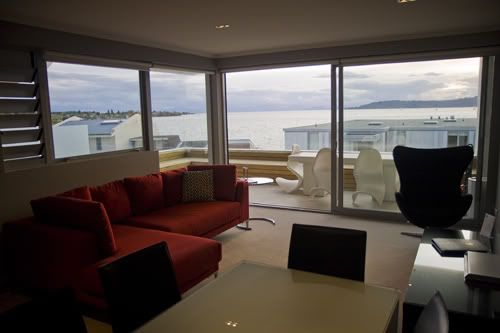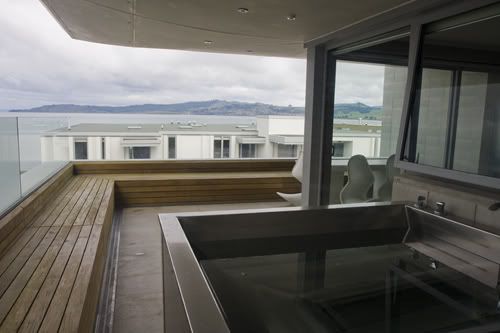 For dinner, we craved rice and went to the same place that we went to in our last trip to Taupo a few years ago. It's a "korean" style hot plate bbq joint but with nary an asian in site. It was staffed by locals. Didn't really care, as long as they didn't mess up my rice
Just ordered some sashimi and marinated beef to through on the hotplate. Wasn't expecting too much, but even the sashimi at a dodgish place like this was still so fresh it just melted in your mouth. Gosh… I really don't want to give up on super super fresh NZ Sashimi…. even if it may all be in my mind.
Hot Plate BBQ Restaurant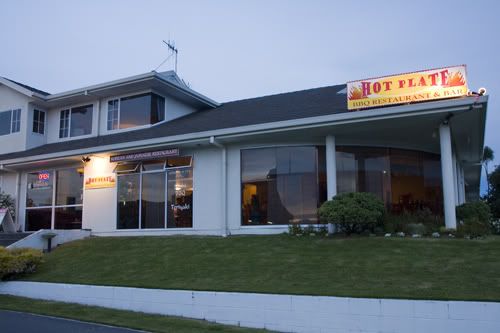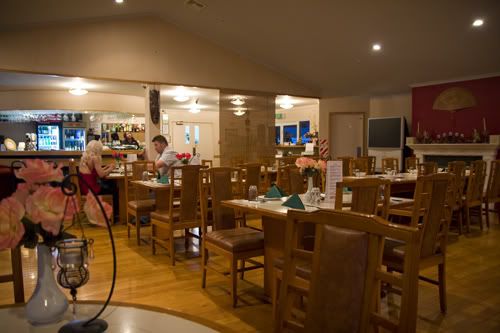 Salmon Sashimi
Bulgogi Beef and some marinated pork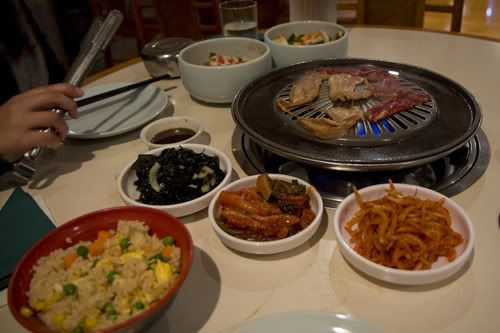 And with all that done, back to the suite to rest, relax, and soak in the tub. Bliss…..