The passing of the last weekend also happened to be passing of the monthly Cooking with Meryn class. This class proved to be a little different from all the other classes I've so far attended. Why is that? Well, it's because I didn't pay any damn attention. I was absolutely exhausted from work during the week and also spent the entire day prior to the class working on some BS reports. So I was very tired, stressed, and not in the best of moods. I just couldn't really focus on anything and truth be told was actually feeling largely anti-social. I just wanted to stay at home and snooze….
But as always I'm glad I went because it's a lot of fun. I proved myself to be the model student from the get go with Erica and I turning up 30mins late due to me having to finish up some work. Another example of just how much my head was in the clouds was when I pulled out my camera only to find that I had forgotten to take my battery out of the charger!!! Luckily though I had my el cheapo battery as a backup which I hadn't charged in months. I actually thought I left that spare and home but turns out I had forgotten to remove it from my camera bag months back. It's a lucky thing too!
Anyway, on to the class. Today's menu involved various types of meat being prepared. On the starting lineup with had beef, pork, and lamb. Now unlike my usual ramblings, I'm just going to breeze through this post as I'm really really tired… in fact I fell asleep in the middle of putting up the photos. I had to have a shower to wake up, and now am just pushing on through the rest of it *yawnski* I don't think I even read the information they provided to us and my memory of all the details and explanations that were given is all a blur. Sorry Merv!!! But rest assured that Erica remembered it all!
The introductionary for this session was "What would be your last meal?". Apparently, the table of pigs that I happened to be sitting with translated this to be "What is to be your last 5 course meal?"! For me, I figured hey if I'm going to die, it may as well be the food that kills me! And so my selection was simple a Quadruple Bypass Burger from the Heart Attack Grill. Yeah that's right baby, I want my last meal to be a single 8000 calorie burger with a side of fries deep fried in lard!!! Oh yeah… gimme some o'that! If that doesn't kill me, then nothing will!!!
The class kicked off with a simple amuse bouche of bacon wrapped mushrooms. Very simple, but yet very tasty. So simple I'll probably put these on the menu the next time I fire up the barbeque.
With a class name like this it's a wonder the class wasn't packed with ill informed guys sporting pink hawaiian shirts, girly cocktails, and false hopes…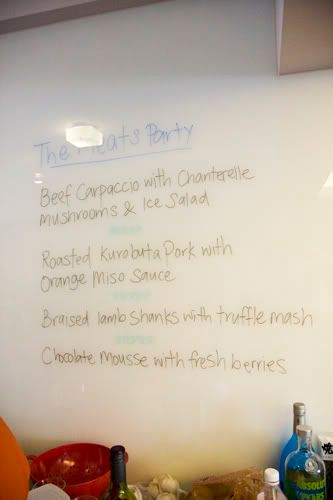 Mocking the mentally challenged…. even nice girls do it.
Bacon Wrapped Mushrooms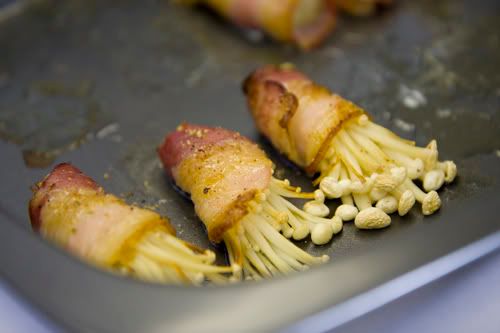 And this little piggy never came home…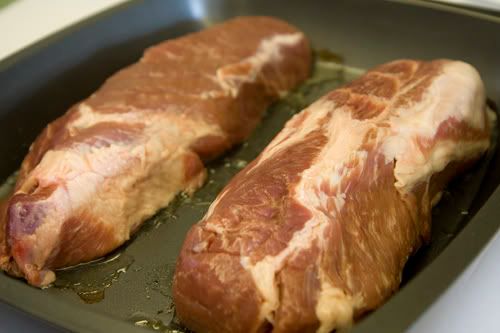 Sauce demo I think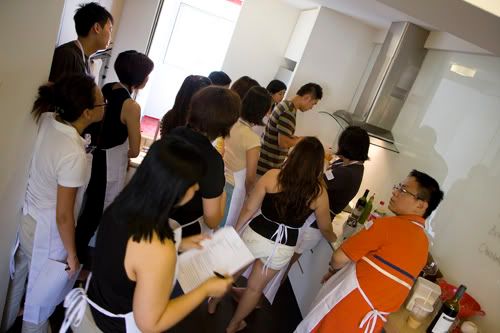 The Orange Miso sauce
The first dish we got into were the braised lamb shanks. The reason for this was the relatively long time needed for braising (which turned out to still not be enough). Whilst the lamb shanks were being prepared, Merv seasoned the Kurobuta Pork neck (Kurobuta is Black Pig) and threw it into the over so it would be done by the time the shanks went in there.
The sauce was a combination of ingredients that one can easily find on the information sheet that I didn't read 😛 It was fairly easy to make. After that, we placed a big dollop of it on the parchment paper and then seasoned the shank and sat it vertically on it. Wrap a long sprit of rosemary around it and then finally wrap it all up in a night little package. Simple enough to do, and thankfully none of the packages that this class prepared broke. The idea to sit it vertically is so that as the shank gets cooked, the meat falls off the bone and slides slowly towards the base. Like a pole dancing routine if you will.
Since I was too lazy to make my ow… I mean… since I was too busy taking photos, I delegated the task to my wife whom proceeded to tell me that I really didn't deserve it after the really bad joke I made earlier about her cooking. I'm so lucky to have someone so special to put up with all my crap and still love me regardless
The Shanks
Tiffany is crazy about lamb. But don't take my word for it, you can ask her yourself. Tiffany, are you crazy about lamb?
Tiffany: "I'm crazy about lamb! Crazzzzzy!! Crazy I tells ya!!!! Wukkawukkawukkawukkawukkawukka!!!"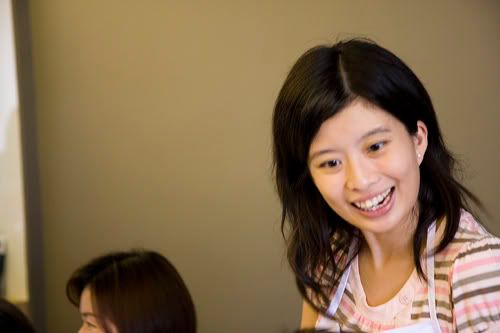 The magic invisi-salt salt grinder
Hey what does this remind you off? Whats that? An aroused male dog? You're disgusting!!!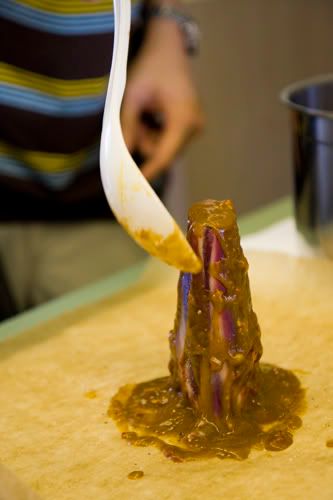 Oh the power of garnish…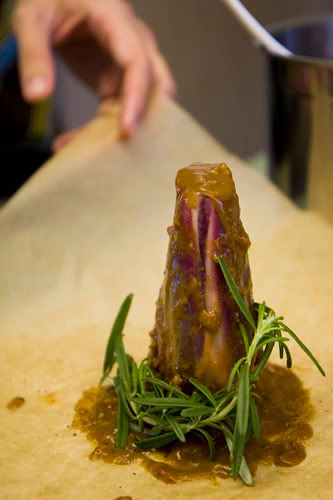 Merv bagging the shank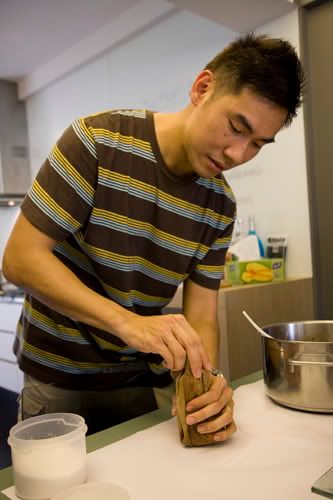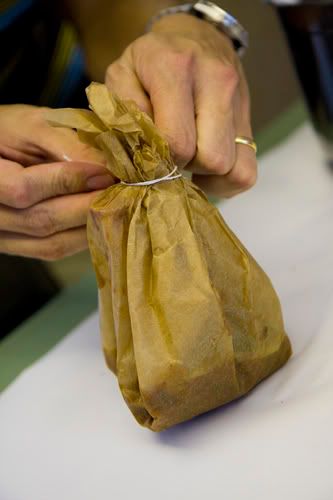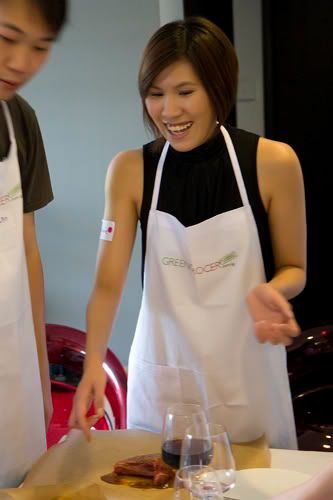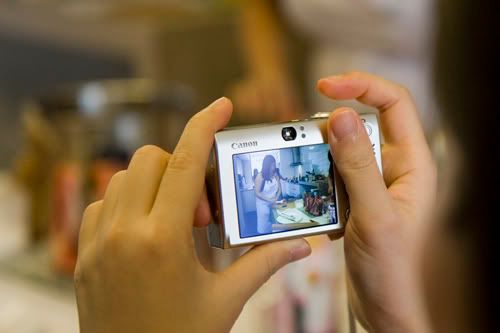 Dawn quite amused with her own artful mockup of Satan's penis…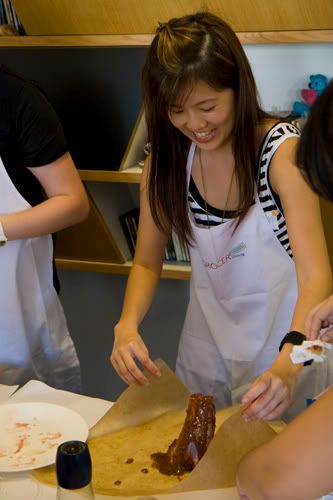 Kai Lun taking his turn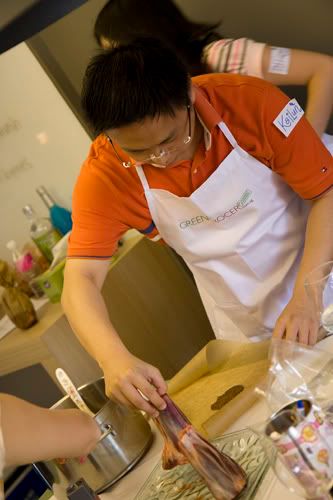 And my wife being… wifely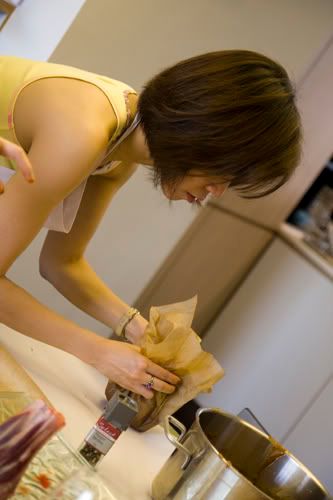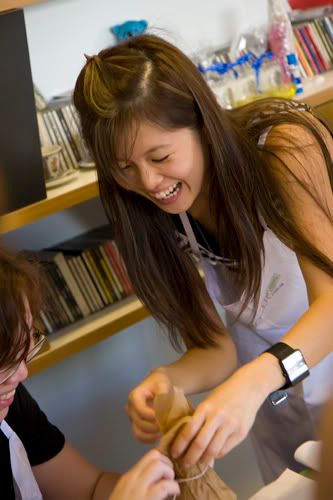 My wife's expert hands just seems to have this effect on meat. Hayoooo!!! Oh man… how do I keep getting away with saying stuff like this….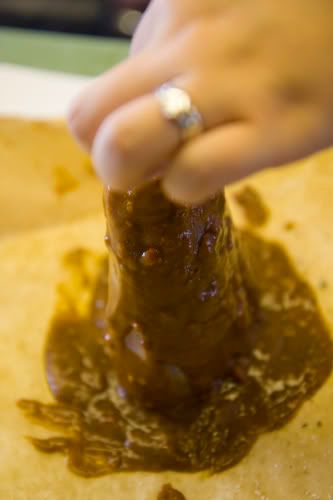 Because Gerry loves to eat…
Resting the pork after removing it from the oven. Pigs are lazy like that…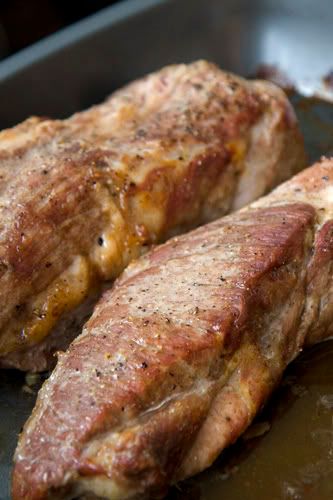 In with the shanks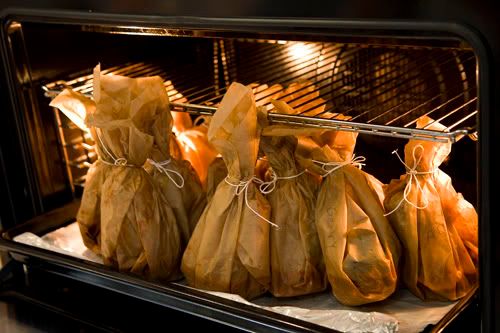 Alwyn with his uber 1D. If I had my way, he'd have left the place one camera lighter. Lucky for him I was too full… and that he's bigger than me.
Whilst the lamb shanks were braising away in the oven, we got started on the carpaccio of beef. This is really a no brainer but hot damn it tastes so good!! Just thin slices of beef, some mushrooms, salad leaves (fancy crystal French ones on this occasion), and a balsamic and truffle oil dressing… it was sensational! Again, definitely something to replicate at home. This is something even a male uni student couldn't screw up.
Once the carpaccio was devoured, it was time for the Kurobuta pork. It's had sufficient time to rest now so the hot internal juices can be reabsorbed back into the fibers. This was served with the orange miso glaze and was also delicious. One of the pork necks was cooked more than the other to cater for various cooking preferences, but I much preferred the one that's on the rarer side. I probably couldn't tell you the difference between normal and black pig pork (That's right you racist bastard, equality for all pigs.) just off hand like that without a side by side comparison for reference. But in any case, it was good. The fatty bits especially which is what most people went diving for.
Carpaccio of Beef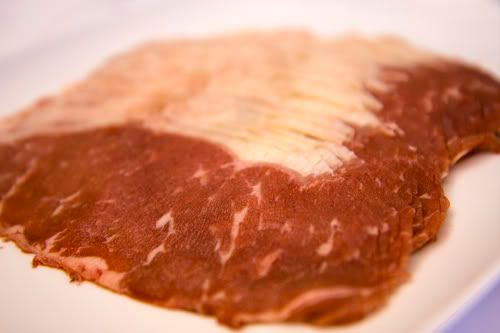 Some vege with naturally formed crystals on it from France
Carpaccio of Beef with some lemon dressing thing
Carpaccio of Beef with Balsamic and Truffle Dressing
The Kurobuta Pork all nice and rested now
All done, just awaiting the sauce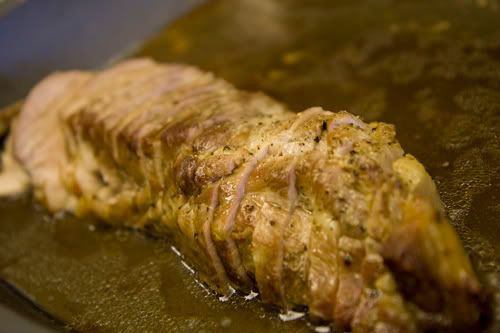 Now it's time for the mash. Normally when Erica makes garlic mash, she just tosses in garlic powder. Using roasted garlic like Merv did is so much better! It was a wonderful underlying garlic flavour without being too overpowering like what happens when you use garlic powder. Will definitely be doing it this way this time
Great tip… and the addition of truffle oil? Well… lets just say what the hell doesn't taste better with truffle oil! Truffle spruces up everything so much so that I'm amazed it hasn't made an appearance in my bedroom yet!!! I love truffle oil! It's like the "other" nectar of the gods! You know… the one besides Beer… and Baileys… and Vanilla Vodka…
Soon it was time for the lamb. Unfortunately, there wasn't enough time for the lamb to braise fully and as such it was still a little on the tougher side. But at least the taste was still there. Given the time to fully cook it would have been great, what with all it's meaty lamby goodness melting from the bone and all that… And the truffle mash? I don't even need to say. It had truffle oil, ergo, it was terrific.
Roasted Garlic for the mash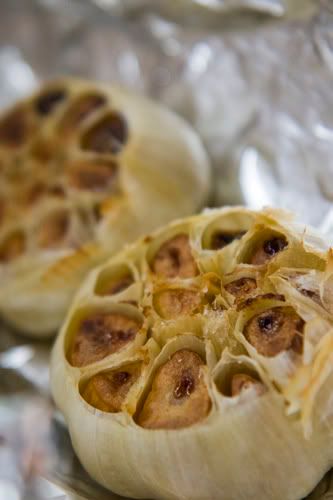 Squeezing out the gooey roasted cloves
Now what does this remind you off?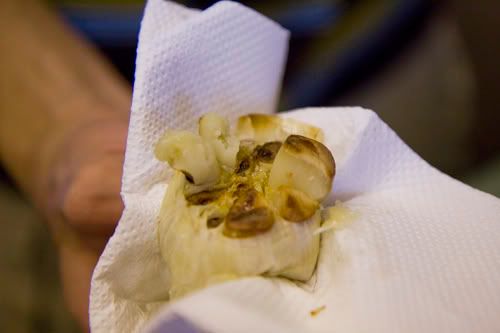 Lovely white truffle oil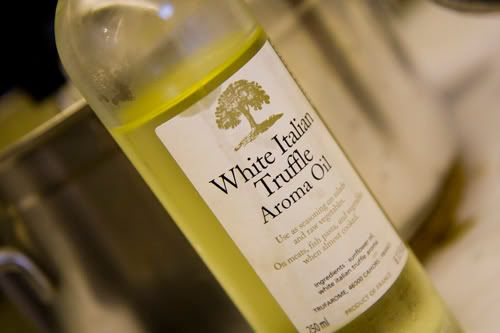 Mashing the taters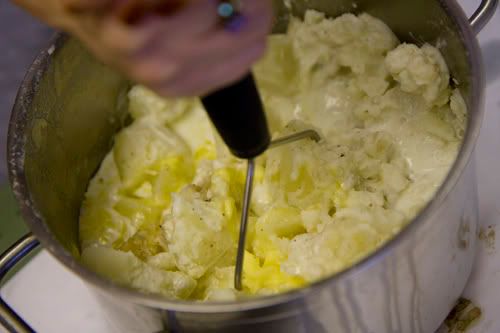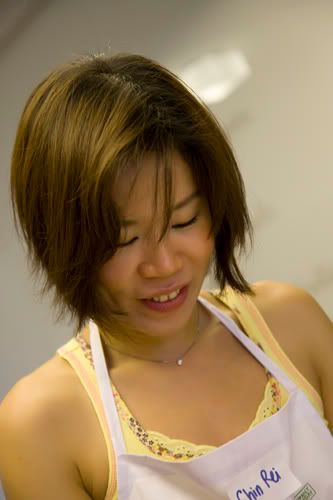 Don't know why my bag is all big and fat. Don't think Erica put enough love into making mine… Biatch. I mean, I love you cupcake *kissy face*
This resembles something I normally set on fire and leave on peoples doorsteps after ringing the bell and running…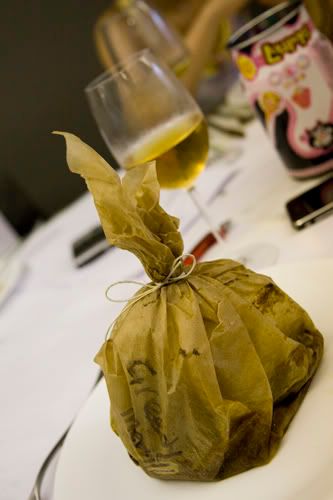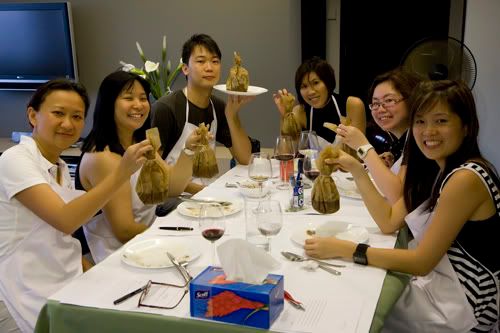 It's like Christmas morning! But without the disappointment!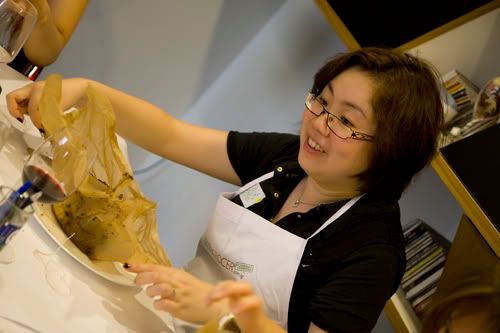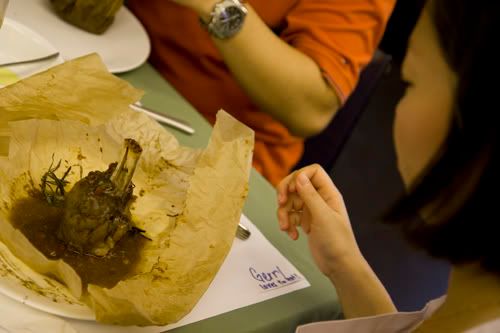 Braised Lamb Shanks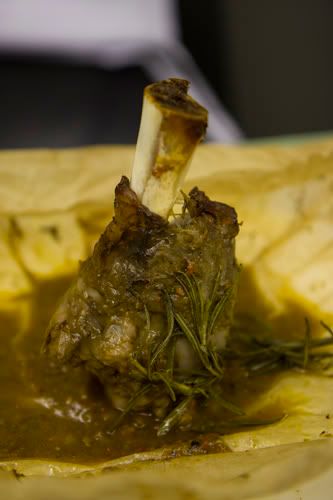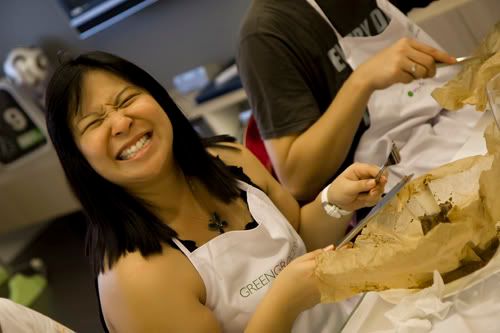 A dollop of Truffle Mash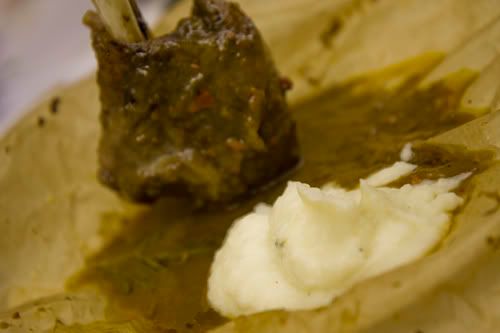 For dessert Merv made the Chocolate Mousse by hand. This basically meant the cream and egg having to be whipped separately and manually by hand until it peaked. Basically once you can lift the bowl over your head and have nothing fall out, it's done. This is sooo tiring on the wrist. You'd think with all the action that my wrist gets (Err.. I play umm… lots of table football… Yes yes that's it! Table football!), I'd be able to whip a 10 gallon vat of cream all up no problem at all. But no, this proved to be a surprisingly tiring exercise. I've done it once before many years ago when away on holiday… I now remember why I never did it again since.
Once the cream and egg were all whipped, they were folded into the chocolate and refrigerated. And thats it! Simple! The consistency was very good, but it was a tad too chocolatey for me as I'm not a huge fan of dark chocolate. I'll try this again in the future but with semi-sweet milk chocolate instead, that's more me
Egg Separation…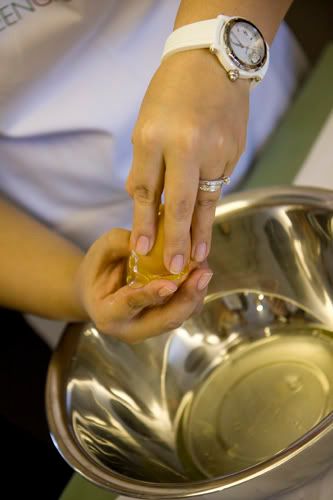 This may be the first and last time anyone will ever witness CR cook…
Alwyn smiling politely whilst Grandpa Merv regales stories of times long past, like when there was no sex on TV and prata's till cost 20c….
Dawn taking her turn to practice some hand action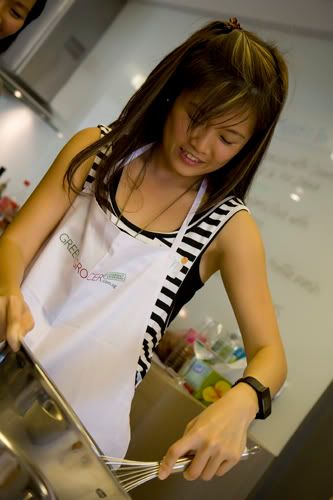 The chocolate mousse in it's infancy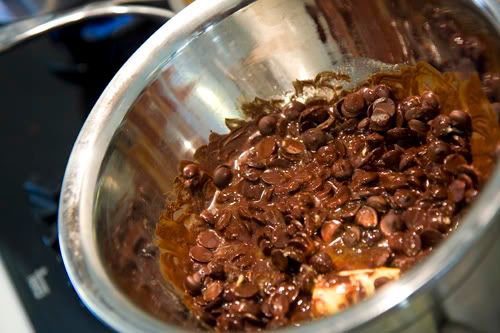 Breaking down interracial barriers
Lynette spooning out the mousse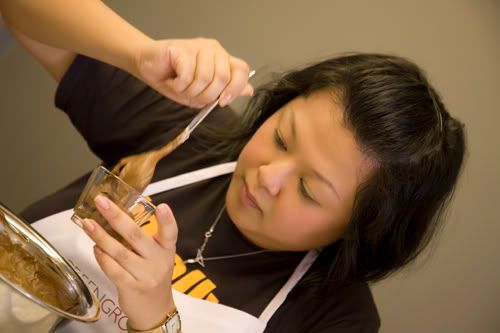 Chocolaty…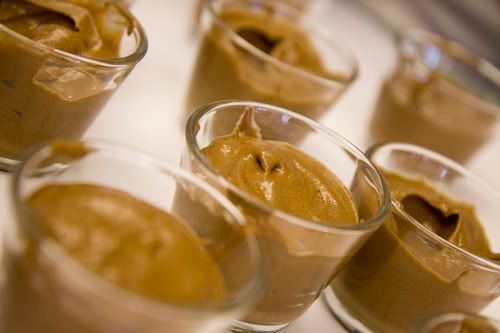 Chocolate Mousse with Fresh Berries
Anyway, that was the end of another CwM class. Again, apologies for the tardiness and being constantly zoned out for much of the class!!! Take it up with my boss, it's his doing! But now… I'm going to sleep. But Yay as it's a short week because I've taken Friday off work to spend with my baby as she's heading off to China next week!! Boo to the later, yay to the former.