So here I am on my lonesome, on a Friday night… sitting at home all comfy in bed. I was meant to go out with Erica and her friends but you see… if you want me to go out, don't get me all comfy! Once I've had time to come home and relax, pants off, in my air conditioned ice box and surrounded by my phalanx of pillows, it's gonna take divine intervention to get me out of he house again! Especially after a long day at work. Yes… I'm both anti-social AND lazy… hot damn what a catch!!!
So since I've got nothing else better to do I may as well post some photos up from during the week. CR celebrated the dawn of a new era on Wednesday. And that would be her 30th Birthday… hah! Welcome to the club! Let us join hands and wallow in combined misery!!! *sniff* If I hated turning 30 so much, it must be triply bad for a girl!
Lucky for CR, her metabolism is able to withstand any resulting ice cream depression therapy… unlike mine. It goes straight to my 30 year old hips… *kicks puppy* Well anyhoo, we met up with her at the Marmalade Pantry for din din. It's smack next to Orchard Towers so we got to see a delightful plethora of chickies with dickies on the way in. Oh what a marvelous way to whet the appetite….
Wednesday night is ladies night and as such, it's both 20% discount off the menu for ladies as well as $6 champagne cocktails. Me, as the only guy, asked the waitress if she believed me when I told her I was, in actual fact, a butch Lesbo undergoing hormone therapy. She said no. So a note to the butch army pants wearing Lesbian brigade out there, you're probably gonna have to battle it out for that 20% discount on ladies night! Just a bit of a friendly heads up
Because I'm like awesome considerate and all that….
The Birthday Girl and Co.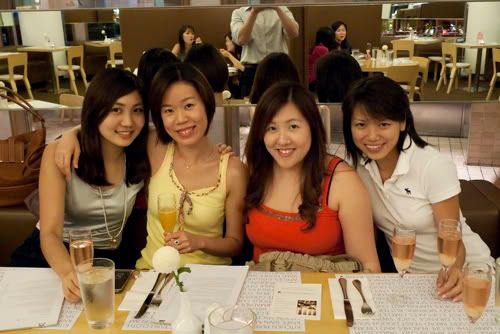 The food itself was all pretty good, with the exception of the pasta's which were salty as all hell. It's like someone pulled that ol' chestnut of a prank on the cook where you leave the top of the salt shaker unscrewed.
"Awwww you guys!!!!" the Chef probably exclaimed as he accidentally dumped half a shakers worth of salt into the pasta, before serving it up to us anyway. The flavours were there, but just too damn salty. If I had happened to have high blood pressure my aglio olio would have probably killed me twice over and then preserved my carcass for eternity.
I'd definitely go back for the food, but if it comes out too salty again will tell them to take it back.
Miso Baked Tofu with Vegetable Tempura & Ginger Soy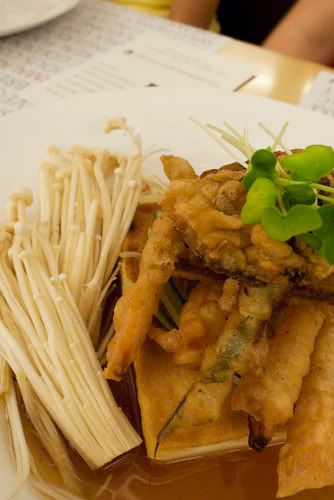 Foie Gras Walnut Salad Appetiser Thing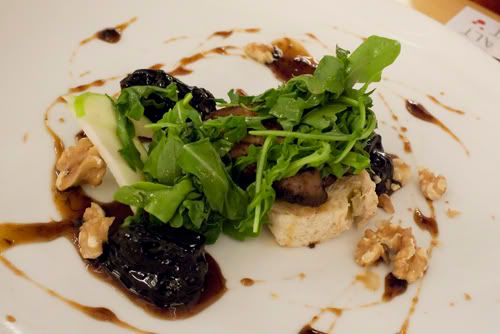 Scrambled Eggs & Sausages on Toast with Field Mushrooms… And yes… it was for dinner.
Ribeye Steak Sandwich with Grilled Onions, Avocado & Wasabi Mayonnaise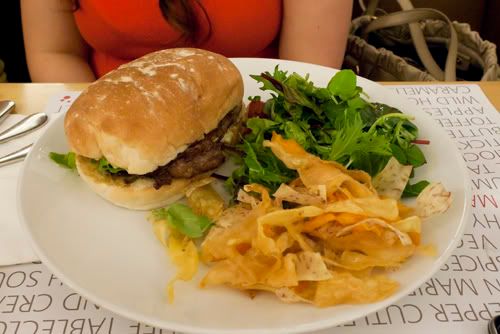 Spaghetti Aglio Olio with Crispy Kurobuta Pork Belly & Chilli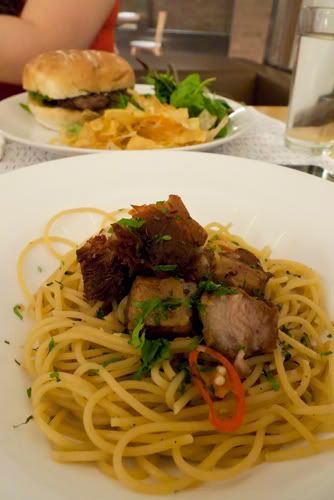 Warm Spinach & Roast Onion Salad with Bacon & Mozzarella
Sticky Date Toffee Pudding with Vanilla Bean Ice Cream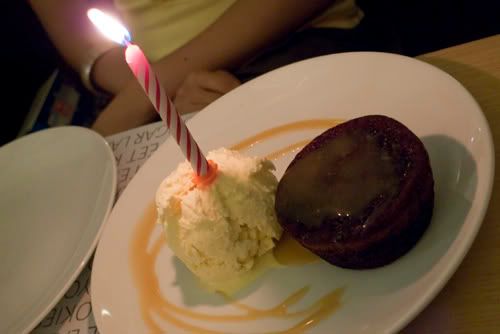 Banoffi Pie
Desserto was pretty good, with me having my first ever bit of Banoffi Pie, which was average. The sticky date putting however was quite good but then again it's sticky date pudding… it's rare for that to be dicked up. Hell even the frozen ones taste good. Anyway, twas a good night with good company as usual. Happy Birthday once again to CR! Don't worry, you've probably got 10 years to relax before the depression hits again!! Well that's personally speaking anyway…