In celebration of our 2nd Wedding Anniversary last night, I took Erica to Iggy's which is located in the Regent Hotel. It's a place that we've been wanting to try for some time now given it's sterling reputation as one of Singapore's, and Asia's, better (if not best) fine dining establishments. Now that's a pretty big call to make. Along with Les Amis and Gunther's, Iggy's has collected some pretty high accolades and as such our expectations would be just as suitably lofty. The Hungrygowhere.com reviews I've seen on Iggy's however have been largely hit and miss, but that's really no surprise given the subjective nature of food reviews in general.
For me, Tetsuya's has always been, and still is, my ultimate benchmark in the whole fine dining and degustation experience. None other I've been to has even come close, but if I had to choose I'd nominate Spoon in Hong Kong, Guillaume in Sydney, and my first visit to Galileo (not the 2nd visit though). The most disappointing would be Neil Perry's Rockpool, but that was more so due to taste familiarity with his asian style, and anything to do with the dishes themselves. But once again, it's all completely subjective.
The experience on the whole with the degustation at Iggy's was that it was a good, but not wow. But again, this is all relative to the Tetsuya's benchmark which admittedly is quite unfair as they are both quite different styles of preparation with Tetsuya's style being Japanese fusion which is basically like made to measure to my tastebuds! I don't judge the dishes based on flavours but simply more so if it made me go "Wow!", or "Meh…".
The dishes were all fairly solid, and the presentation superb, however there weren't any courses that gave me a woody. My favourite was probably the Spaghettini followed by the Sanma. However one thing that I do have to mention however, is that the Petit Four they served up was hands down, the best Petit Four I've ever had. That's probably not that big a call to make since Petit Fours are usually quite average at best, but this one was absolutely sensational. It was a lemon cream thing on a filo pastry cup, filled with pop rocks. It was pure win
I do also give much kudo's to the service staff there. The level of service at Iggy's was exceptional and really something that, fine dining establishment or not, was completely unexpected by me. They were warm, attentive, and conversational in such a way that is very rare to find in Singapore. Anyway, would I come back? Probably not for the dinner degustation, but possibly lunch instead.
Iggy's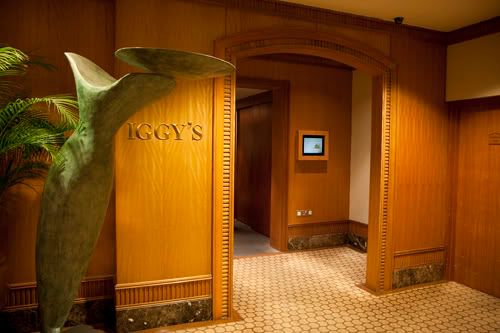 Was a lil' surprised that it was primarily counter seating!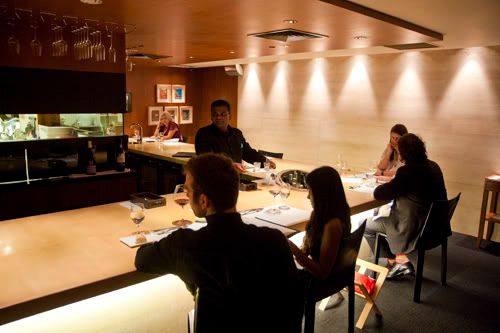 Amuse Bouche #1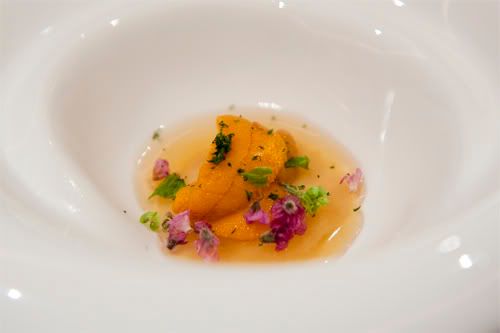 The second amuse bouche was pretty cool. The course is smoked and the said smoke comes still trapped in the glassy globe. Cool idea, and very pretty
Amuse Bouche #2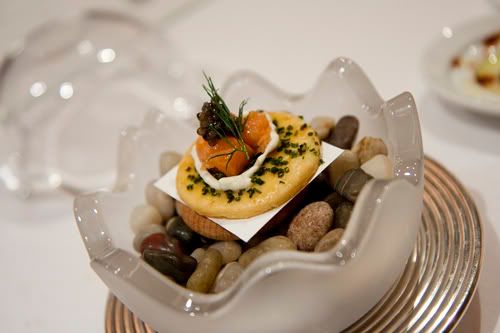 Quite interesting, they recommend mixing the foam with the mushroom salad prior to eating. The citrus tang really went quite well with all the mushrooms. Interesting.
Autumn Salad- Button, eringi, chanterelle, cep, citrus, dehydrated mesclun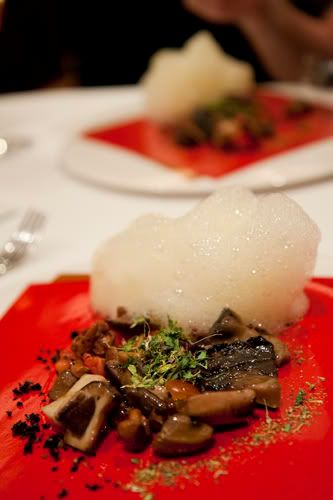 Sanma- Wild rice, olive, thyme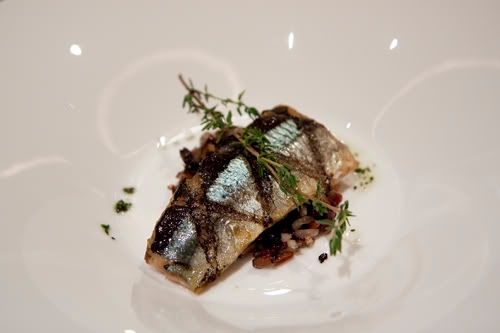 Spaghettini- Zucchini, smoked mullet roe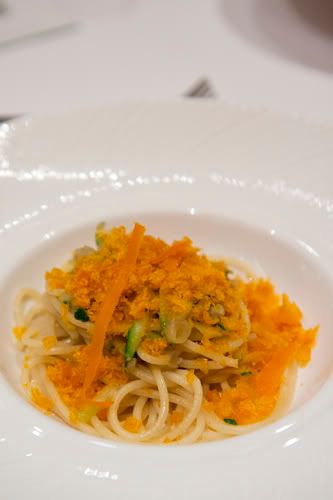 Kokotxas is actually the chin or throat of the Hake fish, so sounded interested. It's really nothing new to me as devouring the head of basically any fish that comes my way is like my favourite thing. I love fish heads, and so the taste or texture of the Kokotxas wasn't really like anything dramatically different. But it was still tasty all the same.
Kokotxas- Parsley, garlic, Kalamata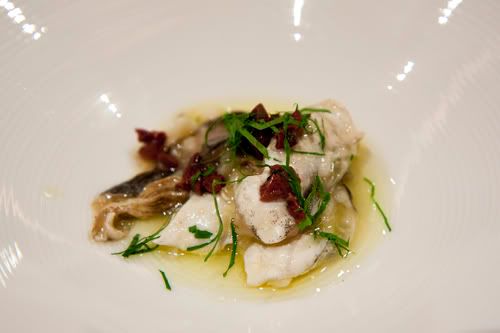 Lobster- Oats, gizzard, fennel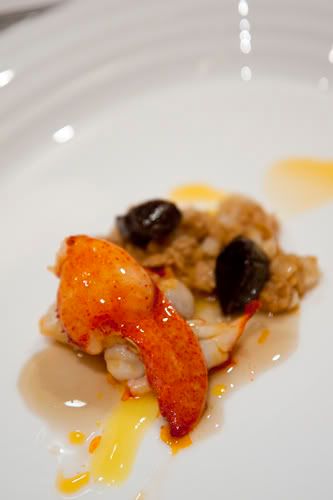 Palate cleanser of Tomato Soda… and tomato. It was actually much more enjoyable than it sounds!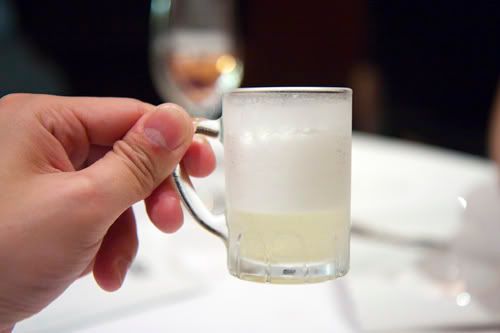 The Wagyu was heavily marbled and very flavourful, but I have no idea why they still drizzled salt on it. It was really really salty and I couldn't get rid of the salt taste even after scraping it all off. So that was a little strange since the marbling guarantees intense natural flavour anyway. I'm not sure why some restaurants still season high grade Wagyu meat with salt. But that's just me.
Wagyu- Lady's fingers, trumpet mushroom, tapanade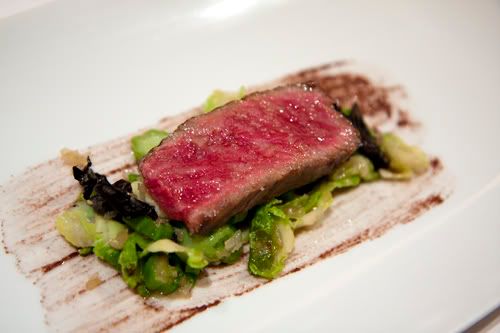 My beautiful wife, Heidi Milkjugs
Feijoa- Gin, lime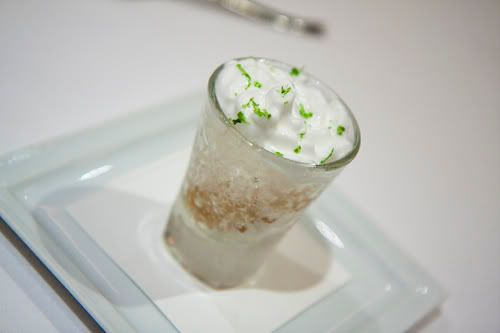 Coffee- Banana, milk, passion fruit, mascarpone
Complimentary course. So sweet…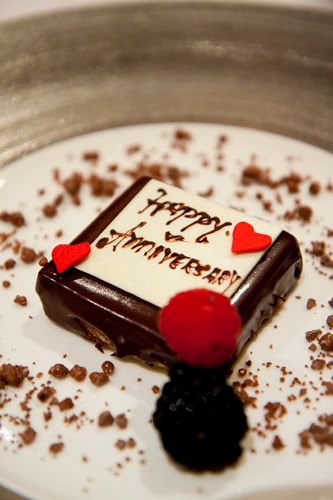 Looks like cake, but no it's pure chocolate!
Best ever Petit Fours- Lemon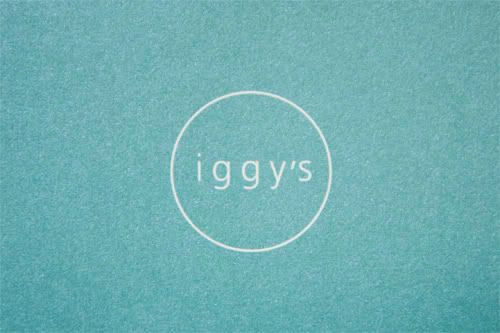 The water feature out the front of the Hotel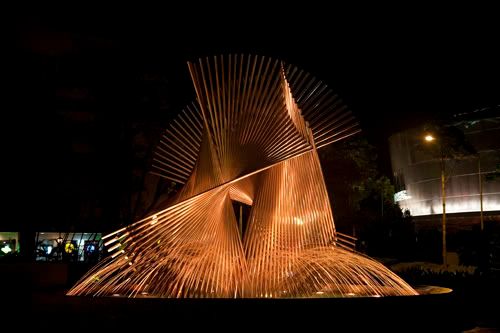 Happy Anniversary!