I'm 31 now. I'm an old man. A tubbilicious 31 year old full time student in the midst of a career change. That's depressing… My only saving grace is that I have a full head of hair. I guess that's gotta count for something right? Oh and I still have soft feet. So there you go. You know, counting your blessings and all that. Anyway, the in-laws decided to take me out to dinner to celebrate the occasion, an occasion I would rather not celebrate, and we ended up at a restaurant that Emily recommended.
It's the French Kitchen which is some French place kinda near Clarke Quay. Truth be told, I haven't been in the mood for rich food of any sort since I came back from Thailand, but I guess there's no avoiding it on certain occasions. That being said, I do enjoy my French food and well who doesn't right?
If it wasn't for their mastery of foods and sexy accents, the French would just be known for being smelly, eating frogs, and having an unhealthy obsession with Jerry Lewis. Fact. But, good food goes a long way and so it massively pulls up their average
Anyway, the French Kitchen was pretty darn good I found. Great food at pretty reasonable prices along with solid serving sizes makes this place a win. The oldies ordered the degustation menu whilst the rest of us went down the ala carte road. I won't bother going into any of the dish specifics because I'm too lazy to pretend like I know what I'm talking about right now, but I never knew that pigeon could be served medium rare. I thought all bird had to be cook through. I mean, not that I care since I always undercook my chicken anyway, it's just I never knew. So hence my surprise when they asked if we were okay with the pigeon served MR. Either way, it was actually the best pigeon I've ever had since the only type of pigeon I've had before was the standard asian style one.
The chef, Jean-Charles Dubois, came out to say hi and individually greet all the patrons at their respective tables and also have a bit of a chat. It's always a nice intimate touch when they do that. Well, it's nice assuming the chef isn't a hairy greaseball with sweat and grease stains all running down his face. Or maybe Jean-Charles came out just to scout for hot chicks, who knows, but he was nice, chatty, sincere, and very friendly. All up, a great experience and I'm looking forward to going back!
The French Kitchen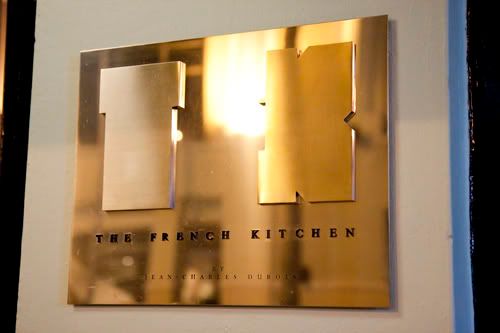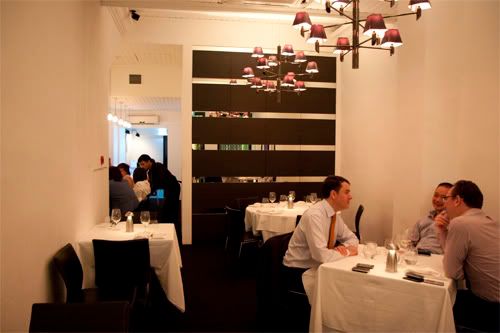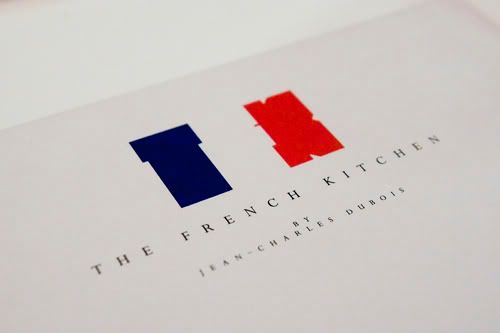 ŒUF EN COCOTTE PETIT DUC
soft poached hen's egg en cocotte with green asparagus and forest mushroom velouté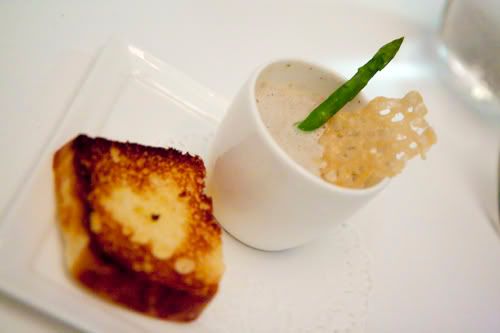 TRUITE DE MER ET COCHON
warm smoked sea trout with kurobuta pork sausage, summer truffle vinaigrette, salad of cucumber, garden herbs and crème fraîche
CAILLE ET GNOCCHI
char grilled fillet of quail with home-made tarragon gnocchi, fricassé of chanterelle mushrooms, summer truffle vinaigrette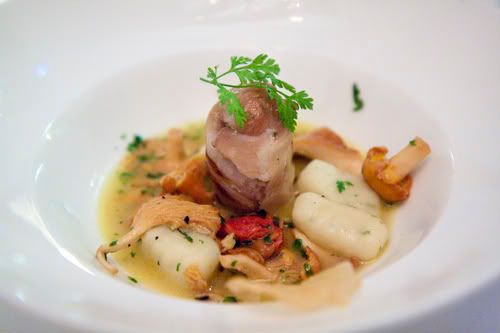 FOIE GRAS DE CANARD À LA PLANCHA
fresh duck liver seared à la plancha with caramelized rhubarb, honey sablé and cherry syrup
BISQUE DE HOMARD
traditional lobster bisque with tiger prawn beignet and leek custard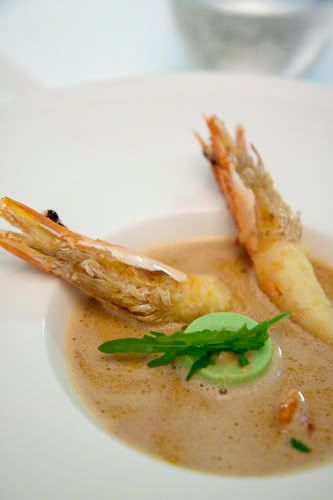 FRAICHEUR D'ANGERS
granité of seasonal fruits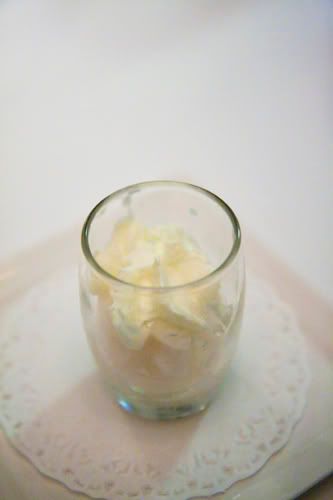 PIGEON À LA FRANÇAISE
roasted Anjou pigeon royale with garniture à la Française – green pea puree, glazed baby onion and air dried Bayonne ham
CABILLAUD EN NAGE
steamed cod fish fillet with shellfish bouillabaise fumet, warm salad of red onion and artichoke
CONFIT DE CANARD
slow cooked duck leg confit with truffled mashed potato and onion marmalade, light duck jus
FRAISES ET SAUTERNES
sautéed vanilla infused strawberries with Sauternes, pear granité and crème Chantilly
CRÈME BRÛLÉE
milk chocolate crème brûlée with homemade Lady Grey ice cream
SABAYON AU CHAMPAGNE
champagne sabayon with pear marmalade and strawberries
Happy Birthday to crusty old me…
*sob* I'm old, but at least I have cake. Cake won't just pretend to love me will you cake?