And so here we have a post on Gunther's. My experience at Gunther's can be quite simply summed up in a line, without the need to wax lyrical about it and ramble on into all sorts of bs descriptives as I normally would. Why? Because it's simple. Gunther's…. is fricken' awesome. That simple.
If you haven't been to Gunther's, go. It's hands down, pants off, boobs out, the best damn fine dining experience I've had in Singapore. Gunther's certainly had a stellar reputation to live up to given all I've heard and read about it, and it lived up to it with ease. In fact, it was so good, that they could put hire a poo flinging monkey as a doorman and the customers would still brave the faecal onslaught to enter those doors and experience a meal that is simply le awesome.
And it's not just the food, but the service too that was truly impeccable and exquisite. The French head waiter whom I'll call Jean Pierre, because there's a 99.9% chance that it's probably his name, seemed to so effortlessly go above and beyond to ensure that our dining experience was nothing short of 99%. The 1% loss was for the fact our meals were not served by hot lingerie clad waitresses.
The reason we decided to patron Gunther's on this occasion was as an advance celebration for Emily's Birthday given that her folks wouldn't be around for her actual birthday. She's wanted to come here for the longest time and so finally, she's gotten her wish.
So…. about the food. Well, it's all as good as it looks. Every single dish was sensational with not just style and flavour, but also substance. Fine dining establishments have the most unsavoury habit of service you a wtf!? sized main that leaves you pondering on your understanding of basic economics and how the hell you parted with $70 for a wtf!? sized piece of meat. Not so on this occasion where you actually got substance for what you paid. The beef course you see there about to get torched by Frenchie, is actually for two. But it was split up to feed 3 of us and I think it could probably also feed four at a stretch.
There's simply too much to go into suffice to say that it was all really really good. From the divine melt in your mouth wagyu carpaccio and the scallop that looked like a black truffle monster took a tremendous black truffle dump on it, to the succulent roast beef and the wonderful crap leg pasta, it was all truly sensational. Plus also how can you not give extra marks and be slightly biased towards any place that gives you a free dessert treat for the birthday girl.
Gunther's is a place that I cannot wait to return to. Now normally after any fine dining experience, I am so jelat or sick of so called fine food that I don't want to return for any for a good long time, and Gunther's is no exception to that, but I do know that once the craving returns, it will be first on my must return to list. Of course… that is until Tetsuya's finally opens the doors to their Singapore restaurant this year!! Woo!!!
Gunther's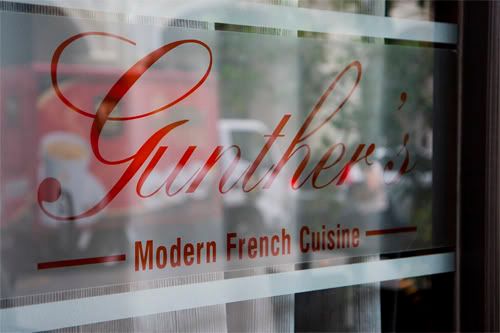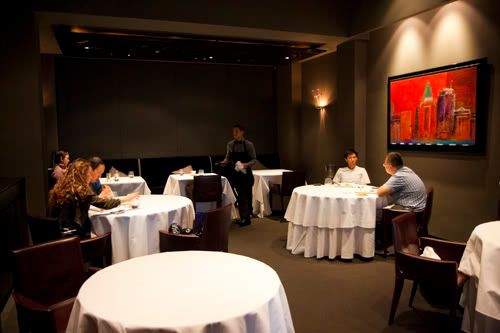 Selection of live seafood for you to choose your preparation style with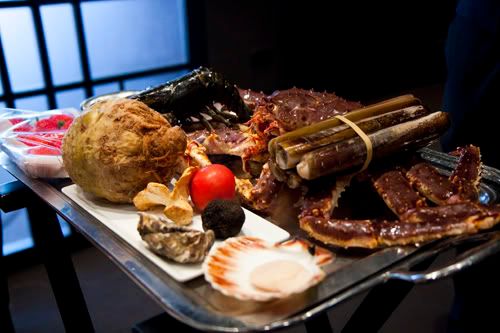 Freshly shucked Normandy Oysters with a something something vinaigrette
Carpaccio of scallop, olive oil,
seasonal garnish, black truffles
Cold angel hair pasta, Oscietra caviar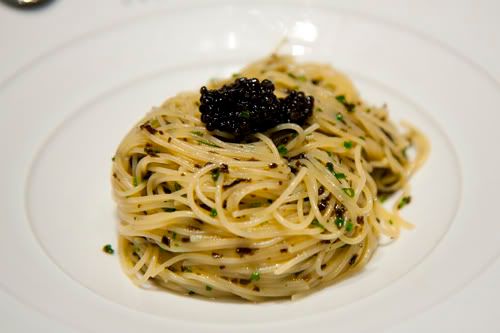 Carpaccio of Wagyu beef (Grade 9) Tartare style, crispy potato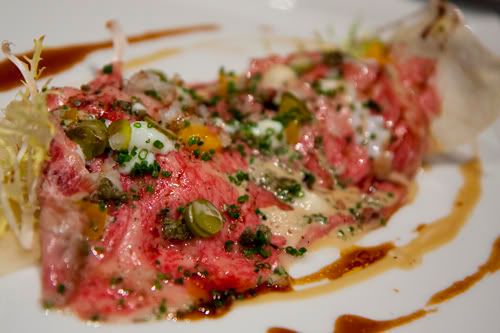 Roasted foie gras, crushed candied almonds, confit of seasonal fruit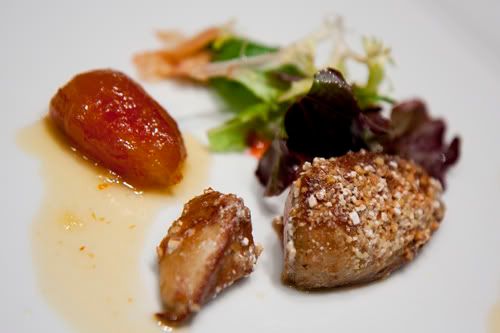 Jean Pierre with his meat flambé'ing song and dance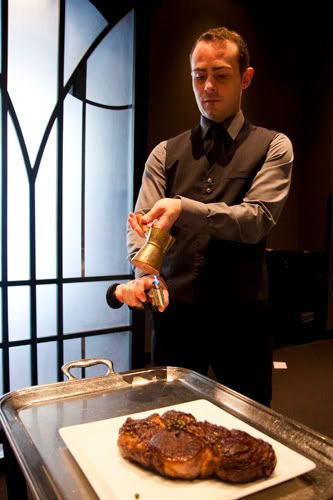 My meat… is on fire… you know it ladies!!
Oven roasted "Côte de Boeuf", flambé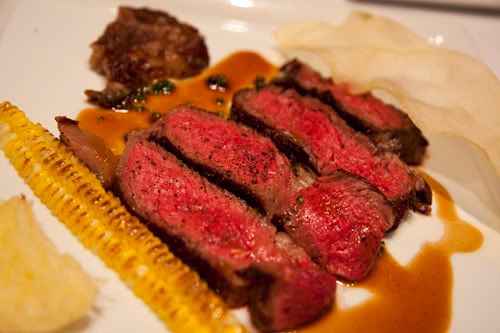 Grilled smoked French duck breast, compote of young onion, raisins,
caper sauce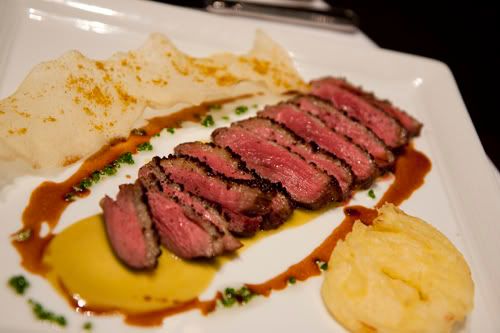 Birthday Girl with her freebie frozen Tiramisu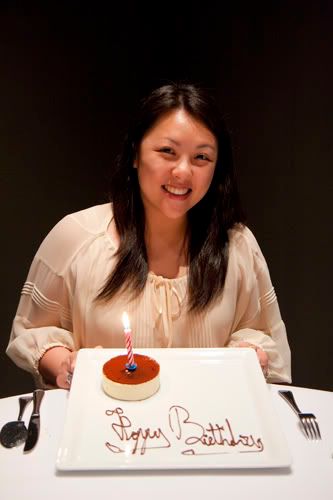 1/3 of the Fine apple tart a la dragées,
Havana rum raisin ice-cream
Valrhona's Manjari chocolate fondant, ice-cream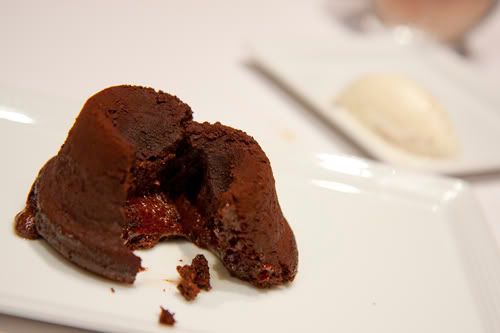 Petit fours