To continue with the baby filled weekend, and also bearing in mind that this is the condensed version as lately I can't be assed typing very much, we met up again with TL on Saturday. Manu couldn't join us due to work commitments and so we spent the day with TL, Arthur, and Beverly's & madmoneymonkey's wonderful families at the Pines country club. It's nice going to a country club, I almost forgot what the Singaporean country club culture was like since I left 22 years ago.
Australia doesn't really have a country club culture as most people either have backyard pools or just head down to the beach to have a swim. But it's quite different here in Singers. I remember spending much of my life at Tanglin Club, Keppel Club, Island Club, etc etc when I was young as my dad used to play tennis at all of them whilst mother dearest had to look after us and make sure I didn't pee in the public pool (she failed). I used to adore a brunch of Nasi Lemak at Tanglin almost every Sunday after a nice dip in the pool.
Other not so fond memories included my swimming lessons at the Singapore Swimming Club where my fucker of a coach used to hold my head underwater until I felt like I was going to drown if I didn't do laps fast enough. Man, if I saw him today, I'd ass rape him so bad with the ugly end of a pineapple… and then kick him in the nuts.
Anyway, it's nice kick back and relax in a nice big pool. The last time I was in a pool this big was probably in primary school at a swimming carnival or whatever they called it. Unlike that pool, of which the water content was probably 30% urine, this pool felt much more fresh and clean. In fact, I would probably go as far as to say this may actually be the first time I jumped into a country club pool and didn't pee in it! Ha! Congrats to me!!! Fuckin' old dog new tricks yo!
lolwut?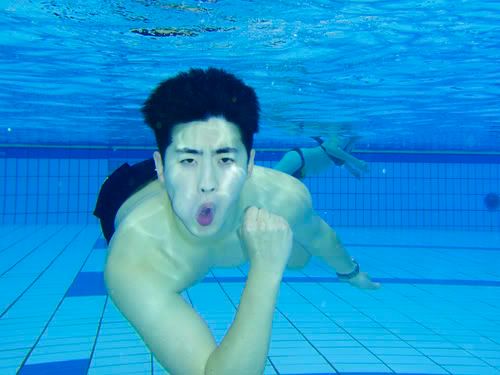 Itsy bitsy teeny weeny TL in a red bikini….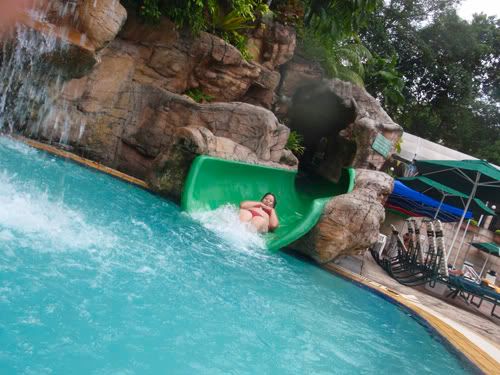 And who said all grown ups could swim unassisted without the help of floatation devices? Ahahaha… Booyah! *fist pump*
Lil' Elliot and Arthur. Ummm hello… horizontal stripes + chubby wubblies = fashion nono!!! It's vertical stripes people!!!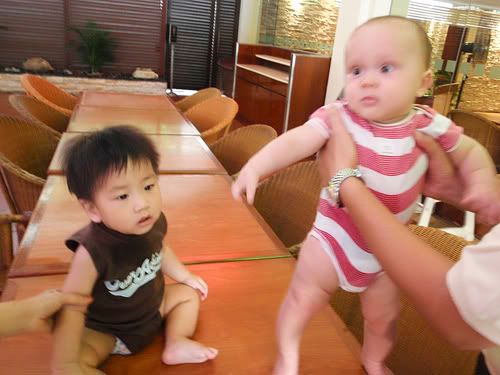 Daddy Bev with Elly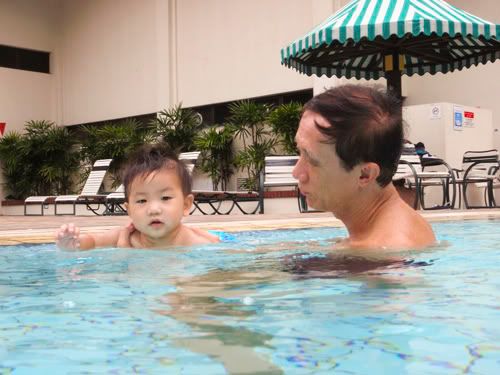 And Daddy Bev again pimping himself out to Arthur
I've never swam with babies before, and it's so cool to see how unafraid they are of water. Little Ellie absolutely loved it, never really hesitating to do an almost jump into the water. Arthur too loved being in the water. Though I have to admit, with the amount of chub that he's packing, he'll never ever have to fear sinking. Strap an outboard motor to Arthur and you could probably use him as a tugboat to help dock a cruise liner in port! No offense TL. You know I think love him
Twas so great of Amanda's folks to invite us to spend a wonderful afternoon with them so thanks again!!!
They also invited us over for din din. Curry Fish head was on the menu they said. Being one to never say no to good head (I was talking about fish head people!!!), I was all up for it! I haven't had solid curry fish head in over 2 decades and so I was really looking forward to it!
Erica and I picked up some Chocolate Cake and 2 pints of Choc Ice Cream from Awfully Chocolate as dessert. Awfully Chocolate is really similar if not the same consistency as our favourite from Lana Cakes, however, I still prefer Lana. It's basically like the same cake except the one from AF is richer. Where with Lana's I need 2 slices to really feel satisfied, all it takes is 1 from AF.
Dinner itself was great, I don't know where the Fish head was purchased from, but it was really good. It was Assam Fish Head. Truth be told I was looking forward more towards Indian fish head, as that's what I grew up with, but the Assam fish head was terrific too. The best part about eating fish head? The tongue!!! My mum and I always used to compete for the tongue, it's just so good, especially when it's thick, moist, and juicy! Mmmm…. tongue…. (am I right ladies?!)
E and the T with A in the B…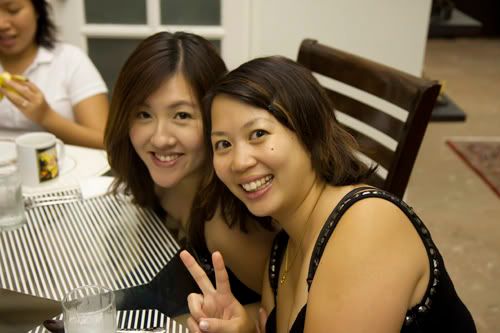 Le Yums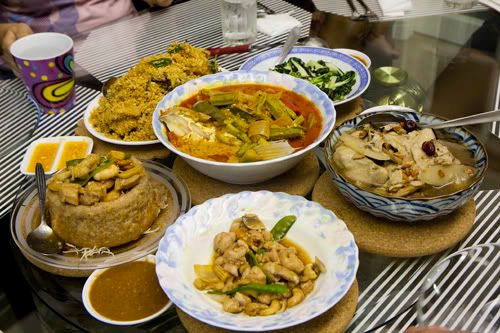 Because normal people eat bananas with spoons…
Crappy dinner 😛 Poor Ellie….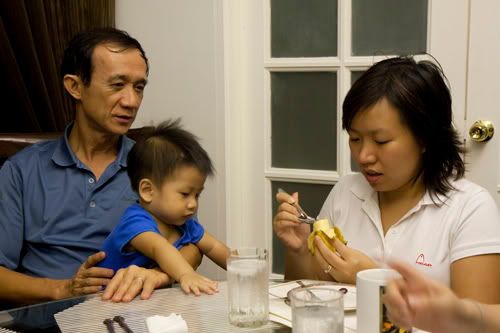 Hei Guys!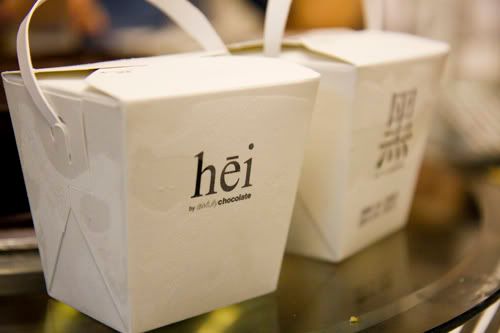 Pint of Chocolate Ice Cream
Awfully Chocolate, Awfully Awesome
Oh yeah… so moist….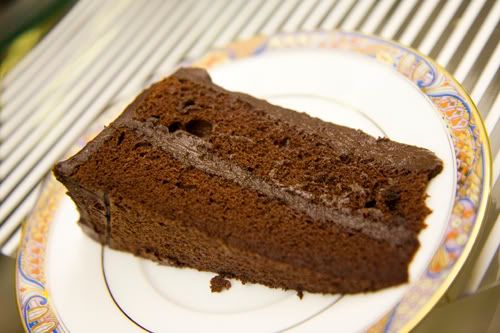 Nom nom nom nom nom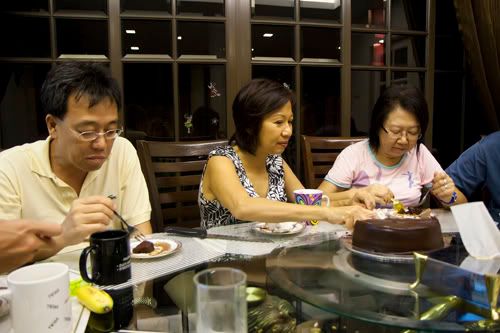 Post dinner, we were all planning to head out for drinks but unfortunately Merv and Amanda felt too zonked out after spending all day on a boat. So the TL, Erica, and myself went out for a drink or 2 after she put Arthur to sleep. We ended up at Fashionbar at Clarke Quay which was actually surprisingly nice. Great music with nice overall ambiance. Music wasn't too which was a surprise and all up turned out to be a place that I'd definitely come back to to chill for a drink. Apart from the massive group group of campy queers situated next to us whom were obviously relishing the whole gay pride thing and ensuring everyone in the club knew about it (not that there's anything wrong with it), it was very enjoyable.
All up, was a wonderful day. Huge thanks to our wonderful and always lovely hosts for a splendid and relaxing day
Since then, I haven't been able to stop thinking about the pool… I miss swimming so bad, especially in this infernal Singaporean heat!!!
FashionBar