So how was Thailand? Thailand was great! More specifically, it was just Phuket and the island of Koh Racha Yai just south of Phuket. The getaway was short, sweet, and mighty relaxing. Just enough to treat myself for the rough year so far as well as celebrate our respective Birthdays and Anniversary.
Now I've only been to Phuket once before and that was with my ex-gf many years back. As much fun as that trip was, I also had my fair share of nightmares from it. Aside from the constant fighting, zero holiday hanky panky (sad but true), I had a most unfortunate experience with a "tiger show" performer ever (I'm rocking back and forth sobbing on the shower floor just remembering it). No I don't… I don't want remember it. Please don't make me!
Since then I've been always wanting to go back with much better company and do it all again. Now for me, Phuket is not worth doing unless it's on the back of a bike or scooter. I had so much fun last time renting a scooting and riding around, and as such having absolutely no worries about getting hassled by taxi or tuk tuk drivers. Complete freedom of movement on my own terms and schedule.
I still can't believe how cheap it is to flying to Thailand on the budget airlines. The prices are all ridiculously cheap, it's a wonder they make any money at all even with all the nutty surcharges and additional services. Sure there is this niggling fear in the back of my head of our Tiger Airways flight having it's wings fall off at 50000ft because they used chewing gum instead of screws, but thankfully my fears proved unfounded.
During my stay in Phuket from start to end, I was quite surprised at the large German populous there. Not just the tourists but also the farangs (foreigners) whom have taken up residence there. Walking around Phuket was like being in a Die Hard movie. Everywhere you went you just heard German. Nothing wrong with it, just unexpected since I expected to see more Aussies and Brits around.
Anyhoo, I'll just get on with it. For our stay in Phuket we opted for the cheapest, most decent accommodation we could find. The plan was that we'd pretty much be diving everyday and so would hardly be in the room at all. We opted for the Sugar Palm Grand Hillside which had direct pool access from the rooms, and was only $50 a night! Now that's a pretty damn good bargain right there! The catch however, is the bare or "minimalist", if you will, interior design.
The rooms have absolutely no wall or floor coverings whatsoever. The walls, floors, and ceilings are all raw concrete complete with concretey stains. You could see the obvious cost savings being passed on. Also, there are no lifts in the place. Not a big deal you say? Well, take a good look at the lay of the land. The place is steep, very very steep. Straight up and down steep. The price you'd probably need to pay to have the Queen mother powder your sweaty buttocks steep. See the video below. Sure they have buggies that they can use to pick you up on request, but they can't do so when it's wet and rainy. Given that it was wet and rainy most of the time, we just had to leg it.
Still, the place was exceptional value for money and I'd definitely recommend it! We opted to stay at Kata Beach instead of Patong Beach because not only was it quieter, but we really really wanted direct pool access 😛
The Sugar Palm Grand Hillside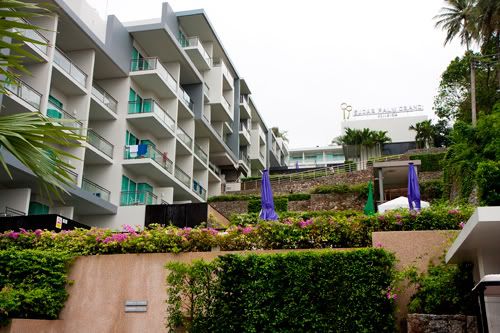 Bare concrete decor is the order of the day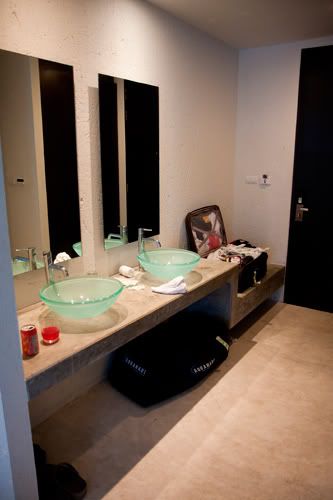 The whole crapper peep show thing is all the rage nowadays…
Pool access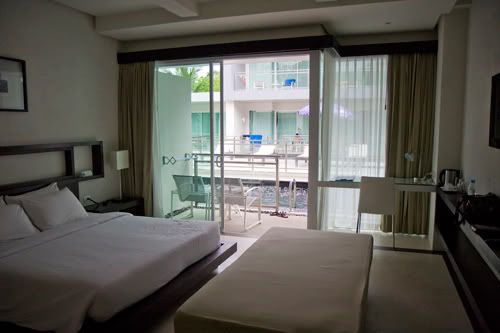 View down over a stretch of Kata
The insanely steep and long journey from the lobby to our room. We had to leg it 90% of the time.
Our little Honda scooter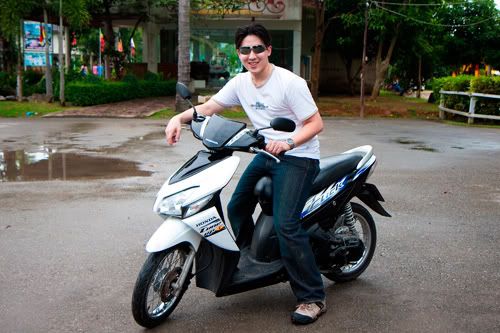 After checking in, we decided to ride around randomly in the hope of finding some solid authentic Thai food for lunch. We had no idea where to go, and didn't really want to go far as it was raining lightly. We ended up along some random street where all the Thai places sold either Thai and Western food, or Thai and European food. We just stopped by the place with the most people (specifically only about 3 people given that most places were closed or empty), and tried our luck.
The food… was pretty damn rank. And as we would discover later on, it was pretty damn overpriced. Like doubly overpriced. Perhaps it could be because this is where all the farangs end up? Who know's, but either way it was really disappointing. So there you go, not really a great first food experience, but well… you have equal chances random choices going either way I guess!
A random stop
Spring Rolls
Vegeless Pad Siew (on request)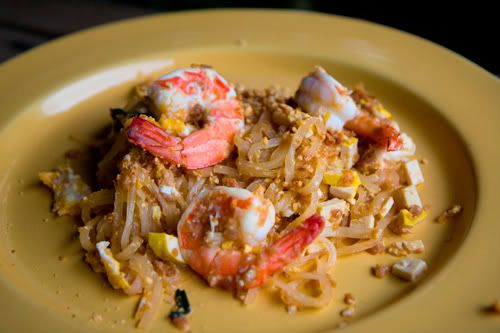 Pineapple Fried Rice
Thai Beef Salad
We rode around a little more after lunch looking for a particular Dive Company (Sunrise Divers specifically), and ended up a little lost and also at Karon Beach where we had a look sea. It was quite windy and the water strong. Doesn't really look like the safest of places to go swimming given the current conditions.
Karon Beach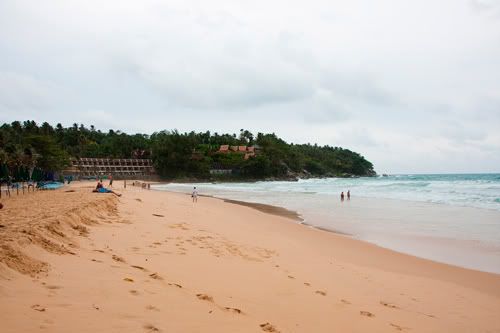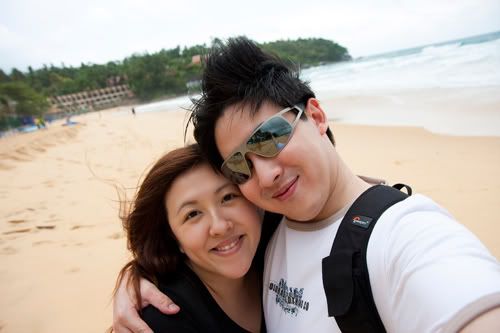 The local surf lifesavers… I'm guessing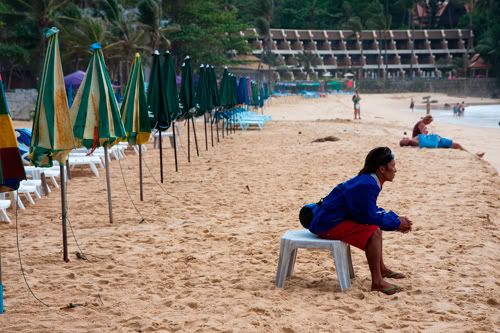 We ended up at Sunrise Divers eventually and booked for 6 dives over two days. 3 Dives at Koh Racha Noi, which is meant to be nicer and more advanced than Racha Yai, and another 3 dives the following day at Koh Dok Mai, the King Cruiser Wreck, and Shark Point.
And after that, it was on to the shooting range! I have this love hate relationship with guns. I love them because they are awesome, I hate them because I can't own them and they hurt people. I definitely had to stop by the shooting range since it was only close by. It was so much fun. Erica, who's much more responsible and also much more crap at Counter-Strike, only tried the .22 rifle on my pushing. Me, I wanted to basically try everything…
Started off with the Colt .45 which was pretty damn loud!!! It was quite interesting firing such a large calibre as I've never fired a pistol before. Aside from the recoil, I had ejected casings bouncing all over the place. On the top of my head, in my face, etc… No wonder I had to wear safety goggles 😛 Next up was the scoped .22. That was fun too, but basically it's almost like shooting a BB gun as it's that pissy. It's very hard to compensate even with the scope as the bullet holes are so tiny, it's very very hard to see where the bullet ended up on the target and adjust accordingly.
Lastly, there was the pump action shot gun. Now that was pretty good. I have to say, doing the whole "chik chik" pumping action to load the breech, it's every bit as satisfying as I imagine from watching the movies and doing the imaginary pumps as a kid
And it had quite a bit of kick to it too.
I could have hung around shooting all day, but it's not a cheap thing to do at all for tourists, and do off we went. We rode around and explored a little more before heading back to the room for a swim… and some swimming pool shenanigans… heh.
The Phuket Shooting Range
Erica with the .22
Pretty tight 10 shot grouping there!
Me with the .45 Colt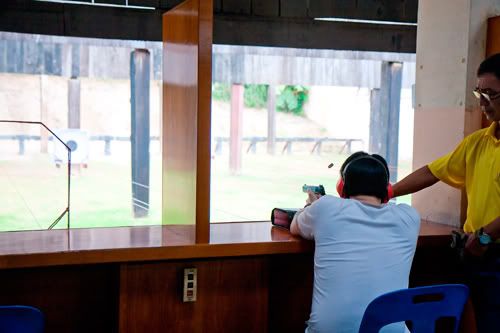 I'm happy with that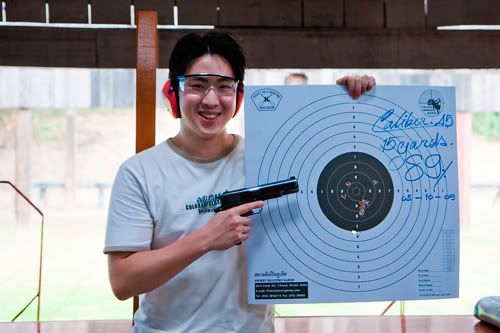 My grouping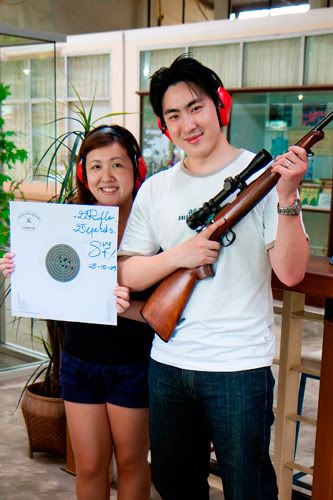 It's shotty time!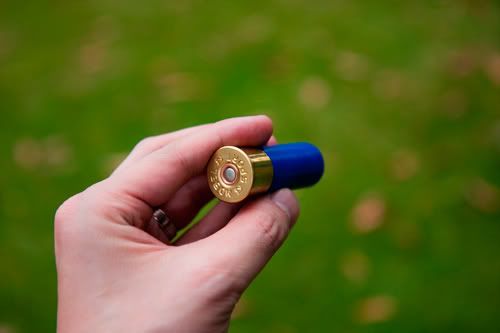 Boom Boom!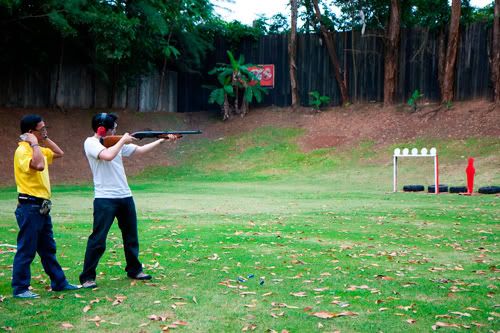 My "other" weapon… heh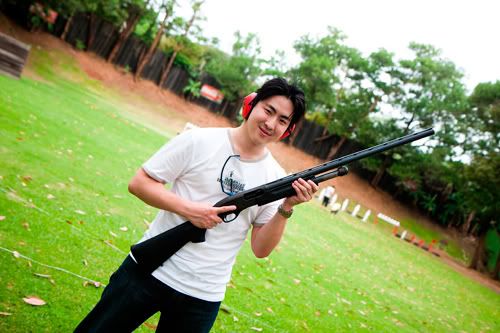 The Sugar Palm view by night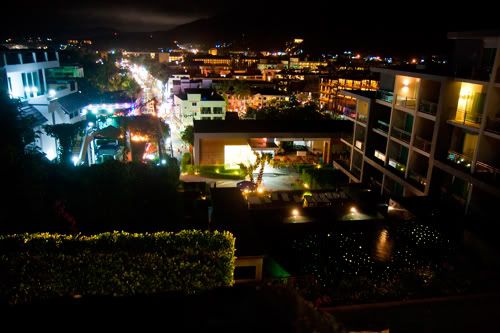 Flashing pool lights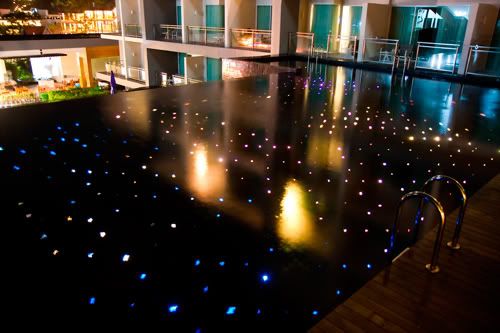 Because it was still drizzling, and we were tired, we just opted to have dinner at the restaurant that's just at the bottom of our hill. It was actually really good, and the prices were basically half what we paid at the dodgy previous place! Once thing I have to mention, is that my most favourite drink in Thailand is the humble pineapple shake. I've been in love with it since my first ever trip to Phuket, and it's just so so refreshing. I order this ad neuseum.
The dishes were very well priced, very tasty, and the open air atmosphere nice and relaxing… until a HUGE group of Aussie teenagers trooped in and ruined it all. Think it was probably like a visiting sporting team. Loud… noisy…. argh. Damn shame, as it was so pleasant and relaxing just before. After dinner it would be back to the room to get an early night as we have a 8:30am pickup the next morning for Diving. I'll get to the diving in a separate post, but there aren't many pics at all because I forgot to charge the battery… silly me 😛
Orchid Restaurant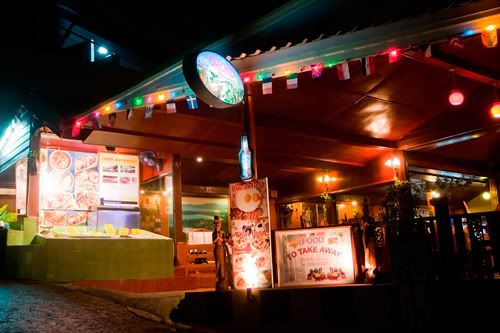 My favourite drink- Pineapple Shake
Green Curry
Garlic Porky Dish
Glass Noodle Seafood Salad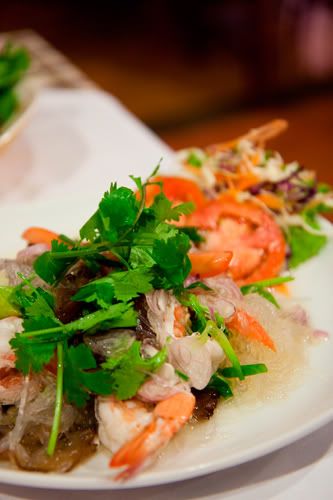 Now one thing you'll probably notice is the huge absence of random pics. That's because we just went exploring on the back of the bike and didn't really bother stopping for photos. After diving, we were both so completely exhausted that all we wanted to do is eat and sleep. We'll do more exploring the next time. We were only in Phuket for 3 days, including the day we arrived, and this was our second day. We got back from the drive trip at Racha Yai (We couldn't go to Noi as the conditions were too bad) feeling pretty awful. Normally Erica NEVER gets seasick, but she got pretty seasick this time. For me, I threw up. Pussy…
We recovered sufficiently by the time we got back to have a shower and decide to do the 20min ride into Patong. The nights here were actually quite cold, we me shivering on the scooter with wind chill! It's a very very pleasant and comfortable climate to tour in this time of year. Patong is like THE place to be. It's where all the fun is and where all the dodgy stuff happens. Some would argue that those two things are probably one and the same, and they'd probably be half right.
But all we wanted to do was eat and so we rode around looking for a decent seafood place. We ended up stopping by the biggest place there which was called Savoey Seafood. The menu looked pretty tasty and the restaurant was packed. It was packed completely by foreigners with almost no locals in sight. This seems to hold true for almost everywhere in Patong. We opted to get a live lobster (choose from live or dead), some big ass prawns, squid and whatever else was decent on the menu. Oh and of course, a pineapple shake
You pick out your own seafood and then choose your preparation style.
Again, the food was excellent and we very much enjoyed it! Everything was of a pretty high standard. I mean, I have no benchmark of if these are authentic styles of Thai preparation, but either way they were very tasty. So much so that we decided to come back here the next day again instead of exploring
The menu was huge and there were certainly choices aplenty. After dinner, it was back to the room for an even earlier start the next day!
The pickup for diving would be at 7:45am!!! Argh… oh the pain…
Savoey Seafood Restaurant
Huge ass prawns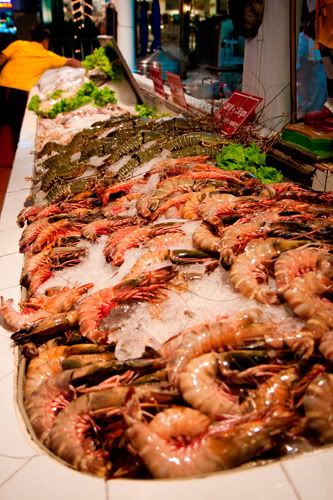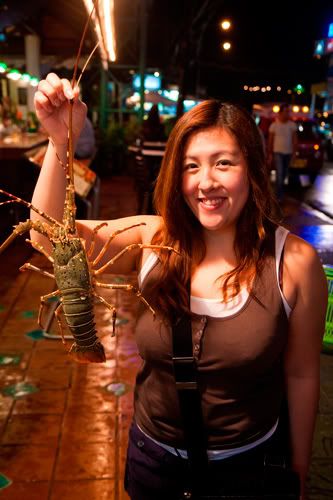 Our pick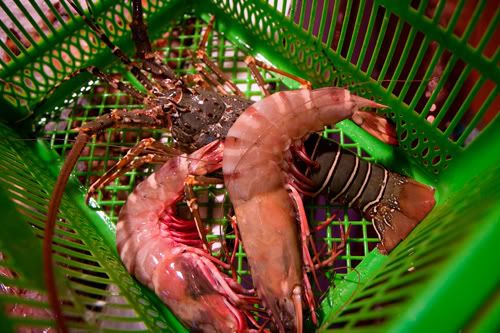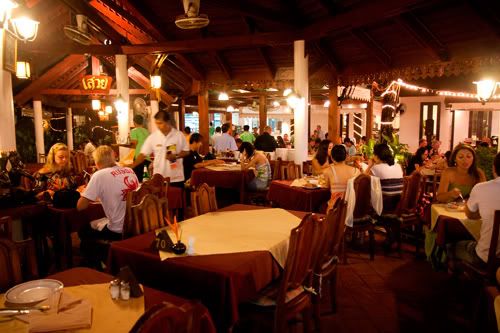 Baked Garlicky Lobster
Tom Yum Goong and Tom Kha Gai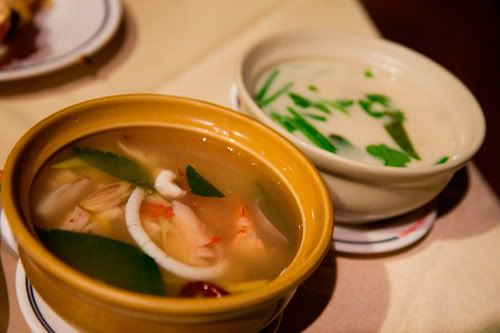 Prawns stir-fried in some chilli type preparation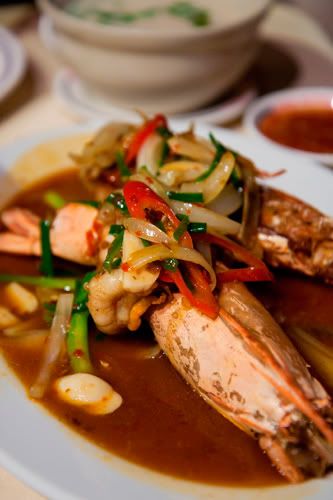 Squid deep fried with pepper and chilli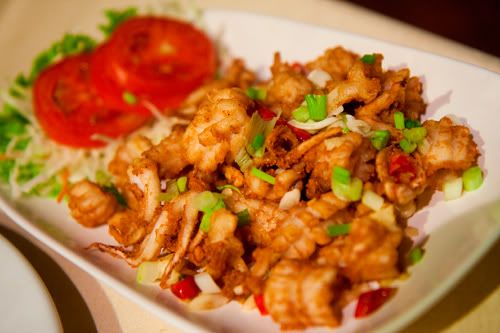 Pineapple Fried Rice (in shell, the way it damn well should always be)
And because there were no photos taken between that dinner and the next, which was at the same place, here's more of the same! This time we lobster, fish, was which simply outstanding by the way, the same squid, and seeing as this was our last night here, way more extra than we should have.
More of the same
Mai Tai
Rambutan Margherita
Awesome deep fried fish in coconut cream and something something…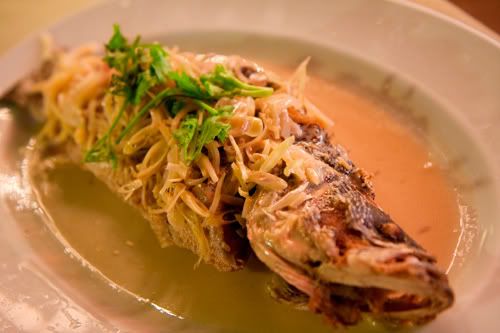 Lobster stir fried in a garlic, butter, and white wine sauce
Thai Beef Salad
Glass Noodle Omlette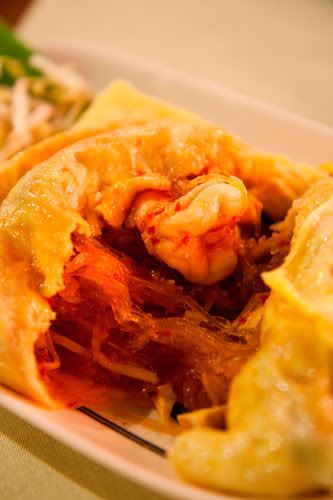 Thai Roast Pork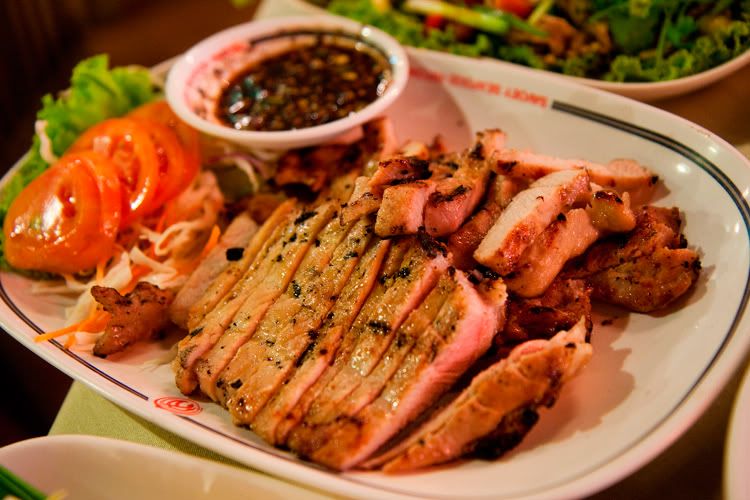 You people are pigs…
We walked around for a little bit after dinner to try and pick up some a present for Anne, our helping, whom had loaned us her Ixus860. Ours got stolen by the removalists in Sydney (we suspect) and hence had an underwater casing with no camera. Thankfully by coincidence, she has the exact same model. We looked around the alley ways and got her a silk robe, and later at the airport a nice lack pearl pendant.
This part of Patong wasn't too bad, at least you weren't accosted in the streets by trannies and hoes. Last time, in the main pub area, it was terrible. I had my ex holding onto my arm and I would STILL get propositioned by the hookers. Sheesh… talk about being bold! There was none of that this time. The strip we walked down was all primarily go go bars which is almost the same thing I guess, but not quite.
We had originally planned to see a Tiger Show, because it's one of those "must see" things in Thailand at least once in your life (I'm still seeing a Therapist for my last visit), and it's pretty fucking gross, but yet strangely fascinating. Erica hasn't been to one as yet. But we were too tired and so postponed it to the next trip.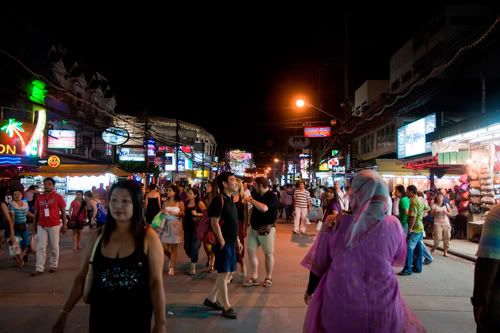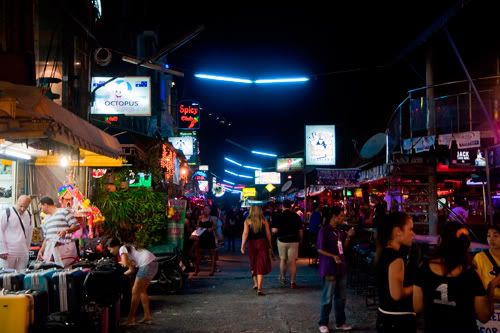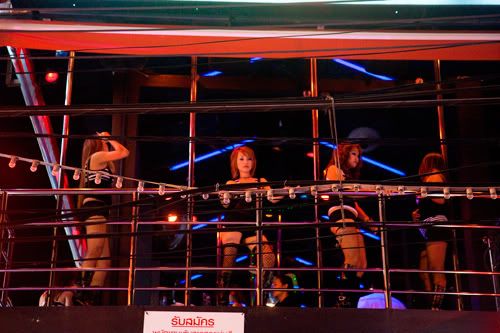 She wants me…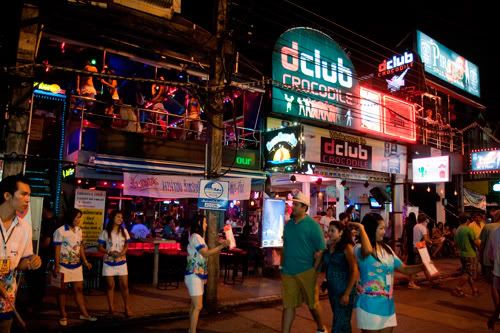 And now we finally come to the dodgy massage that I keep talking about. Hah… you thought I was joking? That'll show you! Now one of the more umm… renowned style of Thai massage is the body to body. Granted, it's not a massage you'll find find at the more traditional places, and by traditional I actually mean legit, but as they say, when in Rome… 😉 The body to body massage generally comes in two flavours, oil and soapy. They're both really the same thing, but with one you get really really oily, and the other, you get really really ummm… clean. They both involve your massage therapist massaging you with every available… natural asset at her disposal, with the both of you being in a full state of undress.
Now Christin's is somewhat of an institution and many tourists, mostly horny single men, consider that Phuket hasn't really been done until you've done the Christin's thing. Okay, now bear with me, because what is going to follow is going to sound extremely dodgy. Christin's follows the "fishbowl" concept. When you walk in, you are actually responsible for choosing your therapist. Oh gosh… I don't know how much longer I can use that term without laughing hysterically. Keep in mind it's my term, not theirs 😛 I'm still trying to legitimise the whole thing…
The ladies are split into 3 pricing sections. The cheapest on the left, the less cheap on the right, and the most expensive in the middle. In real terms, the ones on the left looked like men, but I was assured they were not, the ones on the right looked less like men with one or more not so bad, and the ones in the middle looked the least like men.
Now before I go further, let me say that Erica is fully down with this. It would be the both of us getting a soapy massage next to each other and simultaneously and just so everyone is clear, there would be no "boom boom" at the end as they call it even though it's technically included in the price.
Trivia: This is the type of massage I used to sucker Erica into sleeping with me for the second time if you remember
But that one certainly did end in "boom boom"
Oh snap!
This is my first time so I wasn't really sure what to expect. So there we both were, in a room, with 2 naked chicks, a large bed, a bath, a blow up mattress, and lots of soap. All I can say is that it felt… really really good… with no part left… neglected. Erica really really enjoyed it too. And I've also never been so… interested… in watching Erica get a massage either! That's it, no more details you perverts, this interview is over!!!
The "famous" Christin Massage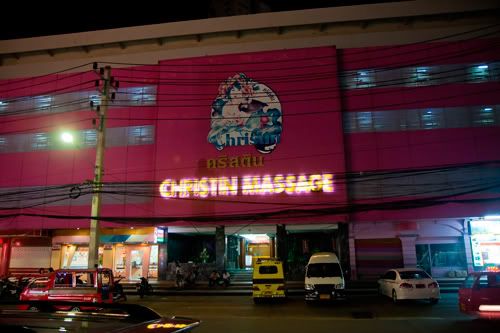 After the massage it was back to our room to rest and relax after another long day of diving, which was far far better than the previous day. No seasickness this time btw! The next day it was time for checkout and then off to the Racha it would be! We had breakfast again down at the Orchid Restaurant. Erica had a western omlette whilst I had a Thai, which was just like your usual asian omelette. Normally very good, but just too oily to eat in the morning.
Breakfast at the Orchid
Ham, Cheese, and Tomato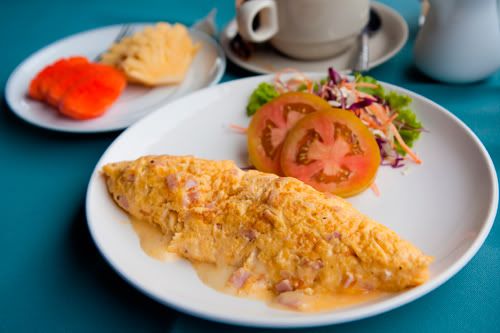 Thai Omelette with Onion and Tomato
French Toast
So basically, that was our trip to Phuket in a big fat nutshell. Was great fun, really enjoyed just exploring, eating, diving, shooting, and getting all lathered up. Next time we'll probably do dive trip on a liveaboard in the Similans and stop back over in Phuket for a couple of days.
Next stop…